Architects: Undurraga Devés Arquitectos
Location: Las Condes, Santiago Metropolitan Region, Chile
Architect In Charge: Cristian Undurraga
Design Team: Orlando Etcheberrigaray, Eduardo Castillo, Cristian Larrain
Landscape Architect: Juan Grimm
Area: 460.0 sqm
Year: 2007
Photographs: Cristóbal Palma
Architects: BETA OFFICE ARCHITECTS
Location: Rubi, Barcelona, Spain
Architects In Charge: Raúl Bañón Tomás, Brian Ramón Aguilar, Xavi Freire Cano
Area: 511.0 sqm
Year: 2012
Photographs: Miquel Coll Molas
Borealis, Team Alberta's entry to the U.S. Department of Energy Solar Decathlon 2013, addresses the housing needs of professionals working in remote locations. This modular house was designed in consideration of severe housing shortages and high housing costs driven by booming industries in northern Canada. Named after the iconic Northern Lights and lush Boreal forest, Borealis is designed to be sustainable and ecologically sensitive.
In Residence: Piero Lissoni on Nowness.com
The latest in NOWNESS' In Residence series features a look into the home of Piero Lissoni, co-founder of Italian design firm Lissoni Associati. Externally inspired by the way that children draw houses, the interior of the home is filled with what Lissoni calls a 'contamination' of different ideas and objects. Nevertheless it is stylish and a beautiful accompaniment to the spectacular rolling hills of the Tuscan countryside.
According to the AIA, The American Institute of Architects, the American housing market is at its strongest growth level since 2005. As the once struggling residential market continues to improve, the size of homes is also growing in both high-end and custom homes as well as in additions to existing homes. Data from the AIA Home Design Trends Survey reveals that preferences for accessible spaces in homes – such as open-space layouts and single-floor design – is also on the rise.
To see the survey's findings and to learn more about today's housing market, read on.
Foster + Partners has been selected to developed a proposal for a low energy, high-density residential community in Islington, London.  The site is a 1980s business park that is to be regenerated into a residential zone of two towers and a landscaped park.  The project will incorporate the arera's planned high-rise buildings and is ultimately set to provide a new landmark for the city.
The American Institute of Architects (AIA) has selected the six recipients of the 2013 Housing Awards. The AIA's Housing Awards Program, now in its 13th year, was established to recognize the best in housing design and promote the importance of good housing as a necessity of life, a sanctuary for the human spirit and a valuable national resource. All the winners, after the break.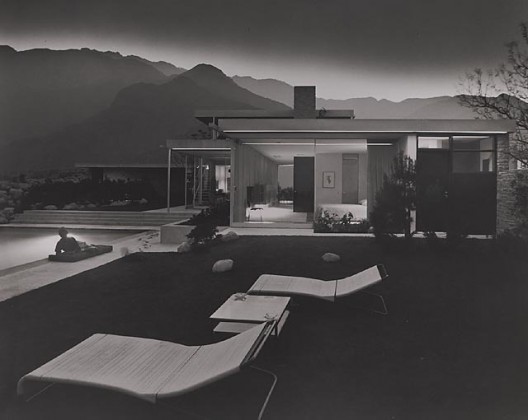 The mid-century modern master, Richard Neutra was well known for his cutting edge modernism. Since Julius Shulman immortalized his houses in his iconic photographs, Neutra's bright, airy homes have widely been seen as the pinnacle of modernism and desirability. One problem though, they're in high demand and it's not exactly like they're making any more Neutra buildings; in fact, quite the opposite is true and as a result they have become a pretty expensive commodity.
Read more about how to get your very own Neutra home after the break…
Ever since the New Republic published Lydia DePillis's piece entitled "If you Rebuild it, They Might Not Come" - a criticism of the progress of Brad Pitt's Make It Right Foundation – numerous blogs and journals have been in a uproar, defending Make It Right's efforts at rebuilding the vastly devastated Lower Ninth Ward and presenting a much more forgiving perspective on the progress of the neighborhood since the engineering disaster that exacerbated the effects of Hurricane Katrina in 2005. To date, 86 LEED Platinum homes have been designed and constructed by world-renowned architects, including Frank Gehry and Morphosis, at a cost of approximately $24 million.  Make It Right has promised to build up to 150 such homes, but DePillis's article points out that amenities in the neighborhood are low and the number of residents returning to the neighborhood is dwindling.  Make It Right has made a commitment and the debate that ensues questions whether it is going far enough in delivering its promise to rebuilding community.
Read on for more on the Make It Right debate…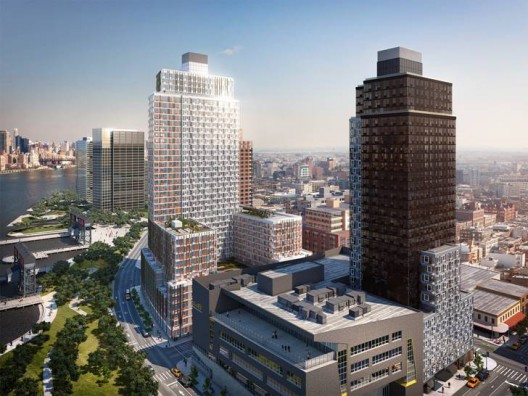 Despite NYC's recent bout with nature, Mayor Bloomberg is undeterred from developing housing along NYC's long stretch of waterfront, taking into account that proper measures are taken for storm and flooding mitigation.  The latest in large scale developments comes to Hunter's Point South in the neighborhood of Long Island City in Queens.  The first of such a scale since the 1970s development of Co-Op City in the Bronx, plans will include two phases of design and construction. The first phase, designed by SHoP Architects with Ismael Leyva Architects will bring two residential towers with 925 permanently affordable apartments, 17,000 square feet of retail space, infrastructural installations, a five-acre waterfront park, and a 1,100-seat school.
Join us after the break for more on this large scale development in Long Island City.
A BIG step forward for Vancouver's latest mixed-use tower making international headlines, as the 497-foot tall Beach and Howe proposal has received an "enthusiastic endorsement" from the city's design panel.
Commissioned by Canada's real estate mogul Ian Gillespie of Westbank, the Bjarke Ingles Group-designed tower promises to add a foreign twist to Vancouver's skyline and create a new identity for an undefined section of town at the fringe of the city's residential area. The 700,000 square foot complex – which contains shopping, social housing and market rental apartments – was praised by the panel for anchoring itself on a nine-story podium that occupies the disused, interstitial spaces found between the Granville Street Bridge's entry and exit ramps.
More after the break…
A recent survey into the billing activity of architecture firms across the country has revealed a growing trend in homeowners' preferences. The AIA Home Trends Survey released a series of charts, marking the rise between 2011 and 2012 of preferences for low maintenance, and energy efficiency home options with a rise in a desire for homes that have a proximity to neighborhood amenities. What this means is that home buyers are moving away from the auto-centric lifestyle of mid century suburbs and are coincidentally opting for the more sustainable choice where walking and public transportation may take preference. AIA Chief Economist, Kermit Baker, PhD, Hon. AIA, notes that in many areas, there has been a rise in interest in urban infill locations over exurbs, and a general push within communities for public accessibility and proximity to work places, retail options and open space.
What is behind this trend? Is the influence of sustainable design breaking into the mainstream of the American home-buying conscience? Is sustainability changing the "American Dream"?
A year and a half ago, OMA unveiled the first images for a residential project in Singapore, on  schematic design phase. Basically it was a set of stacked low-rise blocks.
Today OMA sent us an update on this project, The Interlace, and more details appear.
The project is located on a green belt outside the capital city, and consists on 31 stacked apartment blocks, each six-stories tall and identical in length, resulting in 170,000sqm of gross floor area for 1,040 apartments.
What is interesting about the project is how these stacked volumes achieve a high density, while still maintaining privacy and long-range views as you can see on the renderings.
The second result of this "stacked" strategy, are the common spaces filled with tropical green. By looking at the plan view of the complex, a series of inner courtyards appear on the empty spaces between the blocks. The project  turns then into a rich vertical community, apart from the single tower projects seen in the area. Extensive residential amenities and facilities are interwoven into the lush vegetation and offer opportunities for social interaction, leisure, and recreation.
Two student housing buildings present Arons en Gelauff Architecten in the University of Twente. A 3 stories building with a great contrast between its exterior and interior and the other one, with an amazing climbing wall on the north-west elevation.
Take a look at the photographs, drawings and descriptions after the break.
Architect: ARTEKS Arquitectura
Location: Andorra
Architects in charge: Elisabet Faura & Gerard Veciana
Client: UNIMSA
General Contractor: SEIC S.A
Constructed Area: 118 sqm
Photographs: Eugeni Pons