We are rapidly running out of old warehouse buildings to renovate, and selling space in the glassy towers of the central business district is difficult as corporate buildings become less and less attractive. We need a new building that is attractive to companies who cut their teeth in co-working incubators before seeking their own digs.
We are a society obsessed with the new. We want to look eternally young, drive the latest car, wear runway-fresh clothes and have up-to-the-minute technology at our fingertips. We do not care if the battery in our phones cannot be changed, because we are happy to simply get a newer phone. The American pursuit of life, liberty, and happiness is a glittering glare of polish and gloss, all sparkling and new.
That is, unless we're talking architecture.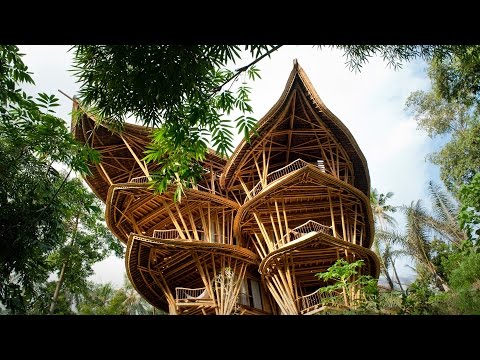 Perhaps the most surprising thing about bamboo - besides being an entirely natural, sustainable material with the tensile strength of steel that can grow up to 900 millimeters (3 feet) in just 24 hours – is that it's not more widely recognized as a fantastic construction material. Like many traditional building materials, bamboo no longer has the architectural currency that it once did across Asia and the pacific, but the efforts of Elora Hardy may help put it back into the vernacular. Heading up Ibuku, a design firm that uses bamboo almost exclusively, Hardy's recent TED Talk is an excellent run through of bamboo's graces and virtues in construction, showing off sinuous private homes and handbuilt school buildings.
If you want to see the future of urban adaptation, head to the Maldives. That's the message and warning behind Mayank Thammalla's master's thesis from the Unitec School of Architecture in Auckland, New Zealand. Under even the most conservative IPCC forecasts, the low-lying Republic of Maldives will become almost uninhabitable as sea levels rise, while any further rise could leave many of the 200 inhabited islands underwater. It's an existential threat like no other – in as little as ten year's time, the Maldivian government could be faced with the impossible situation of deciding how to deal with over 400,000 refugees leaving the area where their country used to be. Instead of attempting to rebuild the Maldives elsewhere or mount a series of defences against the oncoming sea, Thammalla's research project has the difficult goal of realistically preserving Maldivian life in the same geographical location as it is now. His solution? Semi-submersible oil rigs.
ArchDaily is continuing our partnership with The Architectural Review, bringing you short introductions to the themes of the magazine's monthly editions. In this introduction to the May 2015 issue, The AR's new editor Christine Murray discusses our various reactions to different forms of destruction and endings - a topic that is perhaps particularly poignant considering the new era that The AR is entering - and outlines her ambitions as editor of the magazine.
The experience of a space can be cathartic, like one night when I visited Peter Zumthor's Therme Vals for a midnight opening, floating in the dark baths. It was just weeks after the birth of my first child, and also my birthday. In the water, I felt the person that I had always been and the mother I had now become reconciled. In that moment, I forgave my tired self (or the building forgave me) for being so unworthy, so wholly undeserving of the perfect baby entrusted to me. I left feeling alive and new, and I know Zumthor had something to do with it.
It may not be the most exciting piece of software an architect will ever use, but Microsoft's Excel is a powerful tool which can help architects with the less glamorous parts of their work – and if you learn how to use it correctly, it can help you get back to the tasks that you'd rather be doing much more quickly. In this post originally published by ArchSmarter, Michael Kilkelly gives his short rundown of formulas that every architect should know – and a brief explanation of how to use each one.
Excel is more than just digital graph paper. It's a serious tool for analyzing and computing data. In order to access this power, however, you need to understand formulas.
If you're like me, you started using Excel as a way to create nice looking tables of data – things like building programs or drawing lists. Lots of text and some numbers. Nothing too crazy. If I was feeling a little bold, I'd add a simple formula to add or subtract some cells. That's about it.
I knew I was using only about 10% of the software but I wasn't sure what else it could do or how I could access the other functions. I'd heard about formulas but they seemed really confusing. Plus, I was an architect, not a bean counter.
We will be publishing Nikos Salingaros' book, Unified Architectural Theory, in a series of installments, making it digitally, freely available for students and architects around the world. In Chapter 12, Salingaros concludes his discussion of the physiological and psychological effects of architecture, demonstrating how ornament can lead to an enriching human environment. If you missed them, make sure to read the previous installments here.
Ornament and Human Intelligence
Ornament and function go together. There is no structure in nature that can be classified as pure ornament without function. In traditional architecture, which was more tied to nature, such a separation never existed. The breakdown of the human adaptation of architecture can be traced to the forced conceptual separation of ornament from function, a relatively recent occurrence in human history. It is only in 20th-century architectural discourse that people began to think of ornament as separate from function: see "How Modernism Got Square" (Mehaffy & Salingaros, 2013).
Urban waterfronts have historically been the center of activity for many cities. They began as economic, transportation and manufacturing hubs, but as most industries changed their shipping patterns and consolidated port facilities, many industrial waterfronts became obsolete. In Europe, smaller historic ports were easily converted to be reused for leisure activities. However, in North America, where the ports were larger, it was more difficult to convert the waterfronts due to logistical and contamination issues.
Over the past 40 years or so, architects and urban planners have started to recognize the redevelopment potential for waterfronts across the United States and Canada, and the impact they can have on the financial and social success of cities. Though cold-climate cities pose a unique challenge for waterfront development, with effective planning waterfront cities with freezing winter months can still take advantage of the spaces year-round.
Until recently, renderings were the architect's primary tool for understanding daylight in their designs—renderings, and a healthy dose of intuition. But a new generation of daylighting analysis tools, which is emerging alongside a new generation of daylighting metrics, are enabling architects to look at daylight in new ways—with important implications for design.
Business as usual, when it comes to daylight, is to use rules of thumb to design, then use renderings to check the design and communicate the intent. Rendering has fast become an art form: the creation of exquisite, evocative, often atmospheric imagery that communicates the mood, the experience, the visceral feel of the design. This is no accident: daylighting is a magic ingredient in architecture, bringing dynamism to static structure, imbuing buildings with a sense of time, and renderings are a powerful way to capture and communicate these ideas—a necessary complement to the hard line plans and sections that comprise much of the architect's lexicon. Renderings have expanded our ability to communicate designs. They have also expanded our ability to conceptualize designs—and especially to conceptualize the daylight in our designs.
But there's something missing: there are important daylight-related questions that renderings simply can't answer. Even if they can be made reasonably accurate, they're still incomplete: depicting a moment in time, but not providing an indication of whether that moment is unique or typical.
ArchDaily is continuing our partnership with The Architectural Review, bringing you short introductions to the themes of the magazine's monthly editions. In this introduction to the April 2015 issue, her final editorial at the magazine, Catherine Slessor reflects on the changes in her two-decade tenure as a member of the AR's editorial staff – from the technological change that has irrevocably changed the nature of architectural publishing, to the worrying decline in the relevance of the architectural profession.
Cyberpunk king William Gibson once remarked: "The future is already here; it's just not evenly distributed." But we're getting there. The AR's digital adventure has just climaxed with the recent launch of the AR app. Our lavish and incomparable banquet of criticism, culture and campaigning can now be savoured at your leisure, wherever you are and whatever you're doing. It's a leap that completes the journey from paper magazine to digital multiverse, offering more and different kinds of content on your platform of choice.
Justin McGuirk's book Radical Cities: Across Latin America in Search of a New Architecture is fast becoming a seminal text in the architecture world. Coming off the back of his Golden-Lion-winning entry to the 2012 Venice Biennale, created with Urban Think Tank and Iwan Baan, McGuirk's work has become a touchstone for the architecture world's recent interest in both low-cost housing solutions and in Latin America. This review of Radical Cities by Joshua K Leon was originally published by Metropolis Magazine as "Finding Radical Alternatives in Slums, Exurbs, and Enclaves."
Justin McGuirk's Radical Cities: Across Latin America in Search of a New Architecture should be required reading for anyone looking for ways out of the bleak social inequality we're stuck in. There were 40 million more slum dwellers worldwide in 2012 than there were in 2010, according to the UN. Private markets clearly can't provide universal housing in any way approaching efficiency, and governments are often hostile to the poor. The only alternative is collective action at the grassroots level, and I've never read more vivid reporting on the subject.
In a recent article in which ArchDaily reached out to our readers for comments about all-nighter culture, one comment that seemed to strike a chord with many people was kopmis' assertion that, thanks to the tendency for professors to "rip apart" projects in a final review, "there is no field of study that offers so much humiliation as architecture." But what causes this tendency? In this article, originally published by Section Cut as "The Final Review: Negaters Gonna Negate," Mark Stanley – an Adjunct Professor at Woodbury University School of Architecture – discusses the challenges facing the reviewers themselves, offering an explanation of why they often lapse into such negative tactics – and how they can avoid them.
As the only Spanish architect to receive the Pritzker Prize, Rafael Moneo (born 9 May 1937) is known for his highly contextual buildings which nonetheless remain committed to modernist stylings. His designs are regularly credited as achieving the elusive quality of "timelessness"; as critic Robert Campbell wrote in his essay about Moneo for the Pritzker Prize, "a Moneo building creates an awareness of time by remembering its antecedents. It then layers this memory against its mission in the contemporary world."
With 145 countries participating in the 2015 Expo, alongside input from international organizations, corporate partners and an extensive program organized by the Expo itself, there's a lot going on in Milan right now. So much so, in fact, that it can be a little overwhelming to get a handle on all the sights that are worth your attention.
To help you out, we've put together a guided tour of the key pavilions that are turning heads, including the defining vistas of the expo grounds, the displays that are worth your time and the oddities that might entertain. From the Expo's defining icon, the 30-meter-tall Tree of Life, to the exhibition on architecture's favorite consumable (that's coffee), and all the national pavilions in between, the things you need to see are here. Whether you're planning to visit the Expo and want a quick and dirty way to ensure you've covered the highlights, or whether you're simply hoping to live vicariously through the internet, this tour is for you.
Is there a growing nostalgia pervading attitudes to civic architecture in Europe? From Berlin's new Royal Palace on the River Spree to Turkey's rekindled fascination with their Ottoman heritage, architecture is becoming the medium of choice for exploring a city's roots and a people's past. In this post originally published by TheLong+Short, Feargus O'Sullivan investigates how many governments and developers have decided that the way to future lies in looking backwards.
Reading about Dubai's Burj Khalifa in the German press, you'd be forgiven for thinking the building was in Leipzig, not the Middle East. "The tallest building in the world is so German," said Der Spiegel when the tower opened in 2010. "The Burj Khalifa is an Ossi!" shouted Bild, using the common nickname for East Germans. The headlines were partly right: when East Germany's old parliament building, the Palace of the Republic in Berlin, was demolished in 2006, several thousand tonnes of steel girders were stripped from its carcass and shipped to the Gulf for use in the construction of Burj Khalifa.
For almost a century, one of the largest buildings in the Southeastern United States has maintained a dominating street presence in Atlanta, Georgia. Now the Ponce City Market, the building was originally designed by Nimmons, Carr and Wright Architects and built in 1925 as a Sears, Roebuck & Co. distribution and retail center, operating until 1989. In 1991, the City of Atlanta purchased the building, renamed it City Hall East and  housed several public works departments, storing countless items among its 2.1 million square feet of space. As the city's utilization of the building dwindled, Jamestown Properties stepped in and acquired the building in 2010.  Five years later, Ponce City Market is poised to become one of the greatest historic rehabilitation projects in the country.