Lately, architects are sharing an increasing captivation with ruins. As our technologies for envisioning the buildings of the future become ever-more accurate – enabling us not only to walk through, hover over, and inhabit walls, but also to calculate exact quantities of materials, structural load capacities and costs – our fascination for ruin, a process that is governed by laws of nature and time in a manner that is spatially unpredictable and rarely uniform, has also seen a rise in popularity.
Blogs such as Ruin Porn, Abandoned America and Architecture of Doom draw from a recent sub-genre of photography, identified as 'ruins photography' or 'ruin porn'. While buildings can go into decay for many reasons, these images tend to focus on urban decay, especially in cities such as Detroit, Chicago and Berlin, which saw a surge of industrialization in the last century that has since dwindled.
Italian design firm IaN+ has put forth their vision for a pair of museums along the Dòzsa Gyorgy Boulevard in Budapest, Hungary for the Liget Budapest International Competition. Connected by a central foyer, the two exhibition spaces will be based on a common grid of structural concrete walls whose cells will form galleries. One of these museums will be devoted to photography, the other to architecture, and each building, while similar in appearance, is designed to best accommodate the work they will display.
Romain Jacquet-Lagrèze is a French photographer who captures the dizzying heights and uncommon densities of Hong Kong. Inspired by "the geometry of the urban environment and the vivid lives it shelters," Jacquet-Lagrèze has not only captured the verticality of Hong Kong's built environment, but also compiled a new book, Vertical Horizon, "a photographic journey between the buildings of a relentlessly growing city." See more of Jacquet-Lagrèze's images, and read an excerpt from Vertical Horizon, after the break.
Surface Magazine's reintroducing its famed Avant Guardian photography contest, a competition that has helped launch the careers of many photographers. Surface editors and a star jury – featuring international photographer Iwan Baan, along with Johan Lindeberg, Klitos Teklos (Air Paris), Benoit Lagarde (Splashlight), and Keren Sachs (Offset) – will select 10 finalists. Finalists' work will be showcased in Surface's October 2014 issue and in a traveling photography exhibition.
To inspire you to apply, we've rounded up some stunning images of Iwan Baan. Enjoy – and remember – the deadline for submissions is Thursday July 24th at 5 p.m. Eastern Standard Time!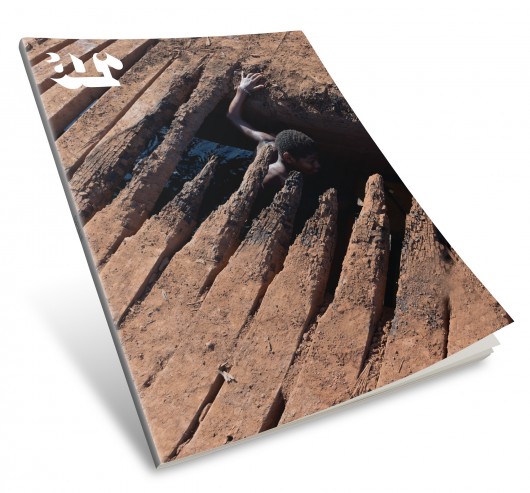 ArchDaily has partnered with The Architectural Review to bring you short thematic introductions to the magazine's monthly editions.  Up now: AR's April 2014 issue, which examines the complexities of architecture photography. Editor Catherine Slessor asks "what happens when controlled views of buildings are redefined by and adapted to new technologies?"
Roland Barthes once observed that there is no such thing as a photograph. 'Whatever it grants to vision and whatever its manner, a photograph is always invisible, it is not it that we see', he wrote in Camera Lucida. What we do see is the scrutinising gaze of the photographer, which can beguile or unsettle, but should always evoke some kind of response.
As a scientific and 'truthful' medium, photography has served architecture well, especially in the Modernist era when the evolving medium synthesised perfectly with a new approach to design. Yet the relationship between architecture and photography is an inherently compromised one. Unlike art practice, architectural photography lends itself less to searching critical enquiry, being essentially an unspoken pact between architect, photographer and publisher to render buildings in a way that discreetly flatters architectural ambition and sells copies of books or magazines.
The designer and photographer Fernando Pires has completed a photographic series on Sesc Pompéia, one of Lina Bo Bardi's most significant works.
The photographer's series explores that symmetry in Bo Bardi's brutalist design, in which two colors, red and concrete-gray, unite harmoniously.
See more of Pires' images, after the break…
Originally posted in Metropolis Magazine as "Iconic Museums, Rendered In Gingerbread", Samuel Medina looks into a fun project to realize world-famous buildings in various types of candy.
Had Hansel and Gretel stumbled across one of these sugary structures, they may have taken off in the opposite direction. Dark, gloomy, and foreboding, the confectionary architecture would have made quite the impression on Jack Skellington, however. The project, by food artist Caitlin Levin and photographer Henry Hargreaves, is clearly indebted to the gothic mise-en-scène of the latter's expressionistic underworld, a dreary, but whimsical land where one might half expect to find a twisted (gumball) doppelganger of the Tate Modern or Zaha Hadid's MAXXI.
Find out more about the process behind this sweet project after the break
UPDATE: Kickstarter goal met! Since 2007, Jade Doskow has been photographing the remains of World's Fair Sites: once iconic spots that displayed the ambitions/ideals of their eras, now, often forgotten and left to decay. Now, for the 50th anniversary of the 1964 World's Fair in New York (in just a few weeks time), Doskow has a new goal: to shoot all the iconic North American fair sites – from Seattle's Space Needle to San Francisco's Treasure Island. To do so, she's launched a Kickstarter campaign: LOST UTOPIAS. See more of Doskow's stunning images, and find out how to support her Kickstarter campaign, after the break…
Inspired by a childhood spent filming planes at LAX with an 8-millimeter videocamera, New York photographer and former Berkeley architecture student Jeffrey Milstein has turned his fascination for aviation into a career. Typically known for photographing the underbellies of aircrafts, Milstein's latest series captures the artistic composition and elaborate array of patterns formed by airports and only seen from above. He describes this series as revealing "the patterns, layering and complexity of cities, and the circulation patterns for travel, such as waterways, roads, and airports that grow organically over time much like a living organism."
More of Milstein's photography after the break…
Since 1851, World Fairs have offered glimpses into specific moments in time – giving us insight into what was once innovative, high-tech, and down-right radical. But the structures, the icons of each Fair, don't always stand the test of time – no matter their architectural pedigree. In Flushing Meadows Park, New York, for example, Modernist icon Philip Johnson's 1964 New York State Pavilion now stands neglected, overgrown in ivy. Mies van der Rohe's German Pavilion for the 1929 Barcelona Expo didn't even get the chance to decay as it was promptly demolished (although eventually reconstructed).
On the other hand, the Eiffel Tower, although considered "vulgar" in its day (1889), was maintained – mostly because its height made it well-suited for emitting radio signals. It's now Paris' most important tourist attraction.
The fate of World Fair Structures is the theme of New York-based photographer, Jade Doskow, who has already shot 19 former World's Fair sites. Take a peek at Doskow's images and find out how World Fair structures have fared, some better than others, after the break…
Hurricane Sandy has come and gone, but the destruction she left in her path remains a stark reminder of her strength.
Photographer Amanda Kirkpatrick has shared with us her images of The Rockaways in Queens, an upper-class beach neighborhood that was one of the areas hit hardest by the storm. Kirkpatrick's objective eye documents the twisted boardwalks and unrecognizably distorted homes in an almost "clinical" way, honestly portraying the damage from the perspective of the broken structures themselves.
If you're interested in getting involved with Hurricane Sandy Recovery Efforts, you can get more information here. For more images from Amanda Kirkpatrick, read on after the break…
We got in touch with Iwan Baan to ask him how on earth he got that incredible aerial shot of a Sandy-struck New York City for New York Magazine; he told us what it was like to face the frenzy and fly into the storm itself. Read his incredible story, after the break…