Andrew Carnegie once said, "Aim for the highest." He followed his own advice. The powerful 19th century steel magnate had the foresight to build a bridge spanning the Mississippi river, a total of 6442 feet. In 1874, the primary structural material was iron — steel was the new kid on the block. People were wary of steel, scared of it even. It was an unproven alloy.
Nevertheless, after the completion of Eads Bridge in St. Louis, Andrew Carnegie generated a publicity stunt to prove steel was in fact a viable building material. A popular superstition of the day stated that an elephant would not cross an unstable bridge. On opening day, a confident Carnegie, the people of St. Louis and a four-ton elephant proceeded to cross the bridge. The elephant was met on the other side with pompous fanfare. What ensued was the greatest vertical building boom in American history, with Chicago and New York pioneering the cause. That's right people; you can thank an adrenaline-junkie elephant for changing American opinion on the safety of steel construction.
So if steel replaced iron – as iron replaced bronze and bronze, copper –  what will replace steel? Carbon Fiber.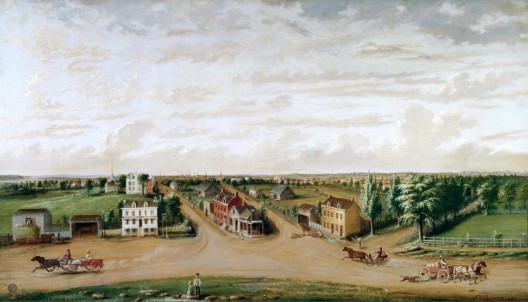 Can you imagine the intersection of Broadway and the Bowery in lower Manhattan as sparsely populated "Uptown" used as a burial ground for indigent people? Well, according to the the book Painting the Town by The Museum of the City of New York (via Ephemeral New York), this scene painted from memory by Albertis Del Orient Browere in 1885 depicts what Union Square used to look like back in 1828 – just 20 years before this area started to transform into the bustling, concrete jungle we know today. 
Compare it to an updated photo of Union Square after the break. 
To join in on all the holiday cheer, we decided to share with you this architectural funny that depicts the architectural history of the christmas tree. We found the clever illustration by Subtle Design on deviantART – "the world's largest online art community". Enjoy!
For more, check out our "Architectural Funnies" board on Pinterest! There you will find some of our favorite comics, including last year's christmas hit: Trees of the Architects.