In honor of Thom Mayne's birthday today, we're sharing this video interview from Danish Website Louisiana. In it Thom Mayne introduces his building at 41 Cooper Square by saying "I wanted to produce something that was off, and was not at all systematic in any normal architectural sense." Ultimately, the form of the building is, he says, an attempt to engage with New York City, understanding Cooper Union as a key part of the city's incredible intensity of intellectual creative capital. He also discusses how the building – despite its avant garde form - won over the local community. Enjoy!
Today is the 70th Birthday of Thom Mayne, Principal architect of LA firm Morphosis. Mayne was the recipient of the 2005 Pritzker Prize and the 2013 AIA Gold Medal, and is known for his experimental architectural forms, often applying them to significant institutional buildings such as the Cooper Union building and the Caltrans District 7 Headquarters.
In a recent article for the Denver Post, Ray Rinaldi discusses how the box is making a comeback in U.S. museum design. Stating how architecture in the 2000's was a lot about swoops, curves, and flying birds – see Frank Gehry and Santiago Calatrava - he points out the cool cubes of David Chipperfield and Renzo Piano. We've rounded up some of these boxy works just for you: the Clyfford Still Museum, the Kimbell Art Museum Expansion, The St. Louis Art Museum's East Building, Tod Williams and Billie Tsien's Barnes Foundation, and Shigeru Ban's Aspen Art Museum. Each project begins to show how boxes can be strong, secure, and even sly. Check out more about the article here.
The list of architects that have collaborated with Zhang Xin's development company, SOHO China, reads like the roster of an architectural dream team (which includes Zaha Hadid, Yung Ho Chang, Bjarke Ingels, Kengo Kuma, Kazuyo Sejima, Herzog & de Meuron, Thom Mayne, David Adjaye, Toyo Ito and others). So it's no surprise that the self-made billionaire lectured to a packed house at Harvard University's Graduate School of Design last Thursday. Xin spoke about her commitment to and love of design, explaining that her company's mission is to bring a variety of architectural languages to China. And though SOHO's projects are certainly experimental, Xin contends that her developer mindset actually helps meliorate the architect's propensity to take the experiment too far—all without sacrificing the impressive and iconic forms of SOHO's building portfolio.
Watch Zhang Xin link her practice in real estate to larger global issues and catch a glimpse of two Zaha Hadid-designs currently under construction: Wangjing SOHO and Sky SOHO.
Despite what you may think, Thom Mayne isn't the "bad boy" of architecture – at least, not according to Thom Mayne. He sees himself more as a skilled negotiator than a starchitect (a phrase he hates) – after all, he reasons, how else would he have completed so many buildings? In this interview, originally published on Metropolis Magazine's Point of View blog as "Q&A: Thom Mayne," Andrew Caruso and Mayne discuss Morphosis, SCI-ARC, the early days of his career, and his architectural ethos.  
Andrew Caruso: Your professional career began in the discipline of planning. What led to the shift toward architecture and your eventual partnership with Jim Stafford?
Thom Mayne: I started working at the Pasadena redevelopment agency doing low cost housing, and that's where I met Jim [Stafford]. Coming out of USC, I had no background about Mies, Khan or Corbusier, for example. USC was very strong in being anti-historical, looking forward instead of backward. I was essentially naive.
Jim was a year ahead of me at USC and had part of the older regime at the school. When I met him at the planning agency, he started introducing me to history. I got fascinated by [Paul] Rudolph; and then it just took off. Jim guided me through this thought process, reestablishing me in the tradition of architecture.
The Getty's Pacific Standard Time Presents: Modern Architecture in L.A. hosted A. Quincy Jones: Building for Better Living at UCLA's Hammer Museum and Contemporary Architecture from Southern California (formerly known as A New Sculpturalism) at MOCA Geffen for the better part of this summer. These two exhibits, on view until September 8 and 16 respectively, give us insight into Los Angeles' past and present architectural legacies. They take on fundamentally different challenges. One uncovers a prolific and primary history of a modernist architect, the other attempts to capture and catalogue an unwieldy and unstable present.
Read on after the break for reviews of both exhibitions…
When Christopher Hawthorne, architecture critic for the Los Angeles Times, gives a bad review there is the sense that he is essentially dismantling a building, chipping its façade apart, like breaking down some charade in defense of the public's honor. Like a hired killer he disappears the architecture, but at the same time heightens its visibility in the culture.
This ability, to provoke in such ways, is precisely why Thom Mayne would like to bar Mr. Hawthorne from taking a crack at reviewing the new building he and his firm, Morphosis designed for the firm's new offices.
On a recent tour of the new digs, Mayne, as reported in The Architect's Newspaper, was overheard saying, "There are no good writers in Los Angeles" and "All local writers are horrible." To add further insult, he wants a science writer to cover it. That should be a short review.
Beginning in 2014 The Cooper Union for the Advancement of Science and Art (known more commonly as Cooper Union), the famed New York City college, will start charging tuition.
For more than 100 years, Cooper Union, which includes a prestigious architecture school, has been "free" (full-tuition support to all students). As such it has always stood apart, charting its own path and following its own independent mission. That Cooper Union is now dead.
For Cooper Union to have survived it would have had to remain simpleminded. And I mean this in the most flattering way.
At 71, the 2013 Pritzker Prize winner Toyo Ito is not content with settling down just yet, at least not architecturally-speaking. Where many architects have established distinct styles, Ito is known for constantly shifting, experimenting, questioning and developing his approach to architecture. As one member of the Prtizker jury put it "he has been working on one project all along – to push the boundaries of architecture. And to achieve that goal, he is not afraid of letting go what he has accomplished before." 
In this video entitled Learning from Laureates - which comes courtesy of the good folks at ARCHITECT magazine - fellow experimentalist and Pritzker Prize recipient (not to mention 2013 AIA Gold Medalist) Thom Mayne gets to grips with Ito's motivation. The pair of laureates converse via Skype examining the drive behind Ito's evolutionary approach, before getting down to discussing how they think architecture is being affected by society's biggest change yet – the advent of the post-digital age.
See more of Ito's work along with some of our previous coverage after the break…
The AIA has announced that Thom Mayne has been selected as the recipient of the 2013 AIA Gold Medal, one of the profession's highest honors, due to his "ambitious government and institutional projects."
Beyond forming the firm Morphosis and co-founding the innovative Southern California Institute of Architects, or SCI-Arc, in 1972, the AIA cited "Mayne's palette of bold, angular forms, exposed structural elements, and double-skin veils that play on notions of dynamic transparency" as reason for his selection.
As former AIA Gold Medal Winner Antoine Predock, FAIA, wrote in a letter of recommendation: "[Mayne] is one of the few architects able to head a large-scale, successful practice while influentially designing theoretical premises. The result has been a 40-year body of work that is intellectually rigorous and consistently searching."
Mayne will be honored at a special event in March in Washington, D.C. as well as at the 2013 AIA National Convention in Denver.
Story via the AIA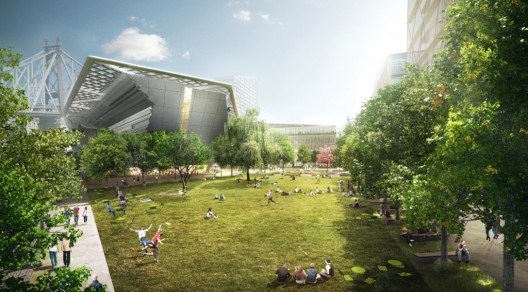 To celebrate the start of a seven-month land use review process, Cornell has released preliminary renderings of the first academic building planned for Cornell Tech – the new world-class technology and entrepreneurship campus in New York City that was masterplanned by Skidmore, Owings and Merrill (SOM).
The modern campus strives to rethink academic workspace, prioritize environmental performance, and exploit the unique urban condition of Roosevelt Island. In May, Pritzker Prize laureate Thom Mayne, founder of Morphosis, was appointed as architect of the first landmark building, which will set the stage for the carbon positive campus.
Continue after the break to learn more.
Today, Cornell University has announced their selection of Thom Mayne and Morphosis to design the first academic building for the CornellNYC Tech campus on Roosevelt Island. Mayor Michael Bloomberg awarded the Roosevelt Island campus project to Cornell mid-December of last year. With plans to achieve net-zero, the campus is striving to become the new modern prototype for learning spaces worldwide.
"This project represents an extraordinary opportunity to explore the intersection of three territories: environmental performance, rethinking the academic workspace and the unique urban condition of Roosevelt Island," Mayne said, as reported by Cornell University. "This nexus offers tremendous opportunities not only for CornellNYC Tech, but also for New York City."
Continue reading for more.
Thom Mayne recently sent us his latest book, Combinatory Urbanism: The Complex Behavior of Collective Form.  MIT Professor of Urban Design and Landscape Architecture, Alan Berger, hails this book as "nothing short of a tour de force and should be required reading for landscape urbanists and landscape architects. Students and general audiences of design and planning will find it difficult to go back into their disciplinary silos." The twelve projects featured in this book "were generated over a ten-year period. They are assembled here for the first time as a single collection of our urban work. Ranging from sixteen acres–the World Trade Center–to fifty-two thousand acres–the New New Orleans Urban Redevelopment–these proposals are situated on different parts of the architecture-to-urban-design-scale continuum. Each project inhabits an ambiguous in-between territory in which physical scale exceeds architecture but the manifestation still requires architectural qualities in order to make sense in its context."
Over 1,200 entires from 30 states and 10 countries submitted applications for the National Mall competition. Late last month fifteen design teams were chosen as finalists to advance to the second stage of this prestigious contest.
Hosting 25 million visitors annually, the National Mall will undergo an estimated $700 million restoration beginning in 2012. The competition has been broken down into three areas of restoration: Union Square including the Reflecting Pool and the Ulysses S. Grant Memorial, Sylvan Theater on the Washington Monument Grounds, and the Constitution Gardens between the Vietnam Veterans Memorial and the Lincoln Memorial.
Among the finalists to move on to stage two of the competition, Diller Scofidio Renfro, Weiss/Manfredi, and Rogers Marvel Architects who are shortlisted for two out of the three areas of restoration, as well as Snohetta, Michael Maltzan Architecture, Ten Arquitectos, and Bohlin Cywinski Jackson who are finalists for one area of restoration.
"Entrants were evaluated on past design performance, philosophy, design intent, thoughtfulness, creativity and overall resume," according to a release from the Trust of the National Mall. The jury, compiled of architects, professors and other members of the architecture community, included Michael Gericke of Pentagram NYC and Pritzker Prize Laureate Thom Mayne founder of Morphosis.
The second stage of the competition includes interviews of the teams conducted by the Trust for the National Mall and the National Park Service, and the last stage will include proposed plans for the restoration. The competition will culminate in May 2012 and the proposed designs from stage three of the competition will be available to the public prior to the winning design being selected.
Follow the break for a complete list of design finalists for the National Mall Competition.
SCI-Arc, Los Angeles' cutting edge architectural institute, has just announced Thom Mayne as the newest Trustee of the board.  Mayne's addition to the board emphasizes SCI-Arc's commitment to pushing the boundaries of traditional architectural form and theory.   Back in 1972, Mayne co-founded the institute along with seven faculty members and approximately forty students who left Cal Poly Pomona to form a "a college without walls."  For the past nearly four decades, Mayne has been an integral part of the university, serving as a juror, lecturer and generous supporter of the school.   "Thom Mayne is the quintessential SCI-Arc architect. His addition to the board is indicative of the fact that SCI-Arc continues to re-imagine the content of architecture," said Director Eric Owen Moss.  According to SCI-Arc, this appointment complements a series of events that have prompted the school's growth both physically and programmatically.