In June of this year seven architecture students came together to film the vernissage of the Venice Biennale. Undaunted by the unrelenting Venetian sun and the prospect of being faced by some of the world's greatest living architects and curators, the team – spanning four nationalities – spent three days feverishly talking to anyone and everyone (in between pasta and espresso breaks). Having built up a comprehensive picture of the opening days of the Biennale in a series of short, uninhibited filmed interviews, Mies. TV proudly presents their alternative, slightly shaky coverage of the 2014 Venice Biennale.
Watch short interviews with the likes of Jacques Herzog (Herzog + de Meuron), Daniel Libeskind, Patrik Schumacher (Zaha Hadid Architects), Sir Peter Cook (CRAB Studio), Wolf D. Prix (Coop Himmelb(l)au), Sam Jacob (FAT), and ArchDaily's very own Editor-in-Chief – David Basulto - after the break.
In the early years of COOP HIMMELB(L)AU, Raimund Abraham was a role model – later on a friend. On the occasion of the Austrian government "Staatspreis" awarded to Raimund Abraham, Wolf D. Prix held the speech of honor, and characterized him as one of the main representatives of the Austrian architectural approach of celebrating space.  
In his upcoming SCI-Arc lecture, Prix will explain Abraham's influence on the early works of COOP HIMMELB(L)AU as well as references to the recent international and well-known buildings. How would visionaries like Abraham and Le Corbusier have developed and expressed themselves in today's digital time? How would digital tools have influenced their designs?  
The lecture is free, with no RSVP required and broadcast live at www.sciarc.edu/live.
Title: Wolf D. Prix on Raimund Abraham: Visions in Exile or: Before we were so rudely interrupted
Website: http://www.sciarc.edu/lectures.php?date=2014-03-05
Organizers: SCI-Arc
From: Wed, 05 Mar 2014 19:00
Until: Wed, 05 Mar 2014 21:00
Venue: W.M. Keck Lecture Hall
Address: 960 East 3rd Street, Los Angeles, CA 90013, USA
Highly regarded as both an academic and practitioner, Wolf Prix is an architect's architect. He's also a Guinness World Record holder. (The Busan Cinema Center boasts the world's longest cantilever roof). We sat down with the Austrian architect and learned that not only does he welcome the unforeseeable results of rule-breaking, but he also borrows models of strategy and organization from soccer:
"Of course nowadays the architect as a single genius is over. I think we have to learn how to communicate and work in a team. Therefore, I just rearranged the organization of our office along the idea of the football team, FC Barcelona. Barcelona plays a beautiful game, very clever and very intelligent—they always play in a triangle system and then Messi or Xavi breaks the rules and plays street football with unforeseeable rules. This is the way we work in our office and this is the way that we design."
He founded COOP HIMMELB(L)AU in 1968 (with Helmut Swiczinsky) and in 1980 the office published "Architecture Must Burn!" a manifesto which extolled the virtues of an architecture "that bleeds, exhausts, that turns and even breaks." From its inception the office has pushed the boundaries of practice through its use of complex forms, communicated using a variety of media and materials. Their projects represent an embrace of imbalance, disquiet, distortion, fragmentation and chaos.
The title of one of his latest lectures ("In two days tomorrow will be yesterday") aptly encapsulates Prix's approach to time and space.
He gained international recognition when his firm's work was featured in the 1988 MoMA show "Deconstructivist Architecture." The show marked what curator Philip Johnson described as the "pleasures of unease" and highlighted the work of six other architects in addition to COOP HIMMELB(L)AU— Zaha Hadid, Rem Koolhaas, Frank Gehry, Peter Eisenmann, Bernard Tschumi and Daniel Libeskind. The curators brought together this diverse group of architects to showcase the commonalities between projects that harnessed previously unexplored potentials of the modern movement.
"We always wanted to get through with our radical ideas. No compromising on one hand; on the other hand, if you build large projects you have to think in real terms as well."
Prix's architecture has employed advances in technology to create public spaces that challenge tradition and convention. COOP HIMMELB(L)AU's more recent projects include The Busan Cinema Center, Musée des Confluences, BMW Welt, and Dalian International Conference Center. He has taught at the Universität für angewandte Kunst (University of Applied Art) in Vienna, Harvard University, the Architectural Association, Columbia University and other prominent schools of architecture.
Lebbeus Woods was an architect's architect. Artistically uncompromising, unapologetically theoretical, and, in his own way, marvelously optimistic, Lebbeus' death last month deeply saddened the architectural community.
In a world where computers are making architecture an increasingly technical profession, Lebbeus provoked architects to consider – what is architecture's purpose? And, more importantly, what is it's potential? As Woods' friend Thom Mayne told The Los Angeles Times, "Architecture wasn't what he did. It's who he was. There is no other Lebbeus."
Today, Wolf D. Prix, the oft-controversial figure, published his own eulogy to Woods, an architect and friend he held in high-esteem. Unlike the "Lady-Gaga-aesthetics," that prevail in architecture today, Prix says, Woods' forms were always new, profound, and impactive. Prix claims that Woods' unique drawings"conquered the drawing boards of innumerable students and architects and [...] put the question about the contents of a future architecture into the foreground."
"Lebbeus was the living proof of Derrida's theory that often a small sketch can have more influence on the world than a large building."
You can read all of Wolf D. Prix's "For Lebbeus Woods" after the break…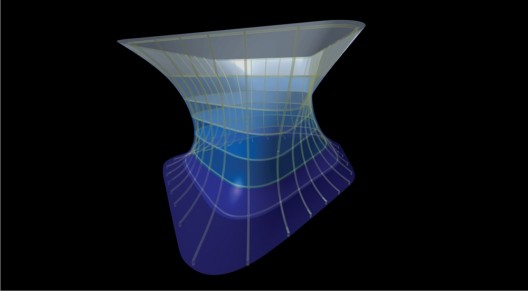 Update: The AIA has expressed their support for Gehry Technologies' strategic alliance (reported last night on ArchDaily).  "We applaud this enterprise by Gehry Technologies and the Board who are comprised of many AIA members because it is estimated that as much as 30% to as much as 50% of all time, money, materials and resources that go into a construction project do not add value to the final product," said AIA President, Clark Manus, FAIA. "The AIA has long been advocating for tools such as Business Information Modeling and methodologies like Integrated Project Delivery that can help reduce the inefficiencies in construction projects. We are anxious to see the progress though this effort that will be beneficial for both the industry and clients."
Today Frank Gehry, co-founder and chairman of Gehry Technologies (GT), announced plans to further his vision to 'transform the building industry and the practice of design'.  In an effort to redirect the profession back to solving both clients' and communities' problems Gehry has gathered together some of the world's most prominent designers: David Childs, Massimo Colomban, Zaha Hadid, Greg Lynn, Laurie Olin, Wolf D. Prix, David Rockwell, Moshe Safdie, Matthias Schuler, Patrik Schumacher, Ben van Berkel, and Richard Saul Wurman to serve on Gehry Technologies' board of advisors.
"I am dedicated to giving architects better control of the process so they can deliver the fruits of their imagination, which is what our clients expect. I have gathered a group of my friends together who believe in this mission as much as I do and who can help me find the solutions that will ultimately lead to better buildings throughout the world," stated Gehry.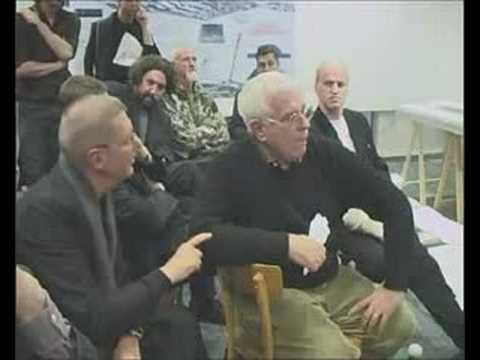 Interesting conversation between Peter Eisenman and Wolf d.Prix on architectural education during a studio presentation. What do you think?
On a side note, the 92nd Street Y Association is hosting an interesting conversation with Peter Eisenman and Greg Lynn (moderated by Kurt Forster) this Thursday. Entrance is $27 ($10 for students). About the architects:
One of the most influential architects of our time, PETER EISENMAN is known for his pure and sensual designs and his belief that architecture is an autonomous art. Founder of the Institute for Architecture and Urban Studies, and author and co-author of numerous books and articles, he works from his New York-based Eisenman Architects. GREG LYNN uses computer-aided design to create sculptural, biomorphic structures. His interest in digital fabrication, calculus and what he terms "blob architecture" have put the architect-theorist at the forefront of architectural discourse. Influential theorist KURT FORSTER is the founder of the Getty Research Center and the Canadian Center for Architecture in Montreal. He has published widely and has curated groundbreaking shows, such as those on Herzog & de Meuron in Montreal and on Schinkel in Chicago.
Thursday, Oct 23, 8:15 pm
92nd Street Y, 1395 Lexington Ave at 92nd Street
More info at: www.92Y.org or 212.415.5500