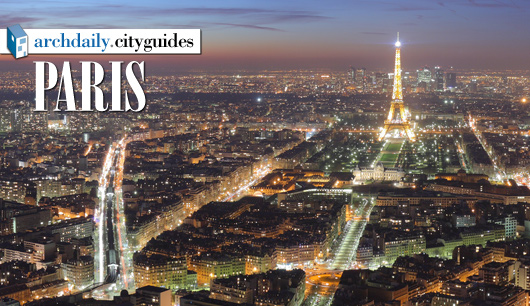 This week, with the help of our readers, our Architecture City Guide is headed to Paris. For centuries Paris has been the laboratory where innovative architects and artists have come to test their ideas. This has created a city that has bit of everything. Where the architecture of some cities seems to undergo phases of punctuated equilibrium, Paris's architectural fossil record gives an impression of gradualism; all the missing links are there. This makes it easy to trace the origins of the most contemporary ideas throughout history. Nothing seems to come out of nowhere. If you look around you kind find the design's inspiration running through the city's Roman, Medieval, Renaissance, Baroque, Classical, Rocco, Neo-Classical, Empire, Art Nouveau, Art Deco, Modern, Post-Modern, and Contemporary Architecture. Seen in another context, many of Paris's buildings might seem out of place, but the bones of this city support the newest iterations on the oldest and most profound questions. The 24 contemporary designs that comprise our list probably should not be viewed outside of this context, even though that is the stated goal of some of the designs.
As the most visited city in the world and arguably the capital of culture, it is impossible to capture the essence of Paris in 24 modern/contemporary designs. Our readers supplied us with great suggestions, and we really appreciate the help and use of their photographs. The list is far from complete and we realize that many iconic buildings are not yet on the list. We will be adding to it in the near feature, so please add more in the comments section below.
The Architecture City Guide: Paris list and corresponding map after the break.
Architects: Bernard Tschumi Architects
Location: Athens, Greece
Associate Architect: ARSY
Bernard Tschumi Architects Team: Bernard Tschumi; Architect and Lead Designer Joel Rutten; Project Architect, Adam Dayem, Aristotelis Dimitrakopoulos, Jane Kim, Eva Sopeoglou, Kim Starr, Anne Save de Beaurecueil, Jonathan Chace, Robert Holton, Valentin Bontjes van Beek, Liz Kim, Daniel Holguin, Kriti Siderakis, Michaela Metcalfe, Justin Moore, Joel Aviles, Georgia Papadavid, Allis Chee, Thomas Goodwill, Véronique Descharrières, Christina Devizzi
ARSY Team: Michael Photiadis; Principal, George Kriparakos, Nikos Balkalbassis, Philippos Photiadis, Jaimie Peel, Niki Plevri, Maria Sarafidou, Makis Grivas, Elena Voutsina, Manoulis Economou, Anastassia Gianou, Miltiadis Lazaridis, Dimitris Kosmas
Structure: ADK and ARUP
Mechanical and Electrical: MMB Study Group S.A. and ARUP
Civil: Michanniki Geostatiki and ARUP
Acoustics: Theodore Timagenis
Lighting: ARUP, London
General Contractor: Aktor
Project Area: 21,000 sqm
Project Year: 2003-2009
Photographs: Courtesy of Bernard Tschumi Architects
Architects: Bernard Tschumi & Hugh Dutton Architects
Location: Roche-sur-Yon, France
Bernard Tschumi Architects Team: Schematic Design, Design Development: Francoise Akinosho, Ben Edelberg, Kim Starr. Construction Documents / Site Supervision : Véronique Descharrières, Vincent Prunier, Rémy Cointet, Alice Dufourmontelle
HDA Team: Pierluigi Bucci, Pierre Chassagne, Francesco Cingolani, Maria Angela Corsi, Pietro Demontis, Gaëtan Kolher, Cathy Shortle, Romain Stieltjes, Carla Zaccheddu
Client: City of Roche sur Yon
Project Team: SNCF – Engineering Departement, Jean-Marie Garnier
Budget: $6,000,000
Contractor: Renaudat Centre Constructions
Project Year: 2010
Photographs: Christian Richters
The project for a footbridge located in Roche-sur-Yon was commissioned as a collaborative work in between HDA Paris, who has a previous experience with the footbridge they did in Turin for the Olympic Village in 2006 and Bernard Tschumi, who recently finished the Acropolis Museum.