In honor of Bastille Day, we've rounded up some of our favorite AD Classics built in France. From Bernard Tschumi's Parc de la Villette to our most popular classic project, Le Corbusier's Villa Savoye, take a moment to revisit these renowned works.
Check out this rare footage that captures Le Corbusier as a "young man of 71-years-old" surrounded by paintings and discussing his work, poetry and the "ideal city" within his 1933, self-designed Paris flat.
Where do you receive inspiration? Nalina Moses asked the question to nine contemporary residential architects, asking each to choose one residence that had left an impression on them. The following answers were first published on the AIA's website in the article "Homing Instinct."
When nine accomplished residential architects were asked to pick a house—any house—that has left the greatest impression on them as designers, most of their choices ran succinctly along the canon of American or European Modern architecture. Two—Alvar Aalto's Villa Mairea and Pierre Chareau's La Maison de Verre—were even tapped twice.
If the houses these designers chose weren't surprising, the reasons they chose them were. Rather than groundbreaking style or technologies, what they cited were the moments of comfort, excitement, and refinement they offered: the restful proportions of a bedroom, the feel of a crafted wood handrail, an ocean view unfolding beyond an outdoor stair.
In a public interview, director Mary McGuckian speaks with Shane O'Toole of DoCoMoMo Ireland about her soon-to-be-released film, "The Price of Desire," a biopic about the influential Irish modernist Eileen Gray – narrated from the perspective of Le Corbusier, no less. McGuckian explains how the film and the extensive research behind it went far beyond the usual remit of a biopic. Indeed, not only did it spawn an accompanying documentary ("Gray Matters", directed by Marco Orsini) and book, it even played a pivotal role in the restoration of E1027, Gray's seminal house design, to a point where it was possible to film on location.
McGuckian explains how the film deals with "the universal female experience, particularly for creative women… the lifetime experience of Eileen Gray was a combination of the time she lived in, the personality she was, and for want of a better expression, insidious chauvinism." The film casts Le Corbusier as Gray's rival, who defaced E1027 with his infamous murals, but also uses a little cinematic license to present him as the admirer who tells "the story, from his point of view, of how Eileen Gray came to be the most important, inspirational and innovative architect of their generation, and gives her back the right to be recognized for that work."
This article by Avinash Rajagopal, originally published in Metropolis Magazine as 'The Little Prince' and Le Corbusier investigates the link between Le Corbusier and Antoine de Saint-Exupéry, writer of The Little Prince.
On October 22, 1929, a French architect got on the inaugural flight of the Aeroposta Argentina, a pioneering airline service that flew from Buenos Aires to Asuncion del Paraguay, flown by a French co-pilot. The act of flying would deeply influence the creative output of both passenger and pilot.
The former, of course, was Le Corbusier. The latter was Antoine de Saint-Exupéry, later to be famous as the creator of The Little Prince (1943), the well-beloved tale of a planet-hopping, fox-befriending, flower-loving space child.
Read on after the break for more about the pair
Originally posted in Metropolis Magazine, Samuel Medina reports on the irreparable damage caused by vandalism at Le Corbusier's Chapel of Ronchamp.  
On Friday, a nun gave warning that the Chapel of Ronchamp, considered by many to be one of the key architectural works of the last century, had been vandalized. When police arrived on the scene, they found signs of forced entry: a stained-glass window, one of many executed by Le Corbusier, was broken and a concrete trunk was missing. As Le Monde reports, the intruders had also attempted to gain entry via a door. The overall damage was, according to some, "priceless" because the stained-glass had borne an original illustration by Le Corbusier. An initial assessment from the department of historical monuments found the window to be irreparable.
Where does architecture and the automobile industry meet? Many architects, including Le Corbusier, have tried to understand how building construction can be more like car manufacturing, with mass-produced parts that can be easily assembled on site. Ford recently explored the idea at their Design with a Purpose: Built Tough panel discussion held at New York's Center for Architecture. Click here to read The New York Times' coverage of the discussion, and check out ArchDaily editor-in-chief's thoughts on cars and architecture here.
Since the dawn of the modern era, there has been a strong relationship between architecture and the car, especially in the works of Le Corbusier.
Le Corbusier was fascinated by his car (the Voisin C7 Lumineuse); the aesthetics of this functional, mass produced machine deeply influenced his designs. Its focus on function translated into his concept that houses should be "machines for living" and inspired a series of experiments of mass produced, pre-fab houses (such as the Maison Citrohan). Most of these concepts were later materialized in the iconic Villa Savoye, whose floorplan was even designed to accommodate the car's turning radius. 
LEGO® has officially announced the next addition to their architecture-inspired products: The United Nations Headquarters. Standing alongside New York City's East River, the United Nations Headquarters is a beacon of modernism and international collaboration, designed by a team of multinational architects including Le Corbusier and Oscar Niemeyer. Scaling 5 inches high x 8 inches wide x 6 inches deep, this representation of the UN Headquarters costs  $49.99.
Check out more about the building and its history here.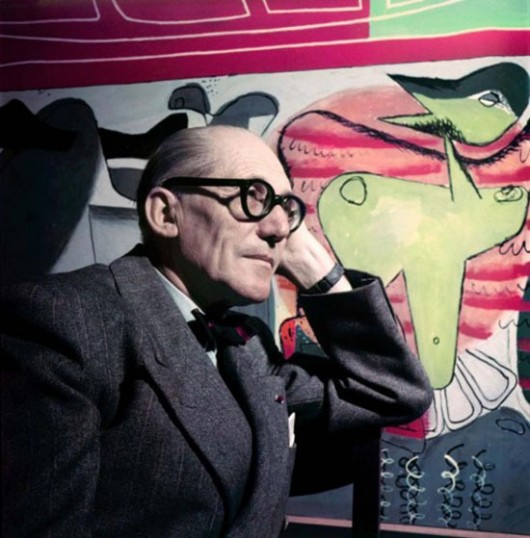 Charles Edouard Jeanneret-Gris (1887-1965), better known as Le Corbusier, would have turned 126 today.
The Swiss-born architect, urban planner, designer, painter and writer is widely regarded as one of the pioneers of the modernist movement in architecture.  Over the course of his five-decade career, he saw work built across Europe, India, and the United States.
32BNY in collaboration with Spirit of Space has released its fifth videopolemic, entitled Firminy: José Oubrerie. In this video José Oubrerie, a French architect and protégé of Le Corbusier, currently teaching at the Knowlton School of Architecture at Ohio State University, remembers his time working for Corbu, working on the Church in Firminy.
32BNY was launched in February 2013 as a website dedicated to the potential of cinematic architectural discourse. Previous videopolemics included Steven Holl and Sanford Kwinter on Lebbeus Woods, Vito Acconci on Art and Architecture, Drawing as Thought, and Existential Sensitivity: Jeffrey Kipnis and Steven Holl. Although 32BNY admit they do not know what the terms 'cinematic architectural discourse', or 'videopolemic' mean, they are undeterred from their exploration. You can find out more about them and their work on their website.
Dutch designers, Rem Koolhaas and Hella Jongerius, have revamped the delegates' lounge in the United Nations building just in time for the 68th General Assembly this week. The "workshop of peace" lounge space, originally designed in 1952 by Wallace K. Harrison in collaboration with renowned modernists Le Corbusier and Oscar Neimeyer, now sports a range of pastel-colored sofas and lounge chairs, opting for minimal intervention in attempts to maximize the social space. Read more about the UN North Delegates lobby on Gizmodo.
In this article, which originally appeared on Architectural Review, Iman Ansari interviews Peter Eisenman about his personal views on architecture throughout the course of his career. 
Iman Ansari: More than any other contemporary architect, you have sought a space for architecture outside the traditional and conventional realm. You have continually argued that modern architecture was never fully modern and it failed to produce a cognitive reflection about the nature of architecture in a fundamental way.  From your early houses, we see a search for a system of architectural meaning and an attempt to establish a linguistic model for architecture: The idea that buildings are not simply physical objects, but artifacts with meaning, or signs dispersed across some larger social text. But these houses were also part of a larger project that was about the nature of drawing and representation in architecture. You described them as "cardboard architecture" which neglects the architectural material, scale, function, site, and all semantics associations in favor of architecture as "syntax": conception of form as an index, a signal or a notation. So to me, it seems like between the object and the idea of the object, your approach favors the latter. The physical house is merely a medium through which the conception of the virtual or conceptual house becomes possible. In that sense, the real building exists only in your drawings.
Peter Eisenman: The "real architecture" only exists in the drawings. The "real building" exists outside the drawings. The difference here is that "architecture" and "building" are not the same.
The Wall Street Journal recently detailed the complex history of E-1027, the house which Eileen Gray designed with her lover Jean Badovici in Southern France: from the murals which Le Corbusier painted on the walls (without Gray's permission) to the murder that happened there in 1996 to the restoration that has been going on for over a decade (a supposed "massacre" of the original). You can read the full article here.