As the only Spanish architect to receive the Pritzker Prize, Rafael Moneo (born 9 May 1937) is known for his highly contextual buildings which nonetheless remain committed to modernist stylings. His designs are regularly credited as achieving the elusive quality of "timelessness"; as critic Robert Campbell wrote in his essay about Moneo for the Pritzker Prize, "a Moneo building creates an awareness of time by remembering its antecedents. It then layers this memory against its mission in the contemporary world."
Architects: Rafael Moneo, Antonio Puig, Josep Riu Architects, Lucho Marcial
Location: Barcelona, Barcelona, Spain
Architect In Charge: Roser Huguet (GCA), Josep Puig (GCA), Juan Velasco (GCA), Cristian Naudin
Photographs: Rafael Vargas
As if architects in Spain weren't struggling enough – what with the Crisis closing half the country's studios and putting over 25% of Spanish architects out of work - a new law could now render Spanish architects effectively unnecessary.
A preliminary document reveals that, if passed, The Law of Professional Services (LSP) will modify labor regulations in order to allow engineers, or really any one "competent" in construction, to take on the work of architects:
"Exclusivity is eliminated. Architects or engineers with competency in construction will be able to design and direct projects, including residential, cultural, academic or religious buildings. [...] If a professional is competent enough to execute one building's construction, it is understood that he/she will also be capable of executing other kinds of buildings, regardless of its intended use."
Unsurprisingly, Spanish architects have risen up against the law, mobilizing both physical protests as well as social media campaigns. Even Pritzker-Prize winner Rafael Moneo has offered his opinion on the matter…Hear what Moneo has to say, after the break…
Following a brutal 15-year civil war that tore the city apart, Beirut has recovered remarkably; it was voted the number one destination to visit by the New York Times in 2009, and, more recently, received a similar title by Frommer's. The city is in the second phase of one of the biggest urban reconstruction projects in the world, run by Solidere, which has brought architects like Steven Holl, Herzog & DeMeuron, Zaha Hadid, Vincent James, and Rafael Moneo to the local scene. In less internationalized parts of the city sit the landmarks of the 1960s and 1970s, Beirut's pre-war glory days, including buildings by names such as Alvar Aalto, Victor Gruen, and the Swiss Addor & Julliard. With a city growing as fast as Beirut it is impossible to have a final city guide, so we look forward to hearing your suggestions and building on this over the years.
Photos and a map of Beirut's most exciting buildings after the break…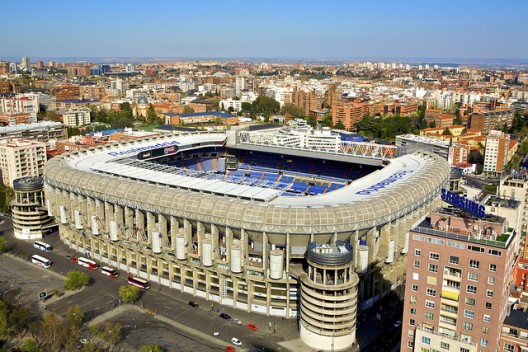 The Challenge: Convert Real Madrid's Santiago Bernabéu Stadium into "an architectural icon for Madrid and an internationally-recognized exemplar of sports infrastructure."
The Contenders: Three teams, each made up of two all-star firms (one Spanish, one not).
The first all-star pairing? Herzog and de Meuron with Rafael Moneo…
Find out which other famous Architects are the competition, after the break.
Announced today on his 75th birthday, Spanish Architect Rafael Moneo has been named winner of the prestigious Prince of Asturias Award for the Arts – an award bestowed to an individual, institution or group of individuals or institutions whose work in Cinematography, Theatre, Dance, Music, Photography, Painting, Sculpture, Architecture or any other form of artistic expression constitutes a significant contribution to Mankind's culture heritage.
As the 32nd laureate, Rafael Moneo is the fifth architect who has received this award, following Oscar Niemeyer in 1989, Santiago Calatrava in 1999, Franciscco Javier Sáenz de Oíza in 1993 and Lord Foster in 2009.
Continue after the break for more.
This week, with the help of our readers, our Architecture City Guide is headed to Madrid. As the third largest city in the European Union, Madrid is the economic and political capital of Spain. The streets and neighborhoods for the most part remains historic, but the city is punctuated with moments of engaging and interesting contemporary architecture. For those who have followed our city guides, you will have noticed that this is our second stop in Spain. That said, Madrid is distinctly different from Barcelona. The differences between the two are manifested in their architecture, both old and new. Our lists only cover relatively recent projects, but a quick glance at the two will give you a sense of the differing cultures and lifestyles (Barcelona's City Guide). Both lists are far from complete and we are looking to add to them in the near future. In the meantime add more of your favorites to the comment section below.
To check out other cities visit our world map or our Architecture City Guide  page.
The Architecture City Guide: Madrid list and corresponding map after the break.
This week, with the help of our readers, our Architecture City Guide is headed to Barcelona. We recently featured an engaging video where Wiel Arets half jokingly said Barcelona is fantastic but boring. He continued to say as soon as Sagrada Família is finished Barcelona is done; there is nothing left to do there (10:50). Arets can say what he wants about Barcelona supposedly being boring, but our city guide doesn't reflect this. Barcelona is filled with fantastically expressive architecture that springs from its proud Catalan culture. It was impossible to feature all our readers suggestions in the first go around, and we did not even come close to including some of the most iconic building such as Casa Milà. Thus we are looking to add to our list of 24 in the near future. Further more there are so many fabulous buildings on the drawing board or under construction, i.e. the projects in the @22 district, we'll most likely be updating this city guide for quite awhile, regardless of Sagrada Família's completion.
Take a look at our list with the knowledge it is far complete and add to it in the comment section below.
The Architecture City Guide: Barcelona list and corresponding map after the break.
The design for the new science building at 120th St and Broadway has its origins in the historic Morningside Heights campus plan designed by McKim, Mead and White for Columbia University in 1897. The architects determined very early on that the new building should respect the McKim Meade & White plan; that it would measure just sixty-five feet in width, and would retain the same separation from its neighbors as indicated in that plan. Because of the construction of the Manhattanville Campus to the north, the new building was able to provide a much-needed gateway to the old campus for pedestrian traffic to and from the new campus to the north.
Drawings and photographs of the Northwest Corner Building following the break.
Architects: Rafael Moneo, Davis Brody Bond and Moneo Brock Studio
Location: New York City, New York, USA
Lead Designer: José Rafael Moneo
Design Project Architect: Moneo Brock Studio
Lead Designers: Belen Moneo and Jeff Brock
Associate Architect: Davis Brody Bond Aedas
Partner-in-Charge: William Paxson
Contractor: Turner Construction Company
Structural/Mechanical Engineer: Ove Arup & Partners Consulting Engineers
Facade Consultant: R.A. Heintges & Associates
Geotechnical Engineer: Mueser Rutledge Consulting Engineers
Environmental Engineer: Rowan Williams Davies & Irwin
Landscape Consultant: Langan Engineering & Environmental Services
Lighting: Fisher Marantz Stone
Cost Estimating: Wolf and Company
Project Management: Columbia University Facilities – Capital Project Management
Client: Columbia University
Project Area: 188,000 sqf
Project Year: 2010
Photographs: Michael Moran Studio
Houston is our focus this week for our Architecture City Guide series.  We know Houston is packed with lots of great architecture so we are expecting to hear about your can't miss buildings in the comment section below.  Remember this list is intended to be added to by you, our readers.  We will be updating our Architecture City Guides in the future to reflect your suggested buildings to visit.
Follow the break for our Houston list and corresponding map!