Matthew Simmonds, an art historian and architectural stone carver based in Italy, has created a collection of exceptionally beautiful miniature spaces carved from stone. Having worked on a number of restoration projects in the UK – from Westminster Abbey to Ely Cathedral - his skills have been transferred into work of a much smaller, if not more intricate, scale. Hewn from large stone blocks (some of marble), the level of intricacy Simmonds has achieved in the architectural detailing is almost incredible. Capitals, vaults and surfaces all distort and reflect light in a very beguiling way.
Material Minds, presented by ArchDaily Materials, is our new series of short interviews with architects, designers, scientists, and others who use architectural materials in innovative ways. Enjoy!
Arthur Andersson of Andersson-Wise Architects wants to build ruins. He wants things to be timeless – to look good now and 2000 years from now. He wants buildings to fit within a place and time. To do that he has a various set of philosophies, processes and some great influences. Read our full in-depth interview with Mr. Andersson, another revolutionary "Material Mind," after the break.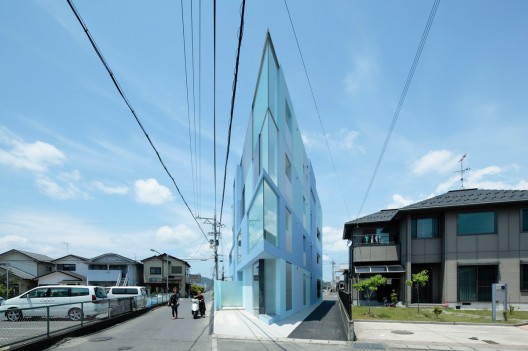 Architects: Eastern Design Office
Location: Shiga, Japan
Client: TOYO-KAIHATSU Co., ltd
Constructor: Okudakomuten Co., Ltd
Structure Planning: HOJO STRUCTURE RESEARCH INSTITUTE
Project Year: 2011
Project Area: 261 sqm
Photographs: Koichi Torimura
Architects: Senan Abdelqader
Location: Jerusalem, Palestine
Project Area: 1700 sqm
Photographs: Amit Giron
Architects: Mr. Rajiv Saini
Location: Rishikesh, India
Project Year: 2010
Project Area: 640 sqm
Photographs: Sebastian Zachariah
Architects: Markus Wespi Jérôme de Meuron architects
Location: Brione sopra Minusio, TI, Switzerland
Construction Supervision: Guscetti Arch. Dipl., 6648 Minusio
Engineer: Anastasi SA, 6604 Locarno
Building Physics: IFEC Consulenze SA, 6802 Rivera
Contractor: Merlini + Ferrari SA, 6648 Minusio
Carpenter: Erich Keller AG, 8583 Sulgen
Project year: 2004-2005
Photographs: Hannes Henz
Architects: Egyptian Earth Construction Association
Location: Marsa Alam, Egypt
Project Team: Ramses Nosshi, Khaled El Hammamy, Gawad Hashish, Hany Attala, Ne'ama Allah Hisham, Rasha Abd el Salam
Project Area: 250 sqm
Photographs: Courtesy of Nour Rifai & Ramses Nosshi
Architects: Alfredo Resende Arquitectos / João Resende, José Oliveira
Location: Viana de Castelo, Portugal
Project Year: 2007
Project Area: 245 sqm
Photographs: Luis Ferreira Alves
Architects: Markus Scherer with Walter Dietl
Location: Franzensfeste, Italy
Client: Autonome Provinz Bozen
Collaborator: Heike Kirnbauer, Elena Mezzanotte
Structural Engineering: Baubüro-Klaus Plattner, Bozen
Project Year: 2009
Photographs: René Riller, Alessandra Chemollo

Architects: Alan Chu & Cristiano Kato
Location: Ilhabela, Sao Paulo, Brazil
Project year: 2008
Site area: 8,000 sqm
Constructed area: 36 sqm
Photographs: Djan Chu
Architects: Jensen & Skodvin Arkitektkontor
Location: Mortensrud, Oslo
Design Period: 1998 – 1999
Construction period: 2000-2002
Building Leader: Øivind Moen AS, Dag Solvang, Haavard Slaatten
Client: Kirkelig Fellesråd i Oslo, Terje Oterholt
Project Architects: Jensen & Skodvin, JanOlav Jensen (project leader), Børre Skodvin, AnneLise Bjerkan, Torunn Golberg, Torstein Koch, Siri Moseng, Einar Bjarki Malmquist
Artists: Gunnar Torvund (main altar piece & blue glass sculpture in chapel), Knut Wold (marble piece in chapel)
Interior Architect Furniture: Terje Hope
Structural Engineer: ICG ASA / Einar Johansen, Ola Bjørn Petteresen, Gunnar Fuglerudsveen
Ventilation & Sanitary: Andersen & Johnsen AS, Bjørn Andersen
Budget: 5.500.000 EURO (US $8.42 millions)
Constructed Area: 2.200 sqm
Photographs: Jan Olav Jensen, Per Berntsen
Architects: GASA Architects
Location: Oslo, Norway
Project Year: 2010
Project Area: 14,500 sqm
Photographs: Jiri Havran
Architects: LEVEL Architects
Location: Tokyo, Japan
Project Year: 338.55 sqm
Project Area: 2010
Photographs: Kai Nakamura
Architects: Lucio Serpagli
Location: Parma, Italy
Project Year: 2006
Project Area: 280 sqm
Photographs: Olinto Malpeli
Architects: EQUIP Xavier Claramunt
Location: Calvià, Spain
Project Year: 2009
Project Area: 5,500 sqm
Photographs: Adrià Goula