When Sheila O'Donnell and John Tuomey, who practice in partnership as O'Donnell + Tuomey, were named as this year's recipients of the RIBA Royal Gold Medal, a palpable collective satisfaction appeared to spread throughout the profession. No one could find criticism in Joseph Rykwert and Níall McLaughlin's nomination, nor the ultimate choice of the RIBA Honours Committee, to bestow the award upon the Irish team. Their astonishingly rigourous body of work, compiled and constructed over the last twenty five years, has an appeal which extends beyond Irish and British shores. A robust stock of cultural, community and educational projects, alongside family homes and social housing projects, leaves little doubt about the quality, depth and breadth of their mutual capabilities and the skill of those that they choose to collaborate with.
Read the conversation with the Gold Medallists after the break.
As one of the key figures of midcentury modernism and perhaps Finland's most celebrated architect, Alvar Aalto (3 February 1898 – 11 May 1976) was known for his humanistic approach to modernism. Aalto was concerned about creating a total work of art. He did not simply design buildings but also paid close attention to their interior features, including furniture, lamps, and glassware design.
The 2014 World Monuments Fund/Knoll Modernism Prize has been awarded to the Finnish Committee for the restoration of Alvar Aalto's seminal Viipuri Library in Vyborg, Russia. "Designed by Aalto and constructed between 1927 and 1935 in what was then the Finnish city of Viipuri," stated WMF in a press release, "the library reflects the emergence of Aalto's distinctive combination of organic form and materials with the principles of clear functionalist expression that was to become the hallmark of his architecture."
A quote from Barry Bergdoll and more images, after the break.
The Scandinavian countries have developed great buildings that resonate with both the scarce light in winter and the long summer days. Henry Plummer, Professor Emeritus at the University of Illinois at Urbana-Champaign, has very carefully studied the various daylight phenomena in the Nordic countries, with extensive photo journeys and brilliant writing that combines an analytical perspective with a poetic touch. His view of daylight looks beyond the practical advantages of using reflective white spaces to facilitate bright rooms; the passionate photographer is much more interested in the light effects that play with the local beauty of nature and touch the human soul.
Read on for more about how Nordic light enters white spaces
The Alvar Aalto Foundation has begun a collaborative project with Google to make Aalto buildings even more accessible to the public. Using Google's revolutionary Street View navigation tool, along with its virtual Cultural Institute, the project offers a look inside some of Aalto's most iconic works of architecture. Learn more about this initiative and see the virtual journey for yourself after the break.
If you don't have access to an architecture library (and even if you do), sifting through shelves can take hours. Buying books can be even more painful — for your wallet, at least. Instead, why not browse this list of 25 books that are all free and easily accessible online? Some are well-known classics of architecture literature, but we hope you find a few surprises as well.
Re-Creation is a two-part installation based on a concept by Anssi Lassila. One part of the installation was constructed by a Finnish master carpenter and his team, and the other by a Chinese team. Together the two parts of the installation strike up a subtle and complex dialogue between the architects and local builders.
Presented by the pavilion designed by Alvar Aalto in 1956, the installation "takes a stand on our relationship with the modern legacy and its tradition of international dialogue, and represents a quintessential product of topical international dialogue while at the same time offering its own unique interpretation of the dynamic between tradition and modernity." See images of the pavilion and enjoy a statement from the curators after the break.
This summer, the art, architecture and design of Finland will be celebrated in London. Reason & Intuition – Alvar Aalto & Ola Kolehmainen in Soane is a new exhibition bringing together the finest works of an acknowledged great of international modernist architecture and design and three collections of images by an acclaimed Finnish photographer.
Alvar Aalto (1898-1976) was a central figure in international modernism. His sculptural, and highly functional, furniture produced in the 1930s remains influential and very popular.
Reason & Intuition will feature around forty Aalto creations, including chairs, tables, lights, glassware and textiles, as well as rarer pieces, such as a collection of original designs and plans for some of Aalto's 500 buildings and glassware designed by his first wife and collaborator, Aino.
Title: Exhibition / Reason & Intuition: Alvar Aalto & Ola Kolehmainen in Soane
Website: http://www.ealing.gov.uk/info/200893/pm_gallery_and_house/686/exhibitions/2
From: Fri, 04 Jul 2014
Until: Sun, 24 Aug 2014 
Venue: PM Gallery & House
Address: London, UK
Erik Møller Arkitekter has been commissioned to modernize Alvar Aalto's white marble Kunsten Museum of Modern Art in Denmark. As reported by BDOnline, the £14 million renovation will restore parts of the listed museum, as well as transform the building's basement into a new 600 square meter exhibition space.
Where do you receive inspiration? Nalina Moses asked the question to nine contemporary residential architects, asking each to choose one residence that had left an impression on them. The following answers were first published on the AIA's website in the article "Homing Instinct."
When nine accomplished residential architects were asked to pick a house—any house—that has left the greatest impression on them as designers, most of their choices ran succinctly along the canon of American or European Modern architecture. Two—Alvar Aalto's Villa Mairea and Pierre Chareau's La Maison de Verre—were even tapped twice.
If the houses these designers chose weren't surprising, the reasons they chose them were. Rather than groundbreaking style or technologies, what they cited were the moments of comfort, excitement, and refinement they offered: the restful proportions of a bedroom, the feel of a crafted wood handrail, an ocean view unfolding beyond an outdoor stair.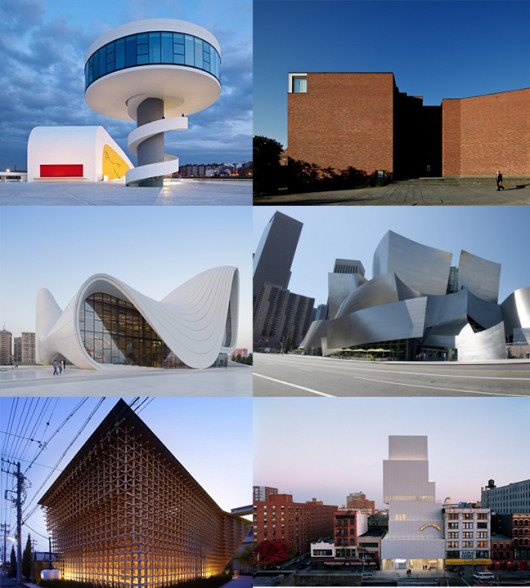 In case you missed it, we're re-publishing this popular post for your material pleasure. Enjoy!

To celebrate the recent launch of our US product catalog, ArchDaily Materials, we've coupled six iconic architects with what we deem to be their favourite or most frequently used material. From Oscar Neimeyer's sinuous use of concrete to Kengo Kuma's innovative use of wood, which materials define some of the world's best known architects?
Aalto's architecture in Rovaniemi, a new exhibition at the Alvar Aalto Museum, takes an in-depth look at Alvar Aalto's work in and around Rovaniemi. As well as the administrative and cultural centre, the works on show include lesser-known residential and commercial buildings. The exhibition, collated by the Provincial Museum of Lapland, will be open in the Gallery at the Alvar Aalto Museum from 1.11.2013 to 2.2.2014.
Aalto's work in Rovaniemi began as early as the 1940s with master planning. Over the decades that followed, various buildings were constructed such as the Aho residential and commercial complex in the city centre and the Korkalorinne housing scheme, built according to the garden suburb ideal. Aalto's monumental architecture is represented by the Town Hall, the Library and Lappia Hall completed between the 1960s and the 1980s.
As well as the architecture, Aalto's buildings are examined from the viewpoint of visitors, employees and residents. "The experiences of users provide an alternative, complementary viewpoint on Aalto's buildings, which allows room for critical comment," says Charlotte Malaprade who has written the exhibition texts.
The Alvar Aalto Museum has supplemented the Timeless exhibition with local comment from Jyväskylä. Experiences of living in the Viitatorni multi-storey block in Jyväskylä are told by the residents themselves in words and pictures.
Title: Exhibition: Aalto's architecture in Rovaniemi
Website: http://www.alvaraalto.fi/index_en.htm
Organizers: Alvar Aalto Museum
From: Fri, 01 Nov 2013 
Until: Sun, 02 Feb 2014
Venue: Gallery at the Alvar Aalto Museum
Address: Alvar Aallon katu 7, 40600 Jyväskylä sub-region, Finland
MenoMenoPiu Architects & Paolo Venturella just released their entry for the Alvar Aalto University Otaniemi Campus Competition in Helsinki. Their proposal focuses on the creation of an energy-efficient learning environment that rethinks the traditional courtyard typology. It uses different levels and heights to create a variety of public and private spaces open to both students and inhabitants of the city, all while framing the main Alvar Aalto building.
The architects' description after the break. 
Helsinki-based Verstas Architects have recently been announced as the winners of a competition to design a new central campus for the Aalto University in Espoo, Finland. The new core of the university will sit alongside the campus's original Main Building and Library designed by Alvar Aalto.
Following a brutal 15-year civil war that tore the city apart, Beirut has recovered remarkably; it was voted the number one destination to visit by the New York Times in 2009, and, more recently, received a similar title by Frommer's. The city is in the second phase of one of the biggest urban reconstruction projects in the world, run by Solidere, which has brought architects like Steven Holl, Herzog & DeMeuron, Zaha Hadid, Vincent James, and Rafael Moneo to the local scene. In less internationalized parts of the city sit the landmarks of the 1960s and 1970s, Beirut's pre-war glory days, including buildings by names such as Alvar Aalto, Victor Gruen, and the Swiss Addor & Julliard. With a city growing as fast as Beirut it is impossible to have a final city guide, so we look forward to hearing your suggestions and building on this over the years.
Photos and a map of Beirut's most exciting buildings after the break…