London-based studio Weston Williamson has been announced the winner of the Brasilia Athletics Stadium competition. The international competition, associated with the 2016 Olympic Games in Rio, called for designers to envision a 70,000 seat stadium in the nation's capital.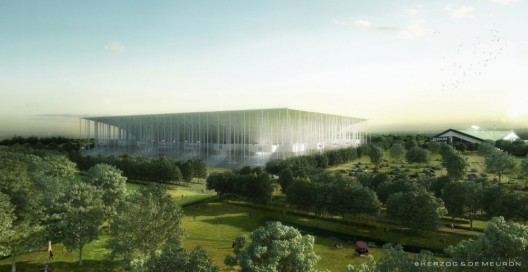 Nearly two years after unveiling the design to the public, Herzog & de Meuron broke ground this morning on the new 'Grand Stade de Bordeaux' in France. Surrounded by lush vegetation typically found in this green belt district, the stepped concourse transitions visitors through a forest of slender white columns to the stadium's bowl, whose form ensures maximum flexibility and optimal visibility for all 43,000 spectators.
Completion is set for 2015, just in time to host the Euro 2016 football championship.
The architect's description after the break…
NBBJ has shared with us their latest design in sports architecture, a multifunctional industrial sports complex for the residents of Suzhou, China. Designed as a community asset, the cultural sports hub will include a commercial center, aquatics facility, gymnasium, arena, professional sports stadium and more. All facilities will be integrated within a lush "Sports Garden" that features an abundance of pedestrian walkways, gardens and sport fields.
The architects' description after the break…