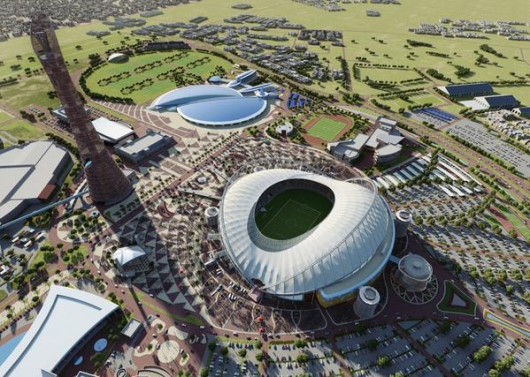 The Supreme Committee for Delivery & Legacy has released images of the third 2022 World Cup Stadium planned for Qatar. Revamping an existing 40-year-old stadium at Gulf Cup in Riyadh, the Khalifa International Stadium will be expanded to accommodate 40,000 spectators and equipped with an "innovative cooling technology" that will allow players to compete at a comfortable 26 degrees Celsius.
Read on after the break for more on the design.
British based FaulknerBrowns Architects have proposed plans for "one of only two velodromes in recent memory being planned" in the city of Edmonton, Canada. In a place where winters are cold and long, reaching -20 degrees celcius, the facility can be adapted for both indoor and outdoor use throughout the year. Clad in Canadian timber and polished stainless steel shingles wrapping around the building like a "twisted ribbon resembling the twisted sinuous cycle track," the scheme will be only the second major indoor cycle track facility in the country.
The West Australian government has confirmed, HASSELL, COX Architecture and HKS will collaborate to design Australia's largest ever stadium project. The $900million project will see Perth's Burswood Peninsula transformed into a world-class sporting precinct by 2018. Included in the master plan is a new stadium that will hold some 60,000 spectators, a public tennis facility, significant transport infrastructure upgrades, such as a new train and bus station, and large public parklands. As negotiations continue between the firms and the West Australian Government, we should expect to see detailed drawings of the scheme by at least July with construction expected to begin by the end of this year.
Glasgow has just unveiled its new multipurpose structure which will end up revitalizing the Clyde Waterfront, which went into decline and neglect for many years following the closure of the town's major shipyards. After 8 years of construction, Foster + Partners' SSE Hydro now reveals its ETFE facade which is lit up every evening. During the day it manages to blend in with the usual changing Glasgow skyline.
The structure of the SSE Hydro Arena is covered by a 1.400 ton steel housing – one of the largest domes in Europe – and the ETFE translucent building enclosure allows one to discern what is happening inside from the outside. A 260 ton ring which supports the lighting is suspended from the dome, which will allow spectacular and customized lighting for each show.
The modern technology applied to this project contrasts with its interior structure that has been based on the Roman amphitheater, allowing each and every spectator at an event — which can be up to 13.000 — to have an optimal view of the stage. The viewing angle and comfort of the user is furthermore guaranteed by the special seating system designed by Foster + Partners along with Figueras International Seating.
Danish architects Elkiær + Ebbeskov (E+E) and Leth & Gori have won an invited competition to design a large multifunctional sports building in Langvang, Denmark. Competing against teams led by Dorte Mandrup Arkitekter, CEBRA, COBE and Kontur, their winning proposal features a combined sports hall and community centre consisting of a series of multifunctional arenas for activities and events. The scheme also includes a masterplan of the surrounding area centered around sports and recreation.
London-based studio Weston Williamson has been announced the winner of the Brasilia Athletics Stadium competition. The international competition, associated with the 2016 Olympic Games in Rio, called for designers to envision a 70,000 seat stadium in the nation's capital.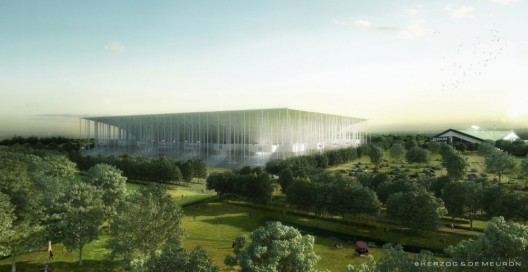 Nearly two years after unveiling the design to the public, Herzog & de Meuron broke ground this morning on the new 'Grand Stade de Bordeaux' in France. Surrounded by lush vegetation typically found in this green belt district, the stepped concourse transitions visitors through a forest of slender white columns to the stadium's bowl, whose form ensures maximum flexibility and optimal visibility for all 43,000 spectators.
Completion is set for 2015, just in time to host the Euro 2016 football championship.
The architect's description after the break…
NBBJ has shared with us their latest design in sports architecture, a multifunctional industrial sports complex for the residents of Suzhou, China. Designed as a community asset, the cultural sports hub will include a commercial center, aquatics facility, gymnasium, arena, professional sports stadium and more. All facilities will be integrated within a lush "Sports Garden" that features an abundance of pedestrian walkways, gardens and sport fields.
The architects' description after the break…