The Museum of Modern Art and MoMA PS1 has announced a partnership with the National Museum of Modern and Contemporary Art (MMCA) in Seoul that has expanded the international Young Architects Program (YAP) to South Korea. Just as YAP presents opportunities for emerging architects to design and build temporary installations in New York, Chile, Rome and Istanbul, YAP Korea will offer the MMCA's outdoor Museum Plaza as the summer installation site.
Already, a winner has been chosen from 26 submissions to serve as the inaugural YAP Korea installation. With completion planned for July 8, winning team Moon Ji Bang (Threshold) is amidst the final preparations for mystical, mythology-inspired installation that will transcend visitors from the daily hustle into a cloud-like landscape of air balloon structures.
"I can hear with my knee better than with my calves." This statement made by Bernhard Leitner, which initially seems absurd, can be explained in light of an interest that he still pursues today with unbroken passion and meticulousness: the study of the relationship between sound, space, and body. Since the late 1960s, Bernhard Leitner has been working in the realm between architecture, sculpture, and music, conceiving of sounds as constructive material, as architectural elements that allow a space to emerge. Sounds move with various speeds through a space, they rise and fall, resonate back and forth, and bridge dynamic, constantly changing spatial bodies within the static limits of the architectural framework. Idiosyncratic spaces emerge that cannot be fixed visually and are impossible to survey from the outside, audible spaces that can be felt with the entire body. Leitner speaks of "corporeal" hearing, whereby acoustic perception not only takes place by way of the ears, but through the entire body, and each part of the body can hear differently.
- George Kargl, Fine Arts Vienna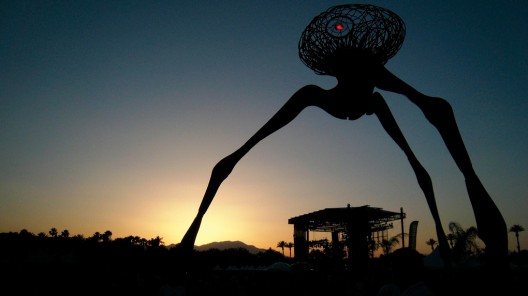 Since 1999 the Coachella Valley Music and Arts Festival has been bringing to the California Desert a collection of different genres of music including rock, indie, Hip Hop and electronic music. Located in Indio, California, with a population of 75,000, the annual music festival brings together over 225,000 people over a three-day weekend in April to the vast fields of the Empire Polo Club.