Awarded yesterday with the 2013 Pulitzer Prize for criticism, Philip Kennicott has built an honorable reputation as a art and architecture critic for Washington Post's Style section. One of his most recent works, Music Holl: A Copper Clad Pavilion - exclusively published in Dwell's May Issue Global Style - recounts the inspiration behind Steven Holl's award-winning Daeyang Gallery and House in Seoul. 
Designed as an experiment on "the architectonics of music," the basic geometry of the Daeyang Gallery and House was inspired by Istvan Anhalt's 1967 'Symphony of Modules' – a uniquely transcribed sheet of music found in John Cage's contemporary music compendium, Notations. Reminiscent of the "blocky and shard-like shapes" of Anhalt's sketch, Holl's design features three copper-clad pavilions punctured by a symphony of carefully placed, rectangular skylights that animate the interior with "bars of light". As Kennicott describes, Holl uses music as a "powerful metaphor for the dynamic unfolding of experience" (captured in this film by Spirit of Space).
Read Kennicott's Music Holl: A Copper Clad Pavilion in its entirety here on Dwell. Continue after the break to compare Steven Holl's Daeyang sketch above with Anhalt's 'Symphony of Modules'.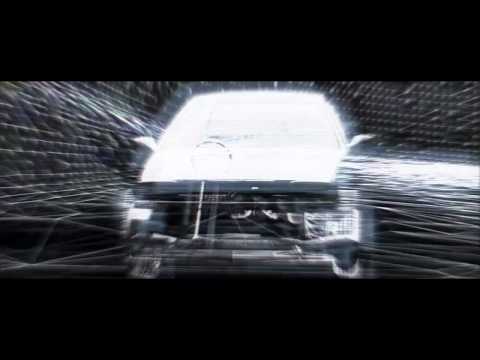 The British band Muse has just released the video clip for the single "Isolated System" from their latest album "The Second Law" alluding to the thermodynamic theory.
Trying to represent Entropy in a physical way, they selected a short film realised by Richard Fenwick on 2006 entitled "Artificial Worlds V.3.0″ which shows a world being geometrized in an unstoppable process. Any thoughts about Entropy and Architecture?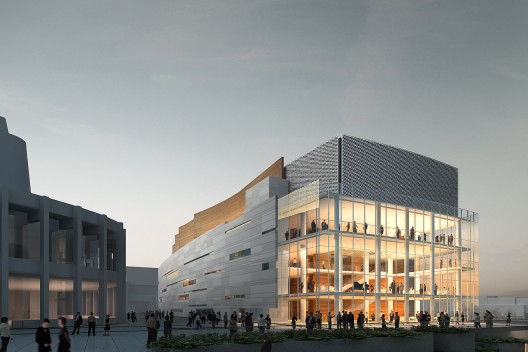 Architects: Diamond Schmitt Architects, Aedifica
Location: Montreal, Québec, Canada
Project Team: A.J. Diamond, Gary McCluskie, Matthew Lella, Michael Treacy, Earle Briggs, Eric Lucassen, Jessie Waese, Cynthia Carbonneau, Marcin Ludwik Sztaba, Gary Watson
Acoustic Consultants: Artec
Project Year: 2011
Renderings: Cicada Design
Photographs: Tom Arban

A group of unassuming residential towers in Oslo's Grorud Valley neighborhood have been transformed into the stars of Cold Mailman's music video "Time is of the essence" directed by André Chocron.
Taking full advantage of the density of the towers, Chocron set up multiple cameras at various angles in order to shoot a sequence of time lapse videos from sundown to sunup. What looks like an intricately choreographed light show, is cleverly composited in post-production. Predictably, in the evening residents turned their lights on, and as the evening progressed turned them off. In order to create the dance of lights in similar effect to that of an equalizer, Chocron switches between the illuminated and darkened states in concert with the choreography of the song. The end result is an intriguing audiovisual composition.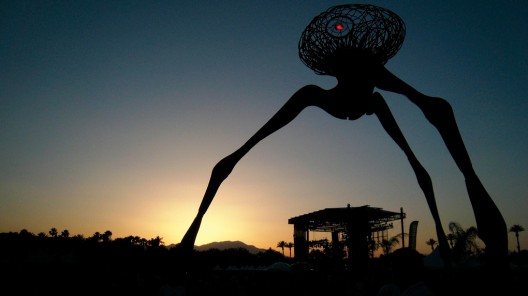 Since 1999 the Coachella Valley Music and Arts Festival has been bringing to the California Desert a collection of different genres of music including rock, indie, Hip Hop and electronic music. Located in Indio, California, with a population of 75,000, the annual music festival brings together over 225,000 people over a three-day weekend in April to the vast fields of the Empire Polo Club.
This October 2nd, the second annual Unfrozen Music concert, performed by a collection of LA architects, will take place on the stage of the MLK Jr. Auditorium at the Santa Monica Main Library. Frances Anderton, host of KCRW's Design and Architecture (DnA), will once again preside over the free event which gives a light hearted nod to the relationship between architecture and music.
The two hour concert will feature an eclectic program ranging from classical piano to indie rock to Latin jazz. Doors open at 6:30pm. Open seating for 140 guests and admission is free. For more information click here.
Cesar Dubó sent us this link to Flavor Wire (Flavorpill's Blog). It shows the very best songs related to architecture. Please, feel free to submit your own favorites in the comments.
1. "Government Center" by Jonathan Richman and the Modern Lovers
The only anthem to bureaucracy – and the architectural altar at which all lesser bureaucratic buildings worship, Boston's Government Center- we're aware of. Richman and Co. confirm that, even with "a lot of great desks and chairs," the best way to animate a space is with a dance party.
2. "Don't Worry About the Government" by the Talking Heads
Architecture as savior: "My building has every convenience, it's gonna make life easy for me." If the Bauhaus had a theme song, it'd be this one.
3. "Brick House" by the Commodores
Yes, architecture can be sexy. Brick houses might not really be the hottest buildings out there, but we admit it's hard to rhyme anything with Guggenheim.
4. "Who Do You Love?" by Bo Diddley
That's one creepy house.
5. "Norwegian Wood" by the Beatles
A song about hipster apartments, falling in love, and bad seating arrangements (hasn't she heard of Ikea?).
6. "White Room" by Cream
A song about loneliness in a crowd and loneliness alone – and, OK, maybe cocaine? – this one moves between the train station and Clapton's empty apartment.
7. "Little Room" by the White Stripes
The room in question is definitely a modernist affair. White walls, surely, with maybe a red-trimmed window in the corner. The song's about how any room can be a prison, and how the grass isn't always greener, real-estate-wise, no matter what Craigslist says.
8. "Our House" by Crosby, Stills, Nash and Young
A love song to suburban domesticity. Bo-ring, but that's the point.
9. "Mansion on the Hill" by Hank Williams
Architectural envy. Also a metaphor for McMansion soullessness, before it really existed.
10. "Folsom Prison Blues" by Johnny Cash
The problem with architecture altogether: It doesn't change, and when it's bad, you're stuck inside like Jonah. Outside on the train, "Those people keep a-movin', and that's what tortures me."