In an interview with Rowan Moore for The Observer, British born architect David Adjaye discusses his work, personality and ambitions as head of the one of the fastest growing internationally operating practices. With Moore's immersive descriptions and expertly written narrative, the "breadth of Adjaye's vision" becomes apparent. Featuring precise descriptions of some his upcoming projects, including the designs for the Smithsonian's National Museum of African American History and Culture and a number of smaller buildings in London, Moore's discussion ultimately explores Adjaye's early (and successful) steps into the African architectural market. You can read the interview in full here.
Yorkshire councilors have indicated the demise of David Adjaye's first public project, the Wakefield Market Hall. Faced with harsh budget cuts, the local council is considering an offer by Sovereign Land, owner of the neighboring shopping complex, after the heavily subsidized 6-year-old market has consistently failed to attract enough business. If next week's council vote sways in the developers favor, the £3 million structure will be bulldozed and replaced by a cinema. 
Each year The Architectural League in its Current Work program presents the work of significant international figures who powerfully influence contemporary architectural practice and shape the future of the built environment. David Adjaye will present his work in a public lecture to be followed by a conversation with moderator Gregg Pasquarelli, founding principal at SHoP Architects.
David Adjaye founded the practice Adjaye Associates in London in 2000, and has since expanded the office to the United States, Germany, and Ghana. Engaging issues of place and identity, Adjaye Associates, in its own words, seeks to create "buildings [that] belong to yet diverge from their contexts, absorbing and animating difference rather than homogenizing it." Sensitivity to materials, color, shape, and light informs the work on all scales.
The office's projects range from pavilion and exhibition design, the Dirty House residence, and the Idea Store/Whitechapel Road educational and information center in London to two neighborhood libraries in Washington D.C. (Bellevue and Francis Gregory), the Sugar Hill social housing scheme in New York, and the Museum of Contemporary Art Denver. Adjaye Associates is currently designing the Smithsonian Institution's National Museum of African American History and Culture on the National Mall in Washington, D.C.
Title: Current Work: David Adjaye's Lecture at The Cooper Union
Website: http://archleague.org/2013/11/david-adjaye/
Organizers: The Architectural League
From: Thu, 21 Nov 2013 19:00
Until: Thu, 21 Nov 2013 21:00
Venue: The Cooper Union
Address: 7 East 7th Street, New York, NY 10003, USA
The Wall Street Journal has announced David Adjaye as "Architecture Innovator" for 2013. The 47-year old Tanzanian-born and British-educated architect, whose current projects span from affordable housing apartments in Harlem to the African American History and Culture Museum in Washington D.C., "has the unique ability to speak to experiences and to people outside the norms of his profession," delivering his message across cultural boundaries.
The list of architects that have collaborated with Zhang Xin's development company, SOHO China, reads like the roster of an architectural dream team (which includes Zaha Hadid, Yung Ho Chang, Bjarke Ingels, Kengo Kuma, Kazuyo Sejima, Herzog & de Meuron, Thom Mayne, David Adjaye, Toyo Ito and others). So it's no surprise that the self-made billionaire lectured to a packed house at Harvard University's Graduate School of Design last Thursday. Xin spoke about her commitment to and love of design, explaining that her company's mission is to bring a variety of architectural languages to China. And though SOHO's projects are certainly experimental, Xin contends that her developer mindset actually helps meliorate the architect's propensity to take the experiment too far—all without sacrificing the impressive and iconic forms of SOHO's building portfolio.
Watch Zhang Xin link her practice in real estate to larger global issues and catch a glimpse of two Zaha Hadid-designs currently under construction: Wangjing SOHO and Sky SOHO.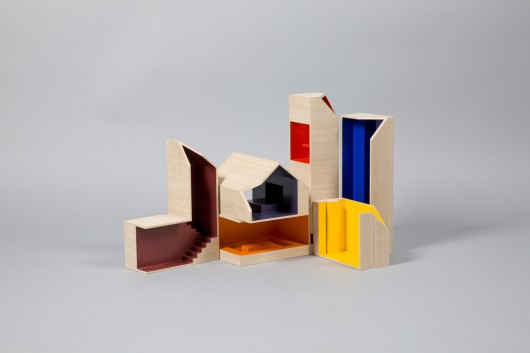 Inspired by the dolls' house that Edwin Lutyens designed for The British Empire Exhibition in 1922, twenty British practices are each designing a contemporary dolls' house in aid of the disabled childrens' charity KIDS. Each version will sit on a 750mm square plinth to be auctioned at Bonham's on the 11th November and contains one feature which would make life easier for a disabled child. Among the participating practices is Zaha Hadid Architects and Rogers Stirk Harbour + Partners. FAT will also be working with Turner Prize recipient Grayson Perry CBE, and Studio Egret West with artist Andrew Logan.
See all the entries after the break…

David Adjaye, the British architect chosen to design Washington DC's Smithsonian National Museum of African American History and Culture, is currently one of the UK's most successful talents. This year he topped the PowerList 2013, naming him Britain's most influential black figure, coming in ahead of Olympic star Mo Farah and actor Idris Elba. The award, he says, is a double edged sword. In this film Adjaye reflects on its significance and and as a result explores wider themes of history heritage and culture within the arts.
Authoring: Re-placing Art and Architecture challenges traditional assumptions about the relationship between art and architecture. From 2008 through 2010, David Adjaye, along with Marc McQuade, taught three studios at the Princeton School of Architecture. Each studio focused on a collaboration with three distinguished artists—Matthew Ritchie, Teresita Fernández, and Jorge Pardo—on interventions in three vastly different sites: the state of New Jersey, the Gowanus Canal in Brooklyn, and the city of Mérida in Mexico's Yucatán Peninsula.
We have been covering the progress of the Smithsonian National Museum of African American History and Culture over the last several months, our most recent being President Obama's speech at the ceremony for the official ground breaking. Adjaye Associates recently shared with us some insight into the inspiration for the design and its grounding principles. We also have several new perspective renders illustrating the internal experience. More details after the break.
Famed British architect David Adjaye was named Designer of the Year at this year's Design Miami – and quite rightly so. The 45-year-old has already been named an OBE by the Queen, designed the $500 million National Museum of African American History and Culture in Washington D.C., as well as being commissioned to design the homes of Jake Chapman, Juergen Teller and Ewan McGregor. Crane.tv catches up with Adjaye at Miami's Wolfsonian museum to discuss what the award means to him, and why he'll always draw inspiration from his heritage.
President Obama attended the official ground breaking ceremony of the National Museum for African American History and Culture (NMAAHC) on February 22, commemorating this milestone for the Smithsonian Institution's new museum on Washington's National Mall. The Tanzanian-born, London-based architect David Adjaye serves as Lead Designer for the Freelon Adjaye Bond/SmithGroup (FAB) team that was selected by the Smithsonian Institute back in 2009 in the international competition for the design of the nation's new prestigious building.
The President began his brief remarks by stating, "As others have mentioned, this day has been a long time coming. The idea for a museum dedicated to African Americans was first put forward by black veterans of the Civil War. And years later, the call was picked up by members of the civil rights generation -– by men and women who knew how to fight for what was right and strive for what is just. This is their day. This is your day. It's an honor to be here to see the fruit of your labor."
Continue reading for more information on the project and a video of President Obama's speech.
London-based architect David Adjaye was selected for the 2011 Designer of the Year Award by Design Miami – a global forum for design that highlights influential collectors, gallerists, designers, curators and critics from around the world, presenting annual fairs in Miami, USA and Basel, Switzerland. Design Miami praised Adjaye for his "ingenious use of materials and unique ability to showcase light coupled with his democratized approach to the architectural process."
Continue reading for more information.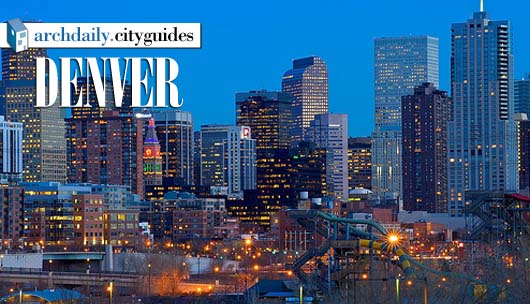 This week our Architecture City Guide heads to the "Mile-High City". In the shadows of the Rocky Mountains, Denver's architecture can be as dramatic and serene as its surrounding landscape. From the moment your plane touches down at the Denver International Airport you are immersed in state-of-the-art architecture. We have included a dozen places to go once you arrive. Where else would you visit? Please leave suggestions of buildings a Denver visitor shouldn't miss.
The Architecture City Guide: Denver list and corresponding map after the break!
A couple of weeks ago, we featured the six finalists for the new National Museum of African American History and Culture. Finally, the Smithsonian Institute chose the team lead by Tanzanian-born, London-based architect David Adjaye.
The team that created the winning design also includes the Freelon Group, David Brody Bond and SmithGroup. When accepting the commission, Adjaye said, "Throughout the history of African-American struggle and celebration, there are these moments of praise," he said. "It's for us a deeply spiritual and powerful culture." The museum will cost $500 million and is expected to open on the National Mall in 2015.
Seen at The New York Times. More images after the break.