To celebrate the launch of ArchDaily Materials, our new product catalog, we've rounded up 10 awesome projects from around the world that were inspired by one material: concrete. Check out the projects after the break…
Dream of one day making your own home? Well, here's a fun mini alternative in the meantime. The "DIY Concrete House Ring" is a high quality silver and concrete ring that lets users experience the process of 'making'. The ring itself is made from a DIY compact kit, and comes in two familiar architectural silhouettes – gable roof or saltbox roof – and in either light or dark concrete. The project was developed by Linda Bennett, author of "10 Things They Don't Teach You in Architecture School" and "Searching for a Job in Architecture? 10 Things You Need to Know…" via her blog, archi-ninja. Check out the project's debut on kickstarter (which offers fantastic perks for backers) for more information. 
The New York Times has published "A Short History of the Highrise" – an interactive documentary that explores the 2,500-year global history of vertical living and issues of social equality in an increasingly urbanized world. Organized in four short films – "Mud," "Concrete," "Glass," and "Home" – viewers are given the option to "dig deeper" into each subject and explore additional archival material while viewing the film. Check out the film here.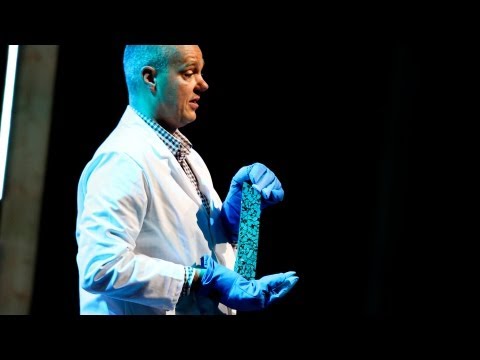 Imagine a pervious asphalt that not only significantly reduces noise pollution, but saves millions in maintenance and repairs by its ability to self-heal. Well, this type of super-asphalt is not far from being distributed world-wide as experimental micromechanic pioneer Erik Schlangen of Delft Technical University has been studying the material's potential on a test track in The Netherland's for the past few years.
Basically, with the introduction of small steel wool fibers, Self Healing Asphalt is capable of repairing micro-cracks and significantly extending the service life of roadways by self-healing through induction heating. Similarly, Schlangen is leading the research on Self Healing Concrete, where by infusing concrete with a harmless limestone-producing bacteria that feeds off of calcium lactate – a component of milk – the material has the potential to self-heal micro-cracks in the presence of rainwater.
Designed for the artwork of artist Rei Naito, the Teshima Art Museum is a seamless, earthen form of white concrete in which responds to the rolling landscape of an island located in the Inland Sea of Japan. Architect Ryue Nishizawa created the museum to be an open gallery, exposed to the elements, that is shaped by a 25cm thick concrete shell in which spans up to 60 meters.
Video courtesy of JA+U. More images after the break…
Scheduled to be the tallest tower in China and the second tallest building in the world by 2015, Kohn Pedersen Fox's 660-meter-high Ping'an International Finance Center has received a major unexpected set back. Following an industrywide inspection conducted last week, Shenzhen government officials have discovered a low-quality sea sand has been used by developers to create substandard concrete for KPF's supertall skyscraper and at least 15 other buildings under construction.
Although sea sand lures contractors by costing significantly less than standard river sand, it contains a deadly mixture of salt and chloride that corrodes steel in concrete and threatens the structural integrity of a building over time.
According to Bloomberg, Shenzhen's Housing and Construction Bureau found 31 companies violated industry rules and ordered eight of them to suspend business for one year in the city for using substandard sea sand to make concrete.
Architect: Toyo Ito & Associates, Architects
Location: Marbella, Chile
Local Architect: Christian de Groote
Project Area: 370 sqm
Project year: 2009
Photographs: Nicolas Saieh
Architects: Concrete
Location: Amsterdam, The Netherlands
Design Team: Rob Wagemans, Erikjan Vermeulen, Bram De Maat
Year: 2011
Photographs: Ewout Huibers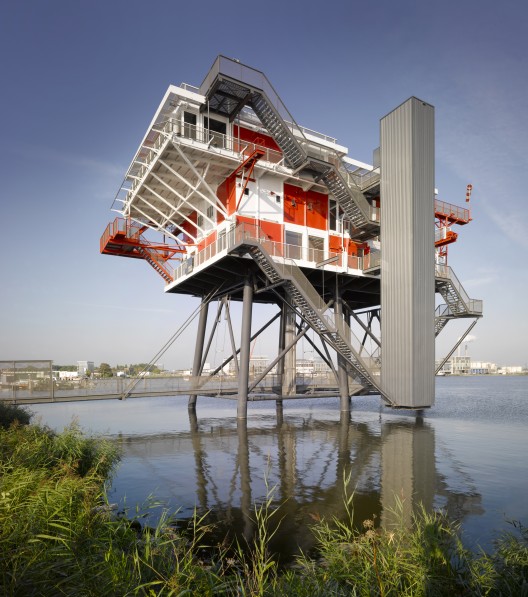 Architects: Concrete
Location: Houthaven, Amsterdam, The Netherlands
Design Team: Erikjan Vermeulen, Rob Wagemans, Wouter Slot, Jolijn Valk, Bram de Maat
Area: 661 sqm
Year: 2011
Photographs: Ewout Huibers, Jim Ellam, Courtesy of Concrete Architectural Associates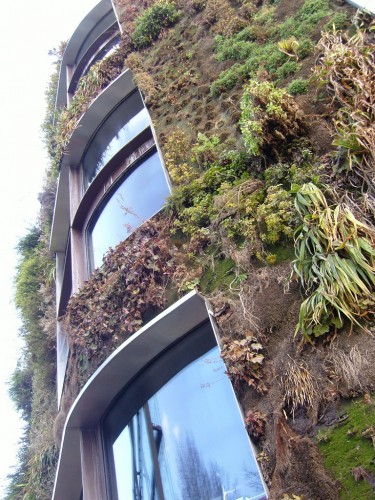 The future of design requires thinking innovatively about the way current construction techniques function so we may expand upon their capabilities. Sustainability has evolved far beyond being a trend and has become an indelible part of this design process. Sustainable solutions have always pushed against the status quo of design and now the Structural Technology Group of Universitat Politècnica de Catalunya – BarcelonaTech (UPC) has developed a concrete that sustains and encourages the growth of a multitude of biological organisms on its surface.
We have seen renditions of the vertical garden and vegetated facades, but what sets the biological concrete apart from these other systems is that it is an integral part of the structure. According to an article in Science Daily, the system is composed of three layers on top of the structural elements that together provide ecological, thermal and aesthetic advantages for the building.
More after the break.
The Headquarters Krogmann in Lohne-Kroge, Germany, by Despang Architekten investigates the numerous characteristics and fundamental opportunities inherent within wood and exhibits a modern approach to the craftsmanship of traditional German vernacular. Designed as a new corporate center of operations for the woodworking company Krogmann,  this new office would need to succeed not only in handcrafting a new image for them, but also serve as a catalyst for future growth while showcasing their ability as 'makers' in the field of construction.  Having worked as the builders for several projects for Despang Architekten, their choice to retain them as the design architects for their own project was a natural extension of an already solid relationship built upon the dedication to quality and progressiveness. As an extension of this article, we also had the opportunity to speak with Principal and University of Hawaii Associate Professor Martin Despang about the process involved in the making of this project.
More details and our Q&A with Martin after the break.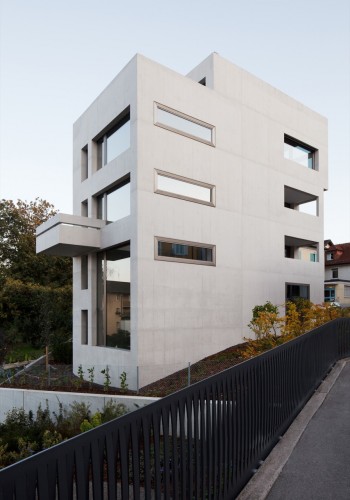 Architect: Moos Giuliani Hermann Architekten
Location: Horgen, Switzerland
Completion: 2011 
Built Area: 260 sqm 
Photographs: Beat Bühler
Architects: GH+A | Guillermo Hevia
Location: Monterrey, Mexico
Project Team: Tomás Villalón, Francisco Carrión, Guillermo Hevia García, Marcela Suazo
Client: Grupo KALOS
Contractor: Grupo KALOS
Project Area: 450 sqm
Project Year: 2009
Photographs: Guillermo Hevia H.
In an article originally published on Plataforma Arquitectura, Guillermo Hevia Garcia describes his experience when visiting the Unité d' Habitation in Marseille, France, also known as Cité Radieuse. On February 9th, the building was overcome by a large fire that was said to have been started due to a heating problem. The blaze took  hundreds of firefighters nearly a day and a half to put it out. Eight residential units and four hotel rooms were destroyed, and approximately 35 other units were severely damaged by smoke or action relief. Most residents have returned home to the Unité d' Habitation, Le Corbusier's thesis on domestic life, as they continue to live the communal life that the renowned architect dreamt up.
Read on for more after the break.