ArchDaily has teamed up with Portugal's Canal 180 to bring you their series I LIKE. Check out episode 5, I LIKE Blue, which features OMA/AMO's 2012 Prada Catwalk, DOSE's Bluetube Bar, Rad Louda & WRKSHP's full-scale blue foam model of an interior, and more.
I LIKE is an original series on architecture and spatial intervention, developed in a collaboration between Canal 180 and LIKEarchitects atelier. Diogo Aguiar and Teresa Otto have created a chromatic experiment and spatial exercise—organized by color—that reveals some of the most amazing architectural interventions in the world.
Next week ArchDaily will premier the sixth installment of I LIKE. Stay tuned!
Previous episodes in the I LIKE series:
Episode 1 – I LIKE Black
Episode 2 – I LIKE Pink
Episode 3 – I LIKE Purple
Episode 4 – I LIKE Multicolor
For the last decade, OMA / AMO have collaborated with Prada to design their conceptually daring catwalks. We have images of the latest, designed for Milan's Fashion Week, just after the break. For more on this collaboration, you should check out OMA's website as well as Wallpaper's awesome article on how these catwalk collaborations have evolved throughout the years.
OMA*AMO (New York), Ricardo Bofill Taller de Arquitectura (Barcelona), and Stoss Landscape Urbanism (Boston) with SHoP (New York) have been selected as the top three teams to re-envision Dallas's urban center and its connection to the Trinity River Corridor. The teams kickstarted the final leg of the competition this past weekend with a summer workshop, symposium and site visit alongside local developers and city officials. All three final proposals will be unveiled to the public this mid-October with a lecture series host by each team (dates and information here). A winner is expected to be selected shortly after.
While the final products of OMA's oeuvre are well-documented and widely published, a large portion of the Dutch firm's work goes unrecognized and relatively unnoticed: the contextual, solution-oriented research undertaken by AMO. OMA's lesser-known twin, AMO is vital to OMA's approach, allowing the firm to delve into a world of context and explore possibilities beyond the built form.
It was with this in mind that we sat down with Reinier de Graaf, a partner at the firm. In addition to the building and masterplan projects he also manages on the OMA side of things, de Graaf has been the director of AMO since 2002, overseeing a diverse portfolio of projects. Over the past few years, AMO's energies have fueled the creation of the curriculum at Strelka; a "roadmap" for a de-carbonized power grid for the EU; and an exhibition that celebrated the architect as civil servant.
From our very first question (what is OMA's mission?), de Graaf answered with his characteristic aversion to "general terms," explaining that "[OMA's] mission is to explore unexpected subjects [...] without a preconceived mission."
"The Community" might be the most frequently used term over the last 50 years of Architectural and Urban discourse. For decades, "the community" has served as a legitimization for anything from Team X to New Urbanism, from Celebration to "vancouverism". But what is "the community"? Where should we look for the proper definition? How did communities appear in the past and how do they form today? Can 'the community" influence the design of its own space, territory or context? If yes, what could be the relationship between the community and architecture in the future?
In his Strelka talk Reinier de Graaf is trying to answer these and other, even more complex questions.
Via the Strelka Institute.
Earlier today it was announced that OMA teamed with AMO have been commissioned to develop a new vision, Railway Vision 2020, for Hong Kong's MTR, urban transit authority. Together they will produce new branding and identity, site analysis, sustainability research, and usage patterns studies. OMA will also be designing two prototype stations that will eventually span the entire transit network in Hong Kong. The prototype stations are expected to open before 2014.
The Railway Vision 2020 plan will be a collaborative effort between OMA (architecture) + AMO (design and research) with Stanford University, the City University of Hong Kong, and the University of Hong Kong.
This recent commission is a continuation of OMA's ongoing success in Hong Kong.  OMA unveiled their master plan design for the West Kowloon Cultural District in late August, and produced the winning design earlier last year for the new campus of Chu Hai College in Hong Kong.
For the complete press release click here.
As we told you a few months ago, AMO (the think-tank inside OMA) played an important role on Roadmap 2050, an initiative by the European Climate Foundation which looks to chart a policy roadmap for the next 5-10 years based on the European leaders' commitment to an 80-95% reduction in CO2 emissions by 2050.
Based on this plan, AMO presents "Roadmap 2050: A pathway to decarbonize the United States power grid". While ranked #1 based on the GDP, the US is ranked #61 in energy performance. As we see on the above video, an inefficient energy grid undermines any efforts to improve this, and local production of energy could be the answer.
This initiative is presented at the GE Ecoimagination Challenge, a $200 million call to action for businesses, entrepreneurs, innovators, and students to share their best ideas and come together to take on one of the world's toughest challenges – building the next-generation power grid to meet the needs of the 21st century.
You can vote for this idea (and even discuss it with AMO on the comments), see others or even submit your own.
It was just announced that OMA + AMO  will collaborate with Strelka, a postgraduate school for media, architecture and design in Moscow.  The new school is launching an educational program where a select group of students will work intensely and innovatively on a series of themes aimed to reshape Russia's current role in the world.  In an attempt to raise the ambition of the creative industries in Russia, the institute will challenge students with a variety of projects.  The students will guided by the expertise of both Russian and international creative leaders.
More about the collaboration after the break.
AMO is a design and research studio inside OMA, a think tank operating on the boundaries of architecture: media, politics, sociology, sustainability, technology, fashion, curating, publishing and graphic design. Some of their works include the barcode flag for the EU and a study for Wired magazine.
And while OMA covers sustainable strategies on a building or master plan scale, AMO is approaching it on en European scale as one of the five consultants conducting technical, economic and policy analyses for Roadmap 2050, an initiative by the European Climate Foundation which looks to chart a policy roadmap for the next 5-10 years based on the European leaders' commitment to an 80-95% reduction in CO2 emissions by 2050. You can download a brief of Roadmap 2050 in PDF.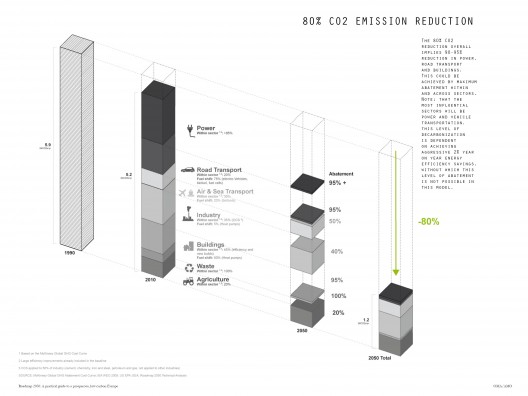 The goal is to achieve a 2% energy efficiency saving per year in order to meet this goal, with power and vehicle transportation being the most important areas.
Through the complete integration and synchronization of the EU's energy infrastructure, Europe can take maximum advantage of its geographical diversity. The report's findings show that by 2050, the simultaneous presence of various renewable energy sources within the EU can create a complementary system of energy provision ensuring energy security for future generations.
AMO's work focuses on the production of a graphic narrative which conceptualizes and visualizes the geographic, political, and cultural implications of the integrated, decarbonized European power sector.
On their study you can find an interesting approach to a diverse european energy grid, including energy trade and the use of new non-traditional sources.
The image of "Eneropa" appears as a new continent based on its energy production: Biomassburg, Geothermalia, Solaria, the Tidal States… are part of this new territory. Other branding concepts are introduced on the study, creating a tangible image of this ambitious plan, which reminds the powerful (yet simple) idea behind the barcode flag.
You can download the full study in PDF format at the Roadmap 2050 website.
More after the break:
A few weeks ago we received the latest issue of Volume Magazine, a joint effort between Archis, AMO and the C-LAB. Continuing with their tradition of thematic issues with suggestive names, number 16 is called Engineering Society.
It relates somehow to Volume #14 (Unsolicited Architecture), on which the editorial analyzes the lost of relevance of modern architects because of their failure to adapt to a market driven society, urging them (us) to answer current society questions from the field of architecture.
On this issue, Arjen Oosterman starts with -yet another- incredible editorial, Planning Paradise, that analyzes how architects tried to impose their utopias in the past, without a direct relation with the end user of these projects. But now, we can certainly tell that society can´t no longer be made, and it´s actually being driven and shaped by the users as a consequence of democracy, and free market economy and politics. And this opens a new opportunity for architects, to be the ones that present new futures to this users, an opportunity lost long time ago in "our consumer society of commodity logic".