JAHN and ADG have released designs for Los Diablos Rojos del Mexico's new home stadium in Mexico City. Scheduled to open in the city's Magdalena Mixhuca sports complex in 2017, the 13000-seat "Estadio Diablos" will feature a "monumental lightweight" roof structure that resembles Diablos' trident. 
"Indicative of the sky, the roof design is sharp, translucent, luminous and dynamic," says JAHN. "Composed of lightweight steel wrapped in PTFE textile material, the roof will become an iconic symbol for the great City of Mexico."
More on the stadium's design, after the break. 
Designed to seat 33,000 people, stadiumconcept and IAA architecten's proposal for Minsk's newest football stadium has a unique and allusive form. The column-like supports of the stadium roof resemble tractor valves, a reference to Minsk's booming tractor fabrication industry. These tapering columns provide a signature identity for a building that, in addition to being a stadium, will serve the city as a shopping and business center.
In celebration of the Brazil World Cup, architect and illustrator André Chiote has created a series of illustrations featuring the tournament's most iconic stadiums. Comparing the social importance of these stadiums to cathedrals, Chiote believes that "the new architectural objects are landmarks in the cities that will perpetuate in the future as a cultural and social legacy," and there are few better ways to envision this legacy than to treat the structures with his abstracted, colorful aesthetic – in Brazilian green and yellow, of course. Check out the full illustration set after the break.
Plans to build a new soccer stadium in Miami have generated an argument this week between David Beckham, current city officials, and past city officials. The stadium, which will be home to a new Miami MLS team owned by ex-superstar Beckham, was originally proposed to occupy a site at PortMiami, with a design drawn up by Arquitectonica and 360 Architects. However, Miami-Dade County Mayor Carlos Gimenez had concerns over the location, and earlier this month convinced Beckham and his group to consider an alternative location, a disused boat slip between the American Airlines Arena and Museum Park.
Now a group including former mayor Manny Diaz and Alexander Cooper, the masterplan designer for Museum Park have issued a statement condemning the new plans and saying they are "not in harmony with the vision of Miami as a world class city with parks and open areas available for all."
More on the row after the break
Four firms have been shortlisted to design Qatar's Lusail Stadium, the centerpiece for the 2022 FIFA World Cup. Foster + Partners, David Chipperfield Architects, Mossessian & Partners and Mangera Yvars Architects are now competing to design the 80,000 seat stadium which will host the international event alongside Zaha Hadid's Al Wakrah stadium and others.
Read on after the break for more on the shortlist
The West Australian government has confirmed, HASSELL, COX Architecture and HKS will collaborate to design Australia's largest ever stadium project. The $900million project will see Perth's Burswood Peninsula transformed into a world-class sporting precinct by 2018. Included in the master plan is a new stadium that will hold some 60,000 spectators, a public tennis facility, significant transport infrastructure upgrades, such as a new train and bus station, and large public parklands. As negotiations continue between the firms and the West Australian Government, we should expect to see detailed drawings of the scheme by at least July with construction expected to begin by the end of this year.
Following our recent news that confirmed Rogers Stirk Harbour + Partners (RSHP) will oversee the design and construction of two new stadiums within Caracas' Hugo Chavez Park, details have emerged regarding the Estadio Nacional de Fútbol de Venezuela. Designed by RSHP, in collaboration with Arup and Schlaich Bergermann und Partners, the project will be the practice's first ever football stadium.
Andrea Maffei Architect's competition entry for a new stadium for Ruch Chorzów, one of Poland's largest football clubs, offers a capacity for 12,000 and provision for up to 16,000 seats. The design encourages the stadium and its surroundings to act as a new civic point of reference for Chorzów as part of a wider complex of shops and restaurants. The architects' understanding of the movement of people on match days is complimented by the facilities that the new stadium will offer to visitors seven days a week, the design for which will provide Ruch Chorzów with a state-of-the-art football pitch and associated amenities.
The design for a new stadium for Ruch Chorzów, one of Poland's largest football clubs, has been unveiled. The winning proposal, designed by GMT Mysłowice, will have a capacity for 12,000 seats and, although described as not being "the most impressive [design] overall," has been selected for its simple, clean form and "value for money." With ruch meaning 'movement' or 'motion' in Polish, the concept for the design has hinged around "giving passers-by a different perspective from every possible angle as they move along the stadium."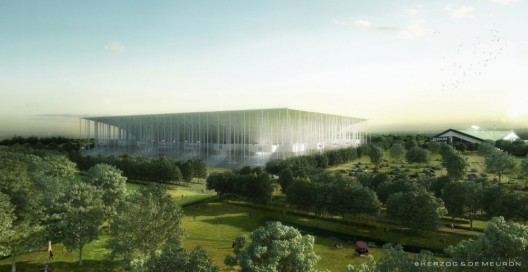 Nearly two years after unveiling the design to the public, Herzog & de Meuron broke ground this morning on the new 'Grand Stade de Bordeaux' in France. Surrounded by lush vegetation typically found in this green belt district, the stepped concourse transitions visitors through a forest of slender white columns to the stadium's bowl, whose form ensures maximum flexibility and optimal visibility for all 43,000 spectators.
Completion is set for 2015, just in time to host the Euro 2016 football championship.
The architect's description after the break…
The most influential decision in sports in the last twenty-five years was not made by a general manager, coach, or athlete. In fact, it wasn't even made on a field, pitch, court, or rink. Instead, this decision originated in the office and on the drafting tables of the architecture firm HOK. The architects and engineers decided, going against three decades of stadium designs, some of which were their very own, to not create another generic multi-sport indoor arena for the next Baltimore Oriole park. Rather, they designed a stadium that was considerate of its context, integrated beautifully within the city, and invited the citizens of Baltimore to enjoy watching their Orioles play. More on stadium design and Oriole Park after the break.