The design for a new stadium for Ruch Chorzów, one of Poland's largest football clubs, has been unveiled. The winning proposal, designed by GMT Mysłowice, will have a capacity for 12,000 seats and, although described as not being "the most impressive [design] overall," has been selected for its simple, clean form and "value for money." With ruch meaning 'movement' or 'motion' in Polish, the concept for the design has hinged around "giving passers-by a different perspective from every possible angle as they move along the stadium."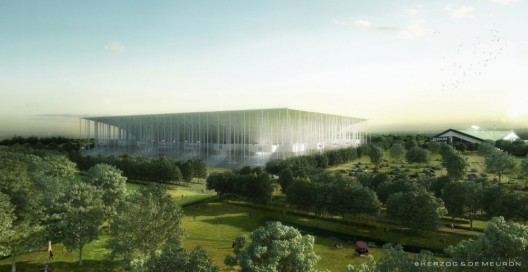 Nearly two years after unveiling the design to the public, Herzog & de Meuron broke ground this morning on the new 'Grand Stade de Bordeaux' in France. Surrounded by lush vegetation typically found in this green belt district, the stepped concourse transitions visitors through a forest of slender white columns to the stadium's bowl, whose form ensures maximum flexibility and optimal visibility for all 43,000 spectators.
Completion is set for 2015, just in time to host the Euro 2016 football championship.
The architect's description after the break…
The most influential decision in sports in the last twenty-five years was not made by a general manager, coach, or athlete. In fact, it wasn't even made on a field, pitch, court, or rink. Instead, this decision originated in the office and on the drafting tables of the architecture firm HOK. The architects and engineers decided, going against three decades of stadium designs, some of which were their very own, to not create another generic multi-sport indoor arena for the next Baltimore Oriole park. Rather, they designed a stadium that was considerate of its context, integrated beautifully within the city, and invited the citizens of Baltimore to enjoy watching their Orioles play. More on stadium design and Oriole Park after the break.