Richard Kelly illuminated some of the twentieth century's most iconic buildings: the Glass House, Seagram Building and Kimbell Art Museum, to name a few. His design strategy was surprisingly simple, but extremely successful.
Lighting for architecture has been and still often is dominated by an engineering viewpoint, resigned to determining sufficient illuminance levels for a safe and efficient working environment. With a background in stage lighting, Kelly introduced a scenographic perspective for architectural lighting. His point of view might look self-evident to today's architectural community, but it was revolutionary for his time and has strongly influenced modern architecture.
Read more about Richard Kelly's remarkable, and unsung, contribution to architecutre, after the break.
This review of Detlef Mertins' book "Mies" – by Thomas de Monchaux - originally appeared in Metropolis Magazine as "Mies Reconsidered". According to de Monchaux, Mertins reveals the modernist master as a voracious reader who interpreted a wide variety of influences to arrive at his stripped-down style.
The quintessential page of the 528 that make up Detlef Mertins's monumental new monograph on Ludwig Mies van der Rohe—entitled simply Mies (Phaidon, 2014)—is 155. There, you will find a reproduction, a page within a page, of page 64 of Romano Guardini's 1927 book Letters from Lake Como—a book about modernity and human subjectivity—with Mies's own annotations penciled in the margins, in a surprisingly ornate and delicate hand. 
And there, you will find Mertins's notes on Mies's notes on Guardini: "Of all the books in Mies's library, Guardini's Letters is the most heavily marked. Mies highlighted passage after passage with bold and rapid margin strokes and wrote key words diagonally and in large script across the first pages of many of the chapters: Haltung (stance), Erkenntnis (knowledge), Macht (power)." Mertins's vivid marginality, his attention to the divine details along edges, recalls the experience of reading the Talmud, that commentary on Jewish law and scripture in which, by marking and emending earlier readers' marks and emendations, generations of rabbis enacted an intimate conversation across time and space. 
Read on for more insight into Mies' influences.
UPDATE: In honor of the 81st anniversary of the day the Bauhaus closed in 1933, we're re-publishing this popular infographic, which was originally published April 16th, 2012.
From the "starchitect" to "architecture for the 99%," we are witnessing a shift of focus in the field of architecture. However, it's in the education system where these ideas really take root and grow. This sea change inspired us to explore past movements, influenced by economic shifts, war and the introduction of new technologies, and take a closer look at the bauhaus movement.
Often associated with being anti-industrial, the Arts and Crafts Movement had dominated the field before the start of the Bauhaus in 1919. The Bauhaus' focus was to merge design with industry, providing well designed products for the many.
The Bauhaus not only impacted design and architecture on an international level, but also revolutionized the way design schools conceptualize education as a means of imparting an integrated design approach where form follows function.
Washington D.C. Mayor Vincent Gray has named Mecanoo architecten and Martinez + Johnson Architecture winners of a competition to reinvent Mies van der Rohe's Martin Luther King Jr. Memorial Library – the only library and D.C. building ever designed by the legendary architect. The Netherlands- and D.C.-based team aims to resurrect the neglected building by improving "Mies in a contemporary Miesian way." This includes opening up the boxy interiors to enhance flow and increase natural light and, most dramatically, sculpting two rooftop terraces by topping the historic landmark structure with a four-story, mixed-use addition.
We will keep you posted with more details as they come available. In the meantime, scroll through the renderings and presentation that landed Mecanoo and Martinez + Johnson the commission, after the break.
Preliminary designs have been released by three shortlisted teams competing to renovate Mies van der Rohe's historic Martin Luther King Jr. Memorial Library in Washington D.C. – the only library and D.C. building ever designed by the legendary architect. Preview each proposal and learn how you can submit your feedback to the D.C. Public Library before they make their decision, after the break.
Mies van der Rohe's last constructed skyscraper, the IBM building in Chicago, recently underwent a significant transformation: the modernist office building is now a 316-room luxury hotel. An interesting post on the ArchitectureChicago Plus blog weighs in on the building's history and ponders: will Mies' minimalist aesthetic be compromised by its new lavish furnishings? Read it all here.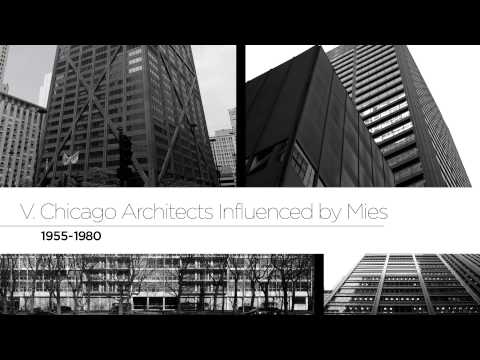 When emigrating from Germany in 1938 to head Chicago's Armour Institute, Ludwig Mies van der Rohe was challenged with two tasks: first reform the schools curriculum to his "back-to-basics" approach and then develop plans for a newly expanded 120-acre campus for the creation of Illinois Institute of Technology, a product of the Armour Institute and Lewis Institute merger. Mies was able to exceed both challenges and the outcomes have had a lasting influence on Chicago and modernism for the past 75 years. In celebration of this legacy and Mies' 127th birthday, IIT complied this comprehensive video that features Mies' contribution to the modern landscape of their campus and city. 
Learn more about Mies' IIT master plan and building here on ArchDaily.
Lafayette Park, an affordable middle-class residential area in downtown Detroit, is home to the largest collection of buildings designed by Ludwig Mies van der Rohe in the world. Today, it is one of Detroit's most racially integrated and economically stable neighborhoods, although it is surrounded by evidence of a city in financial distress. Through interviews with and essays by residents; reproductions of archival material; and new photographs by Karin Jobst, Vasco Roma, and Corine Vermeulen, and previously unpublished photographs by documentary filmmaker Janine Debanné, Thanks for the View, Mr. Mies examines the way that Lafayette Park residents confront and interact with this unique modernist environment.
"Legos were the ultimate building tool, capable of making the most advanced space ships, powerful vehicles, impressive buildings, and incredible cities. As a child, everyone I knew loved Legos, and this never seemed to change. In high school, whenever a conversation with friends happened to shift upon Legos, everyone would gleefully reminisce about their days making fantastic structures out of those awesome little building blocks. [...] No doubt Legos played a supporting role in my growth in appreciation for architecture." - Architect Albert Lam, in a Blog post for the LPA
When you ask architects what inspired them, almost all (according to one study, 99%) can trace the calling back to the same, simple origin: playing with their LEGO bricks.
The LEGO Group, which turns 80 today, can boast that there are approximately 62 LEGO bricks for ever person on earth.  However, it wasn't until 1958, when the newly-plastic LEGO bricks incorporated the classic knob-and-tube-connecting-system, that they overtook the Froebel block (Frank Lloyd Wright's toy of choice) to become the massively popular architectural inspiration they are today.
But while the influence of LEGO on architects may be self-evident, not many know about Architecture's contribution to LEGO. In fact, only through the lens of Architecture, can you truly understand why LEGO merits its bold moniker as "The Toy of the Century."
Find out Architecture & LEGOs unlikely relationship, after the break…
No architectural gem is safe from Detroit's foreclosure crisis – not even two of Mies Van der Rohe's very own creations. The Lafayette Towers, two 22-story towers of 584 units, originally part of a major urban redevelopment project in the late 50s early 60s, are up for auction July 18th.
But be warned, there is a catch…
Find out the fine print, after the break.
PBS has released their selections of the top ten buildings that have changed the way Americans live, work and play. From Thomas Jefferson's 224-year-0ld Virginia State Capitol to Robert Ventui's postmodern masterpiece the Vanna Venturi House, each building on the list will be featured in a new TV and web production coming to PBS in 2013. Continue after the break to view the top ten influential buildings and let us know your thoughts!
A powerful and expressive design it itself, Ludwig Mies van der Rohe's Neue Nationalgalerie in Berlin is still admired as a concrete, steel, and glass landmark today. Dedicated to culture and the fine arts, the building will be going through a major renovation, which will  be overseen by British architect, David Chipperfield who has recently worked extensively in Berlin, finishing work on the war-ravaged Neues Museum on the Museum Island complex in 2009. The renovation will start in 2015 and last three years, during which time the museum will be closed. The building, completed in 1968, is Mies van der Rohe's only work in Germany after World War II and is in need of thorough modernization after 40 years. Restoration of the glass facade, stone terrace and concrete and steel structure, along with new security and fire technology are included in the project.
After receiving a lot of compliments on our "From MadMen to Mies" graphic, we decided to let you take a little piece of Mies (the original Mad Man) with you wherever you go. Click through the gallery below to find the wallpaper for the technological device of your choosing – iPad, iPhone, Android phone, MacBook, or Samsung Tablet. Take one, or heck, take all. In this case, less isn't more.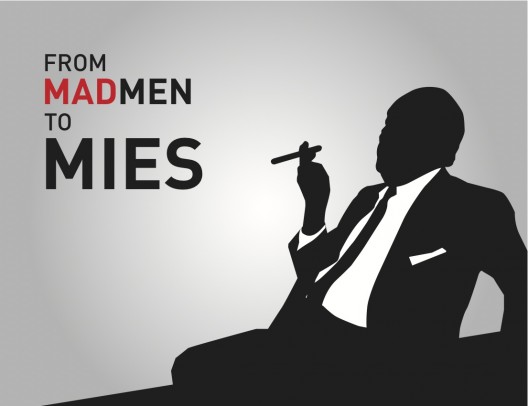 It's June 1966. Mies' iconic Seagram Building dominates New York City. Bob Dylan has just released Blonde on Blonde. The Vietnam War is escalating. John Lennon has yet to meet Yoko Ono. Martin Luther King, Jr. has yet to be assassinated. And Don Draper is readjusting to married life – with his 25 year-old secretary.
The excitement over Mad Men, while always eager, was positively explosive last Sunday. The season 5 premiere resulted in the show's highest ratings to date (3.5 million viewers, up 21% from last year). While the show has always received critical acclaim, now, for whatever reason, it has reached a fever-pitch of popularity.
On a purely aesthetic level, it's easy to explain. The show draws in audiences with a meticulous, sumptuous set design that allows a nostalgic journey back in time: when design was innovative & clean, architecture was confident (cocky even),  and modernism still held its promise.
But on another level, the show is successful because of its inevitability. The very knowledge of the ephemerality of that confidence, a theme particularly relevant to audiences in the wake of the Recession, is what strikes a chord, what makes the show positively hypnotizing.
Watching Mad Men is like watching a Modernist car crash. A beautiful demise.
More on the Modernist Landscape of Mad Men and why the show has struck a chord with audiences today after the break.