Architects: Ackermann+Raff
Location: Friedrich-Dessauer-Straße, 60438 Frankfurt, Germany
Area: 18725.0 sqm
Year: 2013
Photographs: Thomas Herrmann
Architects: KSP Jürgen Engel Architekten
Location: Hasengasse 4, 60311 Frankfurt, Germany
Client: DIC Deutsche Immobilien Chancen und Morgan Stanley Real Estate Funds
Area: 12000.0 sqm
Year: 2007
Photographs: Jean-Luc Valentin
Architects: Kölling Architekten
Location: Europa-Allee, 60327 Frankfurt, Germany
Builder: Messe Frankfurt Venue GmbH & Co. KG
Area: 74750.0 sqm
Year: 2007
Photographs: Christoph Kraneburg
Architects: JSK
Location: Frankfurt Airport, 60547 Frankfurt, Germany
Area: 140000.0 ft2
Year: 2011
Photographs: Nicolae Sotir, Roland Horn, Martin Joppen, Bavaria Luftbild, Leitner, Euroluftbild
Architects: Sauerbruch Hutton
Location: Frankfurt, Germany
Client: KfW Bankengruppe
Area: 39,000 sqm
Year: 2010
Photographs: Jan Bitter , Sauerbruch Hutton
Grimshaw Architects recently announced their completion for a detailed masterplanning study for Fraport, which provides a new vision for the existing forecourt area at Frankfurt Airport's Terminal 1. Using creative design solutions, the masterplan embraces the challenges presented at the site by bringing light, greenery, and fresh air into the heart of the airport. More images and architects' description after the break.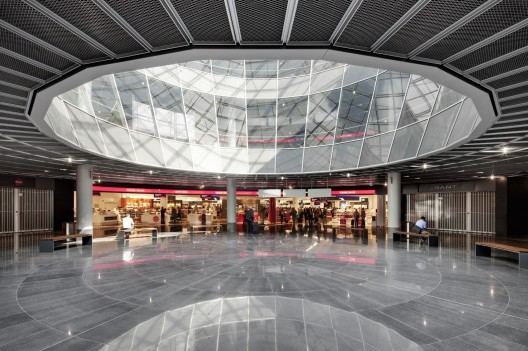 Architects: gmp Architekten
Location: Frankfurt, Germany
Design: Meinhard von Gerkan and Jürgen Hillmer
Design Team: Klaus Lenz, Sebastian Flatau, Ingo Beckmann, Kai Beckmann, Markus Carlsen, Christian Dahle, Henning Fritsch, Ben Joscha Grope, Markus Helmin, Matthias Holtschmidt, Silke Jessen, Eduard Kaiser, Raimund Kinski, Prisca Marschner, Rouven Oberdieck
Project Leaders Susanne: Winter, Reiner Schröder
Project Year: 2012
Photographs: Marcus Bredt
Architects: Studio Fuksas - Massimiliano and Doriana Fuksas
Interior Design: Fuksas Design
Location: Frankfurt, Germany
Address: Grosse Eschenheimer Strasse 10-14
Period: 2002-2009 
Client: PalaisQuartier GmBH & CO., KG
Surface:  Built Surface – 77,000 sq.m., Facade – 8,500 sq.m., Cover – 13,000 sq.m.
Engineering:  Structures – Knippers-Helbig Beratende Ingenieure, Stuttgart; Krebs und Kiefer Beratende Ingenieure für das Bauwesen GmbH, Darmstadt | Realization of the façade and covering – Waagner Biro Stahlbau AG, Wien
The Kulturcampus designed for Frankfurt, Germany by Adjaye Associates rests on the idea of grouping a city's most important cultural institutions into the heart of the city.  The focus is on creating a micro-city on the city that is currently occupied by the University of Frankfurt, which will be vacated in 2014.  This micro-city is intended to be diverse collection of uses that will provide a space of gathering for the adjacent neighborhoods of the campus.
Read on for more after the break.
WOHA's 'Breathing Architecture' exhibition, which will be up until April 29th has been very successful at the Deutsches Architekturmuseum (DAM) in Frankfurt, Germany. Some of their structures remind us of bold visions of the future, in which plants reclaim nature for themselves. WOHA realizes the permeation of buildings and landscape, of interiors and exteriors in projects such as the Singapore School of the Arts and the seminal residential high-rise The Met in Bangkok, which received the International Highrise Award 2010. More images and architects' description after the break.
Share WOHA's excitement as they exhibit their broad array of works at the acclaimed Deutsches Architekturmuseum (DAM). Running from December 2-April 29, their first monographic exhibition will feature concepts of open structures which embrace aspects of community and permeability of form in response to climate and nature. More details on the exhibition will soon be available here.
Architects: Stefan Forster Architekten
Location: Frankfurt, Germany
Project area: 2,352 sqm
Project year: 2002 – 2005
Photographs: Jean-Luc Valentin