Alysa Nahmias and Benjamin Murray's Unfinished Spaces has been awarded the 2014 Society of Architectural Historian's (SAH) Award for Film and Video, an award presented annually to the "most distinguished work of film on the history of the built environment." Initially released in 2011, the critically acclaimed documentary reveals the turbulent past of Fidel Castro's Cuba and tells the story of his utopian dream to construct the Cuban National Arts Schools. You can learn more about the film and the school's history, here.
If You Build It is a documentary following the story of high school students in Windsor, a small and downtrodden rural town in Bertie County, North Carolina. In this setting, architects Emily Pilloton and Matt Miller started Project H, an educational initiative designed to not only improve the education of these disadvantaged young people, but also to reach out to the wider community and make real change.
Read on for more about Project H and the If You Build It documentary
In an hour long documentary for PBS, Geoffrey Baer tours the USA in search of the ten buildings that "changed America." From a state capitol designed by Thomas Jefferson to resemble a Roman temple to Henry Ford's factory that first saw the Model T enter production, the film explores the "shocking, funny, and even sad stories of how these buildings were created." Investigating places of worship, shopping malls, concert halls and skyscrapers this film is tipped as "a journey inside the imaginations of the daring architects who set out to change the way we live, work, and play."
Find out more about the film here. Please note that the film is only viewable within the USA.
Los Angeles-based cinematographer Tomas Koolhaas is nearing completion of his highly anticipated film, REM. The feature length documentary, which focuses on the work of Tomas' famed father, Rem Koolhaas, is the first architectural film to "comprehensively explore the human conditions in and around Rem Koolhaas' buildings from a ground level perspective." Rather than lifeless still shots and long-winded, intellectual discourse, REM exposes the one thing that gives each building function and purpose: how it is used by people.
So far, REM has been funded entirely by grants. However, in order for Tomas to collect the necessary funds to complete post-production, he has turned to you by launching a Kickstarter campaign.
Watch REM's official trailer above, which follows a parkour expert as he moves through the Casa De Musica in Porto, and follow us after the break for Tomas' exclusive interview with Kanye West, who comments on his work with OMA at the 2012 Cannes film festival.
Think traffic is bad now? One billion cars are already on the road today and another billion is expected to join in the coming decade. Pollution and stressful commuting is at an all time high, empowering many politicians and bicycle activists to declare war on the multi-billion dollar car industry which has profoundly impacted city development worldwide.
Bikes vs. Cars is a feature-length, in-progress film that hopes to be part of the global movement by shedding light on the city's car-centric past and bike-friendly future. Learn more and join the cause at the Bikes vs Cars Kickstarter Campaign website. 
For more, read "Why Cycle Cities Are the Future."
The New York Times has published "A Short History of the Highrise" – an interactive documentary that explores the 2,500-year global history of vertical living and issues of social equality in an increasingly urbanized world. Organized in four short films – "Mud," "Concrete," "Glass," and "Home" – viewers are given the option to "dig deeper" into each subject and explore additional archival material while viewing the film. Check out the film here.
Each year, Joshua Foer, author of the bestseller Moonwalking with Einstein, would celebrate sukkot (a traditional Jewish holiday) with his family by building a sukkah, a small temporary shelter that acts as a reminder of the Jews' plight after being expelled from Egypt. Years later, he co-founded a competition to challenge architects to consider the holiday from a designer's point of view. Sukkah City, a documentary on the competition, follows a couple projects through their inspiration and construction. Read more about it here.
In his three-part documentary series, composed of the films Helvetica, Objectified and Urbanized, Gary Hustwit explored the effect that design has on our everyday life. However, in the process of making these documentaries, he only used about 3% of the interview footage he collected. Now he has launched a kickstarter campaign to fund a book that will make his 100 hours of interview footage available in its entirety. Click here to back his project and make this book a reality.
Architects and students worldwide are highly anticipating the Monday premiere of Archiculture - a documentary that offers a unique glimpse into the world of studio-based, design education through the eyes of five architecture students finishing their final design projects at Brooklyn's Pratt Institute. The film, directed and produced by two architect-turned-filmmakers Ian Harris and David Krantz of Arbuckle Industries, features exclusive interviews with leading professionals, historians and educators to help create a crucial dialog around the key issues faced by this unique teaching methodology.
Eager to learn more, we sat down with director Ian Harris for an exclusive interview. Read the interview and share your thoughts after the break.
Madrid-based architect Angel Borrego Cubero of Office for Strategic Spaces (OSS) has directed and produced the first documentary focused on the tense process that often characterizes an architectural competition. Appropriately titled The Competition, the film captures a fascinating account on how five world renowned architects – Jean Nouvel, Frank Gehry, Dominique Perrault, Zaha Hadid and Norman Foster – "toil, struggle and strategize to beat the competition." The premise is based on a nearly forgotten, 2008 competition for a new National Museum of Art of Andorra, a small Pyrenees country nestled between Spain and France, which has yet to be realized.
The Competition is expected to debut in late 2013. Updates will be available on OSS's website and facebook.
After years of production, the documentary film Archiculture is set to premiere at this year's Newport Beach Film Festival, which will commence on April 25th. Highlighting a group of students amidst their final design projects, the film illustrates the strengths and perils of architectural education. Shigeru Ban, Thom Mayne, Ken Frampton and Phil Bernstein are some of the leading architects, educators and historians that will be featured in the film, offering insightful criticism about studio-based, design education as it exists today. 
Check out the trailer above and continue after the break for more information.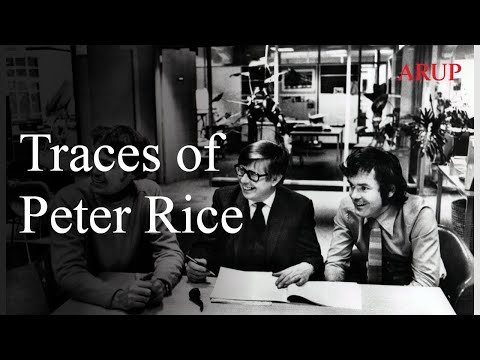 Peter Rice has been described as both one of the best engineers and architects of the twentieth century. Unhappy with the role that engineers play in designing buildings, Rice dedicated his life to championing brave innovation and poetry through structure in a way that helped bridge the gap between engineering and architecture. His desire to work in tandem with architects, towards a shared vision, made him one of the most in-demand engineers of the twentieth century.
Read more about this amazing man and check out the video after the break…
In an age where almost every conceivable subject has spawned its own reality series – be it Dancing On Ice or Hillbilly-Hand-Fishing - PBS's new show, Cool Spaces!, aims to stimulate the public's curiosity by engaging us in the story behind some of North America's most interesting public buildings. The AIA sponsored show, which is hosted by Boston-based architect Stephen Chung, departs from usual architecture-related television shows, which tend to focus on makeovers of private homes. Not only will this show look at public buildings, but it will also examine the people whose lives it has affected, the places that have shaped it, and the mind of the architect who brought all of these things together to design it.
Read more about the series and see a sneak preview after the break…