Winners have been announced for the 2014 Land Art Generator Initiative (LAGI). The competition, this year sited in Copenhagen, calls on interdisciplinary teams to design large scale site-specific artworks that provide renewable electricity to the city at a utility-scale (equivalent to the demand of hundreds or even thousands of homes). Once constructed, these public infrastructure artworks have the potential to offset thousands of tons of CO2 and provide iconic amenities that will serve to educate and inspire the communities in which they are built.
Check out the winning energy-generating sculptures, after the break.
Over a year ago, we shared a work-in-progress drawing project that captured our imagination with its combination of huge size and meticulously small details. Now, "The Happiness Machine," Mark Lascelles Thornton's 8-foot by 5-foot, three year long drawing project is complete, after over 10,000 hours of painstaking work.
Lascelles Thornton, a self-taught London-based artist who describes himself as "one of those kids that was drawing before I was talking," created the artwork as a response to the global financial crisis, focusing on themes of socio-economics, consumerism, globalism, resource shortages, urbanism and architecture. We spoke to Lascelles Thornton about his artwork, discussing the themes of the piece and the commitment – or, as he describes it, "emotional engineering" – required for such a colossal undertaking.
For the full interview – and detailed images of the drawing – read on after the break
Japanese artist Katsumi Hayakawa's "Paperworks" exhibition explores the impression of architectural density through delicate three-dimensional installations. The intricate sculptures were all hand-crafted piece by piece out of paper and glue, creating an awe-inspiring assemblage of multi-layered urban conditions at different scales. For more information and images, keep reading after the break.
In celebration of the Brazil World Cup, architect and illustrator André Chiote has created a series of illustrations featuring the tournament's most iconic stadiums. Comparing the social importance of these stadiums to cathedrals, Chiote believes that "the new architectural objects are landmarks in the cities that will perpetuate in the future as a cultural and social legacy," and there are few better ways to envision this legacy than to treat the structures with his abstracted, colorful aesthetic – in Brazilian green and yellow, of course. Check out the full illustration set after the break.
Axel de Stampa has shared with us his awesome series of architecture gifs, Architecture Animée (Animated Architecture), which turn architecture from SANAA, Herzog and de Meuron, MAD Architects and more into amazing, zany gifs. See all nine after the break!
When you're surrounded by buildings on all sides, what do you see? In his SkyArt series, French artist Lamadieu Thomas gives us his answer. He takes claustrophobia-inducing photographs of urban landscapes through a fish-eye lens, framing the sky with rooftops and filling the negative space with playful illustrations. Thomas describes his whimsical approach to art as an attempt to show "what we can construct with a boundless imagination" and "a different perception of urban architecture and the everyday environment around us." To see more from the collection, continue after the break.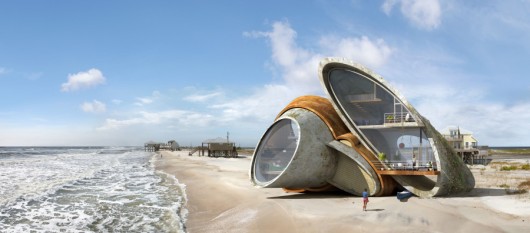 The following article by Priscilla Frank originally appeared in The Huffington Post as "Artist Designs Surreal Futuristic Forts That Can Withstand Natural Disaster."
Dauphin Island, located off the coast of Alabama in the Gulf of Mexico, is known for experiencing perpetual and catastrophic hurricanes. When a storm hits the small island of around 1,200 people, it often washes away much of the coastline with it, leaving residents to rebuild their homes again and again following every big storm.
Artist Dionisio González became fascinated by this society's ability to endure creation and destruction in such rapid succession, willingly succumbing to the whims of nature's cycles time and time again. The artist, who has always held an interest in architecture, embarked on a mission to design surreal structures that would better suit the fraught island's populous, fusing fantasy with the inhabitants' inevitable reality.
More on González's surreal architectural images, after the break…
American Artist Janet Echelman is to premiere her latest, and largest, sculpture in Vancouver. Widely known for her artistic ability to reshape urban airspace, Echelman's sophisticated mixture of ancient craft and modern technology has led to collaborations with aeronautical and mechanical engineers, architects, lighting designers, landscape architects, and fabricators to "transform urban environments world wide with her net sculptures." Using a light weight fibre to elevate her monumental "breathing" forms above the streets of urban centres, Echelman's new sculpture will be of a size and scale never before attempted.
Related Companies founder Stephen Ross has commissioned London designer and architect Thomas Heatherwick to design what could be, according to the Wall Street Journal, "one of the most expensive works of public art in the world." Planned to be the centerpiece of Related's Hudson Yards project in Manhattan's West Side, the estimated $75 million artwork and its surrounding 4-acre public space aims to become "new icon for the city."
Complicating is easy, simplifying is difficult. To simplify you have to remove, and to remove you have to know what to take away. The idea of this project, called ARCHIPIX (Less is Pixel) by Federico Babina Architect, is to represent the complexity of the forms and personalities through the simplicity of the pixel. Masters of modern architecture, paired with a building that represents their essence, often become desktop icons. A digital "pointillism" where the mouse replaces the brush. The pixel reappears and emphasizes the importance of the single dot, seen as something essential that in combination with other points form a more complex picture. A metaphor of architecture where every little detail is a key component of the whole mosaic.
Would you ever want live in the Keret House - the world's skinniest dwelling - in Warsaw, Poland? Well, now's your chance. The Polish Modern Art Foundation has announced an open call for resident applications to artists (under age 35) practicing in the fields of architecture, visual arts, literature, music or film. If selected, artists will have the opportunity to live in the Keret House for up to 21 days to realize a project of their own design. The residency aims to foster individual artistic expression, promote creative exchange, and expose artists to the cultural environment of Poland while offering them the chance to experience what many believe to be an "impossible architecture." See if you are eligible to apply here. 
This stunning installation, created by Swiss sculpter Vincent Kohler, beautifully deconstructs the log. Titled "Billon", the 110 x 100 x 300 cm piece is made of wood, polystyrène, and résine.
ALL THE BUILDINGS IN NEW YORK is a blog, a book, and, above all, illustrator James Gulliver Hancock's love letter to New York City.
As his website reveals, Hancock "panics that he may not be able to draw everything in the world… at least once." Since Kindergarten, he's been obsessed with drawing in meticulous detail (or, as he tells the Atlantic Cities, with a mix of "technicality and whimsy"), a characteristic this native Australian brought with him when he moved to Brooklyn, New York.
What began as a blog, All The Buildings In New York, to keep track of his many sketches of New York's architecture (particularly the brownstones), is now a book (All The Buildings in New York: That I've Drawn So Far - which includes about 500 drawings). Organized by neighborhoods, it features New York architectural icons from the past and present, including the Chrysler Building, the Flatiron, Apple's 5th Avenue store, as well as the everyday buildings that make up New York's unique cityscape.
See more images from All the Buildings in New York, after the break…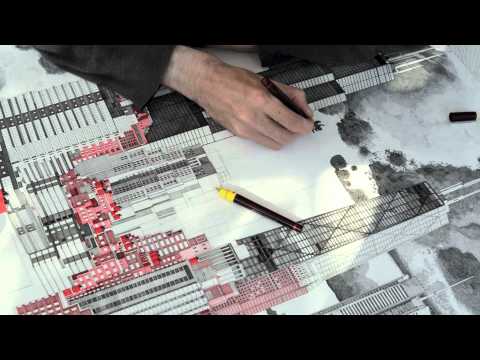 With just a Rotring Isograph pen on arches paper, artist Mark Lascelles Thornton completed this scrupulously detailed architectural drawing project titled "The Happiness Machine". Each sheet represents a city – such as Chicago, Shanghai, London and New York – and is stylized in red and gray ink.
In addition to the meticulous detail of the buildings, the work is even more amazing considering the scale: the final piece will spread across eight panels measuring 8 by 5 feet.
Continue for more images…
The internationally – and often controversial - acclaimed artist Christo has unveiled the "largest indoor sculpture ever made". Prepared to debut in a public exhibition starting March 16, the inflated "Big Air Package" has been designed to occupy a 117-meter-tall former gas tank known as Gasometer Oberhausen in Germany. The 90-meter-high, 50-meter-wide sculpture is made from 20,350 square meters of semitransparent polyester fabric and 4,500 meters of rope, with a total weight of 5.3 tons and a volume of 177,000 cubic meters. 
The seemingly endless, inflatable installation was conceived in 2010 and is Christo's first major work after the passing of his wife and artistic partner Jeanne-Claude in 2009.
More on Christo's "Big Air Package" after the break…