"Typically, museums are icons that contain exhibits. This is the inverse: the exhibit is the icon."
In this video, architects Steven M. Davis, Mark Wagner, and Carl F. Krebs of Davis Brody Bond come together to discuss the design process and visitor experience of the 9/11 Memorial Museum. Technical complexities and deeply emotional responses challenged the architects to craft an immersive experience of remembering. From the enormous scale of the site, to the celebration of the iconic surviving artifacts, the designers describe the overwhelming authenticity preserved by the memorial.
Wagner explains, "It pushed us architecturally, to not just look at the physical attributes, but to dive in emotionally… we need markers in our history, we need something to bring us back to that moment." It is this authenticity and embedded emotive power that the architects aim to enhance. Watch the video above to listen in on the conversation.
With the opening of the Harvard Art Museums a week ago today, Renzo Piano was able to finally complete on a project which, in various guises, has been in progress for seventeen years. The relationship between Piano and Harvard began with a 1997 plan to build a new branch of the Fogg Museum on the Charles River and ended, after objections from locals and then the 2008 recession, in the decision to consolidate the university's three museums (The Fogg, Busch-Reisinger and Arthur M Sackler Museums) under one roof.
With its long history, restricted space, the listed facade of the original Fogg Museum and the ultimate difficult neighbor in Le Corbusier's Carpenter Center for the Visual Arts, the Harvard Art Museums project was inevitably going to cause a fuss on completion. So how did Piano do? Find out what the critics said after the break.
When it comes to public space, many assume that while truly public space is always good, "privately owned public space" is always bad. However, in this article originally published by Metropolis Magazine as "A Plaza is No Guarantee of Democracy," NBBJ's Carl Yost argues that the distinction is not so binary. As architects, it's our job to smooth over the difference between the two, while we're at work – but most importantly while we're not.
The past few months have seen the opening of high-profile projects with contested public space. The Leadenhall Building, London's "Cheesegrater," rises above a public plaza that the Financial Times called "problematic," with "an astonishing array of defensive measures to make it clear that while it may be open to the public, it is still ours" (that is, the landlord's). In New York, the World Trade Center plaza has taken fire from critics, both domestic and international, who chafe at restrictions on visitors' behavior.
It evokes the debate over "privately owned public space," or POPS, that arose during Occupy Wall Street, when protesters camped out in Zuccotti Park, a Lower Manhattan plaza that is privately owned by Brookfield Office Properties yet must remain open to the public. Many rightly pointed out the restrictions that POPS pose to free speech and assembly, when owners can evict people they consider unwelcome.
A+u magazine was recently granted an exclusive interview with the co-founders of Flux, the Google[x] startup whose mission is to harness data to automate architectural and urban design. The discussion is one of 14 essays and interviews from leading urban technologists in the current November issue, Data-Driven Cities.
"We began our exploration with the premise that buildings and the sustainability of our modern lifestyle are deeply intertwined. In addition, buildings – more specifically, housing – is an issue of human dignity. We wanted to find ways to apply Google-scale thinking to tackle these important issues," says co-founder Nicholas Chim in the interview.
Read on after the break for a+u magazine's full interview with Flux co-founders, Nicholas Chim and Michelle Kaufmann. And check out the November issue of a+u magazine, available in digital and print editions, which features new essays by Carlo Ratti (MIT), Dan Hill (City of Sound), Alastair Parvin (Wikihouse) and more.
Every two years Audi hosts the Audi Urban Future Award (AUFA), which challenges cities from different parts of the world to investigate future mobility trends and come up with innovative solutions. This year AUFA selected Mexico City, Boston, Berlin and Seoul to participate in the challenge and respond to the question: how will data shape mobility in the megacities of the future? These four groups were asked to create a vision for how their city could use data in a strategic way, taking into consideration innovative energy solutions, sustainability, feasibility and the potential for their ideas to be implemented in other cities.
Mexico City's team took home first place with their "operative system for urban mobility," which centered around a data platform that cities can use to structure their urban traffic planning. Their system was also based around the idea that citizens themselves can become "data donors" and use the system to make informed decisions on how they move about the city. The team was comprised of architect and urbanist José Castillo, researcher Carlos Gershenson and the city government's experimental lab "Laboratorio para la Ciudad."
Learn more about the winning project after the break.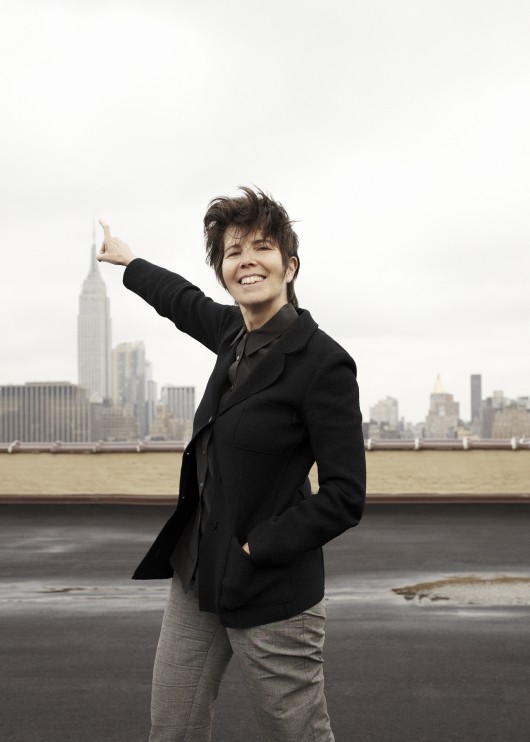 Below is an excerpt of the cover story of this month's Surface magazine: an in-depth interview with Elizabeth Diller, published online for the first time here on ArchDaily.
The 35-year career of Elizabeth Diller, a founding partner of the New York–based architecture studio Diller Scofidio + Renfro, is a study of contrasts: conceptual and pragmatic, temporary and permanent, iconoclastic and institutional. After graduating from Cooper Union in 1979, Diller started her practice mounting temporary installations with her partner and future husband, Ricardo Scofidio, their interests leaning closer to art and theory than conventional buildings and construction. Today the duo—along with Charles Renfro, who became a partner in 2004—is responsible for some of the most important architectural projects in the country. DS+R counts Boston's Institute of Contemporary Art (completed in 2006) and a makeover of New York's Lincoln Center (finalized in 2012) among its highest-profile works. Especially influential, at least among architects and academics, has been the firm's unbuilt Slow House (1991), a proposal for a residence on Long Island, New York, renowned for its examination of how we see in a media-saturated world.
One notices sharp contrasts not just in the firm's work history but in its public reception as well. Widely lauded for repurposing a dilapidated elevated railway into New York City's beloved High Line park (the third phase opened in September), DS+R received heavy criticism this year for its involvement in a major expansion proposal for the Museum of Modern Art. The museum's plans included the demolition of its little-guy neighbor, the American Folk Art Museum; despite efforts to work the idiosyncratic building into the design scheme, Diller's studio, hired to lead the expansion, ultimately acknowledged that the structure couldn't be saved.
Surface recently met with Diller at her office in Manhattan to speak about the ensuing controversy, as well as early career experiences that have influenced her firm's recent commissions for cultural institutions, including the current exhibition "Musings on a Glass Box" at the Cartier Foundation in Paris (through Feb. 25, 2015), a collaboration with composer David Lang and sound designer Jody Elff. Diller, 60, is pensive and surprisingly relaxed for someone whose aides are constantly interrupting her to remind her of meetings she has to attend. She speaks with an erudite inflection befitting her academic credentials and professional accolades (she is, after all, a professor at Princeton and a MacArthur "genius grant" recipient), though she smiles with the ease of an affable neighbor.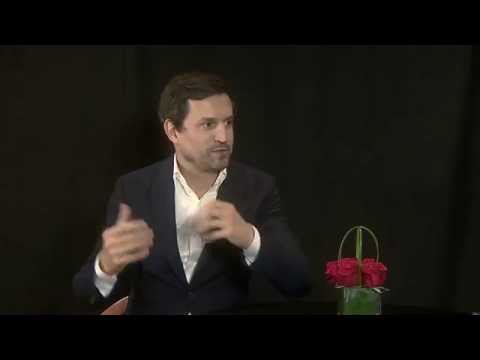 In this interview, conducted by the Council for Tall Buildings and Urban Habitat, Ole Scheeren discusses the ideal height for sustainable buildings. Drawing reference from two of his projects, MahaNakhon and The Interlace, he speaks to the difference between height and density, and how those two interplay when creating livable spaces in urban areas. He goes on to talk about how large buildings such as skyscrapers can be made more open to the surrounding city, both visually through programming. Watch the full clip above!
What does it take for a 22-year-old art school drop-out to start a lifelong professional relationship with "the greatest American architect of all time"? Originally published by Curbed as "How a 22-Year-Old Became Wright's Trusted Photographer," this article reveals that for Pedro E. Guerrero, it took some guts and a lot of luck – but once they were working together this unlikely pairing was a perfect match.
When Frank Lloyd Wright hired Pedro E. Guerrero to photograph Taliesin West in 1939, neither knew it would lead to one of the most important relationships in architectural history. Wright was 72 and had already been on the cover of Time for Fallingwater. Guerrero was a 22-year-old art school drop-out. Their first meeting was prompted by Guerrero's father, a sign painter who vaguely knew Wright from the neighborhood and hoped the architect would offer his son a job. Any job.
Young Guerrero had the chutzpah to introduce himself to the famous architect as a "photographer." In truth, he hadn't earned a nickel. "I had the world's worst portfolio, including a shot of a dead pelican," Guerrero said later. "But I also had nudes taken on the beach in Malibu. This seemed to capture Wright's interest."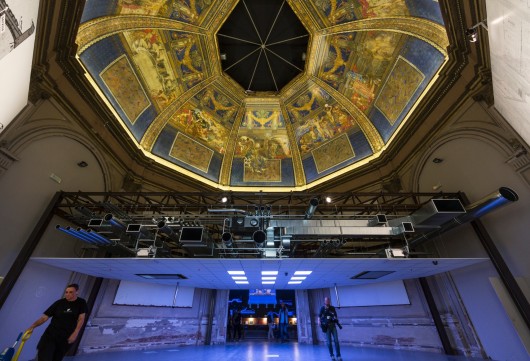 Fundamentals, the title of the 2014 Venice Biennale, will close its doors in a matter of days (on the 23rd November). From the moment Rem Koolhaas revealed the title for this year's Biennale in January 2013, asking national curators to respond directly to the theme of 'Absorbing Modernity 1914-2014', there was an inkling that this Biennale would be in some way special. Having rejected offers to direct the Biennale in the past, the fact that Koolhaas chose to act not only as curator but also thematic co-ordinator of the complete international effort, was significant. This announcement led Peter Eisenman (one of Koolhaas' earliest tutors and advocates) to state in one interview that "[Rem is] stating his end: the end of [his] career, the end of [his] hegemony, the end of [his] mythology, the end of everything, the end of architecture."
In the wake of the global financial crisis, banking scandals and government bailouts have made countless news headlines around the world. With such large sums of taxpayer money being funneled to the troubled financial sector, ordinary individuals are left to wonder how it will affect their own lives. But how can an entire country rise up and make their voices heard when it is nearly impossible to understand the magnitude of such an injustice? In Austria, a group of innovative students from the Technical University of Vienna set out to answer this question and have taken to a new form of protest in order to make the consequences of one Europe's largest financial scandals in recent history a tangible reality.
To demonstrate the €19 billion price tag of Austria's recent bailout of Hypo-Alpe-Adria, students designed and built a scale model of a fictional city called "Hypotopia," a portmanteau of the bank's name and "utopia." According to Lukas Zeilbauer, "while utopia stands for an ideal fictitious world, 'hypo' is a Greek word meaning under, beneath or bellow – so a change coming from the bottom, from the folk." Embodying an idealistic society with plentiful renewable resources and public education for people of all ages, the model city would theoretically contain 102,574 inhabitants, making it the sixth largest city in Austria.
Read on after the break to find out how an architecture model has drawn international attention and propelled an entire country to take action.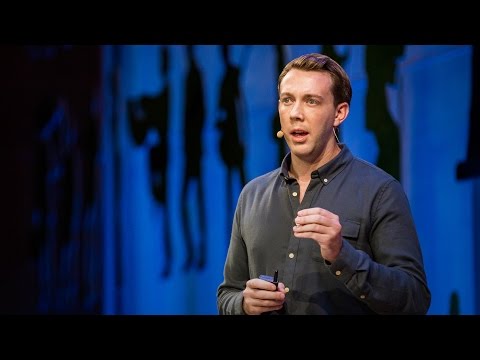 In one of the eight talks that make up the TED Prize-winning City2.0, MASS Design Group Co-founder and Chief Operating Officer Alan Ricks explains how MASS designed and built the Butaro Hospital in Rwanda, in 2008 when "there wasn't even a word for 'architect'" in Kinyarwanda, the national language. Now thanks in part to their work, and the commitment of the many MASS Design Fellows in the area, Rwanda has a more formalized market for architectural services and even a new architecture program at Kigali Institute of Science and Technology.
Through anecdotes and testimonials from others involved (including everyone from the hospital gardener to Rwanda's Minister for Health), Ricks demonstrates that no matter what the context, architecture can and should find opportunities in the local environment that bring not only health benefits but also economic benefits, jobs and even dignity.
Teams from Thailand and New York have received top honors in the 2014 regional Holcim Awards for Asia Pacific, an award which recognizes the most innovative and advanced sustainable construction designs. Among the top three winners are the "Protective Wing" bird sanctuary and a locally-adapted orphanage and library in Nepal.
The 13 recognized projects will share over $300,000 in prize money, with the top three projects overall going on to be considered for the global Holcim Awards, to be selected in 2015.
The full list of Asia Pacific winners, after the break…
During his recent trip to Chile, organized by the Harvard David Rockefeller Center For Latin American Studies, we caught up with the Dean of Harvard's Graduate School of Design (GSD), Mohsen Mostafavi, to see what challenges he thinks are facing the future of architecture education and to learn more about his work on ecological urbanism.
"[Architecture is] both a singular discipline, but at the same time it needs to be a collaborative discipline. It's at once focusing on disciplinary knowledge but at the same time trans-disciplinary practicing; therefore it means that architectural education has to find new venues for collaboration," he said.
"I think the GSD is very well-positioned to address key societal issues today because first, we're a very multidisciplinary school in the sense that we believe strongly both in the focus of individual disciplines like architecture, but also on the inter-relationship between architecture, landscape architecture, urban planning and urban design. "
Watch the full interview above to see what else Mostafavi had to say about architecture school, the role of architecture in society and ecological urbanism.
Resiliency has become a keyword when it comes to city planning and development, so much so that former AIA president, Clark Manus, declared last year that "resilience is the new Green." To address resiliency on a global level and help cities around the world become more resilient to social, economic and physical challenges, The Rockefeller Foundation kicked off its 100 Resilient Cities Challenge in 2013. Under the initiative,100 cities will be selected to be part of the challenge, where they will receive help and funding to hire a Chief Resilience Officer and assistance in developing and implementing a resilience strategy.
So far 33 cities have been selected and last week the first-ever Chief Resilience Officer summit was held in New Orleans. To learn more about the summit in New Orleans, the overall initiative, and how cities can become more resilient, we spoke with President of 100 Resilient Cities, Michael Berkowitz, who said: "When you think about what makes a resilient city, you have to think in holistic terms. The reality is that resilience building is a multi-sector, multi-level kind of enterprise."
Read the full interview with Berkowitz after the break
By now, when the design competition for the Guggenheim Helsinki is mentioned, one number probably comes to mind: 1,715, the record-breaking number of submissions which the competition received. But how can this number be put into perspective? Why, with more numbers of course. Take 5,769 for example, which is the total height in meters of all the A1 presentation boards arranged vertically. Or take 18,336,780, the estimated value in Euros of all the work submitted.
Check out this great video from Taller de Casquería, which gives a rundown of all of the mind-blowing statistics generated by the competition, and concludes with this strong message to the Guggenheim itself: "These are incredible figures that show the impact that the Guggenheim Foundation has throughout the world… Guggenheim should document this to recognize their success in helping to shape a global community, dedicated to visual culture."