Britain's Education Secretary Michael Gove and the Department for Education have released blueprints for the baseline design for schools that they believe "demonstrate good practice that can be achieved within [a] set cost and area allowances." The government's goal is to reduce the cost of new school buildings from the previous £21m to less than £14m each for the replacement of 261 of the most run-down schools in the country.
These new schools, however, will be 15% smaller than the ones designed originally under the Building Schools for the Future (BSF) program, potentially compromising important spaces such as corridors, assembly halls, canteens and atriums. Many teachers have expressed concern for these changes, as they could lead to congestion, bad behavior among students and would "undermine attempts to maximize the value for money of school buildings by making them available for community functions after hours."
Architects and the architecture community at large are also worried about the design implications of such a standardized school building prototype – how will it interact with the existing school buildings and how could restricted design affect Britain's educational system?
More after the break…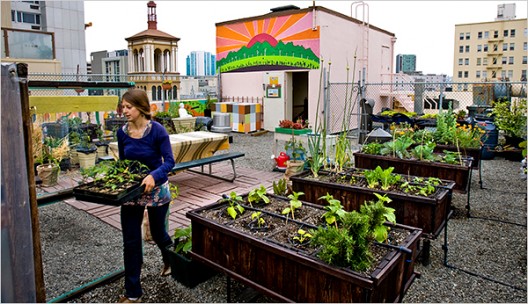 "The typical Urban Dweller today has no understanding of where or how food is produced/distributed. We have become dependent on huge, powerful, profit-minded corporations to bring huge quantities of food from industrial farms into our supermarkets – but the entire process is hidden, massively complex, and, ultimately, unsustainable." [1]
In Part I of this Series, I made the case that Urban Agriculture has incredible potential; unfortunately, however, in America, it has a long way to go. Our economy, our government, our technology, even our perception of what "food" is relies upon the Food System we currently have in place. Urban Agriculture could very well be the answer, but, frankly, not yet. 
So where does that leave us today?
All over the world, citizens are taking the Food Revolution into their own hands, becoming urban bee-keepers, guerilla planters, rooftop gardeners, foodie activists. While community engagement and political lobbying are vital to these grassroots movements, so too could be design. 
By designing our cities – our public and civic spaces, our hospitals and schools – with food in mind, we can facilitate this Revolution by making food a visible part of urban life, thus allowing us to take that crucial first step: eliminating the physical/conceptual distance between us and our food.
What does it look like to design with food in mind? More after the break…
So far, I've cited the merits of the playground – the loudest, craziest, most running-aroundiest environment for kids you can imagine – as a point of inspiration for school design.
I've espoused the potential of community-oriented schools to motivate learning and, somewhat grandiosely I'll admit, change the world.
I think I've uncovered a bias. In me, and in architecture at large.
For years, Western culture has valued and rewarded natural born extroverts in its effort to breed out-going, sociable, go-get-'em type citizens. (For two intelligent, chuckle-inducing narratives on the plight of the introvert, check out Jonathan Rauch's touchstone piece in The Atlantic and Susan Cain's fabulous TED Talk).
In my zeal to present solutions to the obstacles facing education, I too got caught in the trap. To rectify this situation, I will – once again – examine schools; but this time, I take a more balanced approach. Today I take into account that bullied, forgotten group: introverts.