This review of Detlef Mertins' book "Mies" – by Thomas de Monchaux - originally appeared in Metropolis Magazine as "Mies Reconsidered". According to de Monchaux, Mertins reveals the modernist master as a voracious reader who interpreted a wide variety of influences to arrive at his stripped-down style.
The quintessential page of the 528 that make up Detlef Mertins's monumental new monograph on Ludwig Mies van der Rohe—entitled simply Mies (Phaidon, 2014)—is 155. There, you will find a reproduction, a page within a page, of page 64 of Romano Guardini's 1927 book Letters from Lake Como—a book about modernity and human subjectivity—with Mies's own annotations penciled in the margins, in a surprisingly ornate and delicate hand. 
And there, you will find Mertins's notes on Mies's notes on Guardini: "Of all the books in Mies's library, Guardini's Letters is the most heavily marked. Mies highlighted passage after passage with bold and rapid margin strokes and wrote key words diagonally and in large script across the first pages of many of the chapters: Haltung (stance), Erkenntnis (knowledge), Macht (power)." Mertins's vivid marginality, his attention to the divine details along edges, recalls the experience of reading the Talmud, that commentary on Jewish law and scripture in which, by marking and emending earlier readers' marks and emendations, generations of rabbis enacted an intimate conversation across time and space. 
Read on for more insight into Mies' influences.
In the year 1940, Armour Institute and Lewis Institute merged in Chicago to create the Illinois Institute of Technology. The merging of these two schools called for a new master plan for the university, and Mies van der Rohe was commissioned for the job. Mies' plan for the IIT campus was one of the largest projects he ever conceived and he developed it for twenty years. Today the campus contains 20 of his works, including the famous Crown Hall. Enjoy the video and don't forget to check our AD Classics on the IIT Master Plan and Buildings.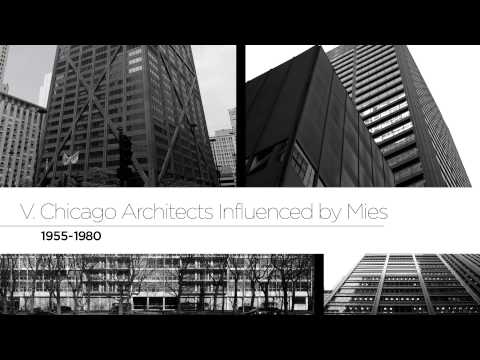 When emigrating from Germany in 1938 to head Chicago's Armour Institute, Ludwig Mies van der Rohe was challenged with two tasks: first reform the schools curriculum to his "back-to-basics" approach and then develop plans for a newly expanded 120-acre campus for the creation of Illinois Institute of Technology, a product of the Armour Institute and Lewis Institute merger. Mies was able to exceed both challenges and the outcomes have had a lasting influence on Chicago and modernism for the past 75 years. In celebration of this legacy and Mies' 127th birthday, IIT complied this comprehensive video that features Mies' contribution to the modern landscape of their campus and city. 
Learn more about Mies' IIT master plan and building here on ArchDaily.