A new research study conducted by the Council on Tall Buildings and Urban Habitat (CTBUH), entitled Tall Buildings in Numbers – Japan: A History of Tall Innovations, examines the evolution of tall buildings in Japan since the 1960s. The study highlights key innovations in Japan's skyline through a compilation of graphic representations, including a timeline of notable highrises, a scatterplot of towers over 150 meters and annual construction rates, and a comparison of skyscraper density with regional populations.
View the interactive charts after the break.
London-based design group Urban Systems Office has developed a work-flow system employed in their  180-meter "Bundle Tower" to redefine the office typology of the Bank of China. Informed by its specific site features, the mixed-use Bundle Tower creates an open floor plan that responds precisely to its surrounding conditions and unique site requirements.
Rem Koolhaas, Steven Holl, Jean Nouvel and Boeri Studio are the masters behind five skyscrapers competing to be crowned the "World's best." Chosen as finalists for the 2014 International Highrise Award (IHA), the four practices are in the running for a prestigious title and €50,000 prize.
Award organizers from the City of Frankfurt/Main, Deutsches Architekturmuseum (DAM) and DekaBank at Frankfurt's Paulskirche will announce a winner in mid-November. The chosen skyscraper will be selected by an esteemed, multidisciplinary jury based on the criteria ranging from future-oriented design and innovative building technology, to the building's integrative urban development scheme and cost-effectiveness.
"Good architecture requires a willingness to take risks and a desire to try things out. All the finalists took this approach – there can be no innovation without experimentation. Our shortlist comprises three different prototypes of the future," commented Jury Chairman Christoph Ingenhoven.
View all five of the competing highrises and the jury's comments, after the break… 
YuHao Li and Rui Wu were recently awarded third place in the 2014 eVolo Skyscraper Competition for their proposal of a skyscraper that grows. Using 'carbon capture', an emerging practice aimed at capturing and containing greenhouse gases, Propagate Skyscraper uses a simple, vertical grid scaffold to act as a framework for building, or growing, the volumes. "Ingredients for material propagation" are supplied through the scaffold, while its actual pattern of growth is defined by environmental factors (such as prevailing wind and the saturation of carbon dioxide within the immediate atmosphere). Although each resulting structure is distinct in formal expression, the structure maintains a regular spatial organisation, allowing it to be easily occupied and adapted.
CAR and SHELL or Marinetti's Monster, recently awarded second place in the 2014 eVolo Skyscraper Competition, asks pertinent questions about an "insatiable" desire for growth in urban centres. Based on the premise that we "can no longer stand idly by and watch our cities consume themselves with an anxious need for expansion", Daniel Markiewicz and Mark Talbot's proposal seeks to demonstrate what a "city in the sky" could look like in suburban Detroit. The project is conceived as a vertical neighbourhood, or "a rich vertical urban fabric." Three main grids (streets, pedestrian pathways, and structure) are intertwined to create a box-shaped wireframe to which traditional/contemporary houses and other diverse programs (such as recreational and commercial areas) can be plugged in.
Vernacular Versatility, recently awarded first place in the 2014 eVolo Skyscraper Competition, seeks to adapt traditional Korean architecture into a contemporary mixed-use high-rise. The vernacular design of the Hanok, the "antonym of a western house" and epitome of the Korean style, has disappeared from every town. Extensive urban development in the 1970s led to a boom in modern apartment dwellings and, consequently, a loss of established Korean vernacular architecture. Yong Ju Lee's proposal aims to reimagine the Hanok in one of the country's busiest districts, drawing people's attention to and stimulating their interest in traditional architecture with the intention that "it will eventually be absorbed into people's everyday lives"
The New York Times has published "A Short History of the Highrise" – an interactive documentary that explores the 2,500-year global history of vertical living and issues of social equality in an increasingly urbanized world. Organized in four short films – "Mud," "Concrete," "Glass," and "Home" – viewers are given the option to "dig deeper" into each subject and explore additional archival material while viewing the film. Check out the film here.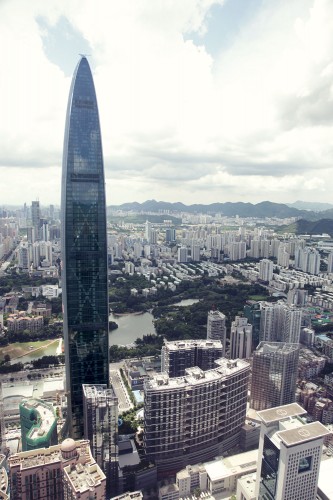 Every January the Council on Tall Buildings and Urban Habitat conducts a review of skyscraper construction and compiles all the data from the previous year. The trend since 2007 has seen record breaking years for buildings taller than 200 meters completed, with 88 skyscrapers completed in 2011. Even as the global economy is slowly recuperating from the 2008 financial crisis, it would appear as though this trend will remain relatively stable. China, leading the pack at 23 completed towers is predicted to remain at the forefront of skyscraper market, followed by Middle Eastern countries in the next decade.  UAE, South Korea, and Panama City – an up and coming cosmopolitan city – rounded out the top four. Of the towers completed in 2011, 17 have made their way into the top 100 tallest buildings – Shenzhen's Kingkey 100, at 442 meters crowning this year's list. More after the break.