Recently voted the UK's ugliest tower, The Barbican Tower is one of the three residential towers of the Barbican Estate, built between 1965 and 1976 in London. Along with fourteen apartment blocks, the Barbican Estate contains 2014 flats, connected by a labyrinth of floating passageways and landscaped gardens. 
Designed by the architects Chamberlin, Powell and Bon, the Estate was part of a utopian vision of urban renewal and transformation of the city center after the Second World War. When it opened in 1982, Queen Elizabeth even referred to the high-end mega-complex as "one of the modern wonders of the world." Though many Londoners despise the massive concrete megastructure, it is in fact a Brutalist masterpiece in the heart of London, a relic from a time of architectural coherence and uncompromised ambition.
Check out the incredible view from the Barbican Tower in the time-lapse above, and let us know your thoughts in the comments below!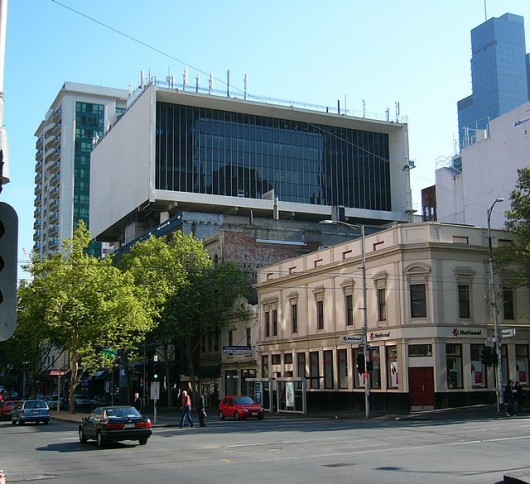 Melbourne newspapers are reporting on an argument breaking out over the preservation of the city's postwar modernist buildings, centering (as ever) on the dispute between their value as cultural heritage vs their 'ugliness' (you can see all the contested buildings in a neat graphic at The Age). While many are in favor of preservation, Alan Davies, in anarticle for Crikey, warns that the cultural benefit in protecting these buildings should always be weighed against the cost of preventing the developments that would have taken their place. Read the full article here.
The Guardian's Jonathan Meades has named the "incredible hulks" of Brutalism with a thought provoking A-Z list that ranges from Hans Asplund, who coined the term "nybrutalism," to California's fascination with Zapotec-like adornments in the 1960s. Read the list in full and discover why Quebec City, Yugoslavia's Janko Konstantinov, and Danish architect Jørn Utzon are all considered incredible hulks here.
This article by Carlos Harrison appeared in Preservation Magazine as Reinvention Reinvented: Hope for Modernism, and discusses the issues surrounding the (increasingly popular) drive to preserve post-war modernism, including what we can learn from past successes and failures, and what it takes to preserve different types and styles of building. 
Columbus, Indiana, is something of a modern marvel. It boasts more than 70 buildings by some of the architecture world's greats, including titans of Modernism such as Eero Saarinen, I.M. Pei, and Richard Meier. Schools, churches, a library, a post office, and even a fire station stand as examples of the distinctively diverse architectural styles spanning the decades from World War II through Vietnam.
Crisp lines, sharp angles, connected like Lego blocks. Nearby: a 192-foot spire aims toward the heavens like a laser.
Read on after the break for more about preserving modernism
In this fascinating article on the Slate design blog, J Bryan Lowder takes on a commonly held myth: that brutalist buildings on college campuses were designed to prevent student riots. From the egalitarian design ethos of brutalism to the fact that many of these buildings were around before the widespread student uprisings of the late 1960s, he finds no support for the theory – however he does end with a possible reason why these buildings are now regarded with such suspicion. You can read the full article here.
This article, by Michael R. Allen, was originally published on Next City as "Prentice Hospital Could Become Modernism's 'Penn Station Moment'"
When the concrete cloverleaf of Prentice Hospital sprouted from the Chicago ground in 1975, its award-winning design met the praise of critics and the admiration of many Chicagoans. Architect Bertrand Goldberg drew from Brutalism, but with a symmetry and grace that distinguished Prentice from more angular works in that style.
This week, as Goldberg's famous work is pulled apart by wreckers, nothing about its loss seems symmetrical or graceful. Within 40 years, the building transitioned from a proud symbol of civic renewal and design innovation to the victim of old-fashioned Chicago politics. The controversy surrounding the demolition of Prentice, however, injected the preservation movement into an urban design discussion with a presence not seen in a long time.
Following news last week that four post-war buildings had been listed in the UK, the campaign to Save Preston Bus Station reached a victory today when it was announced that Ed Vaizey (Architecture and Heritage Minister) has listed the Brutalist icon, removing the threat of demolition. The campaign, which has garnered words of support from the likes of Richard Rogers and Rem Koolhaas, has been been underpinned by support from Angela Brady PRIBA, former President of the Royal Institute of British Architects.
This AD Architecture City Guide is dedicated to the vibrant city of Tel Aviv, originally established as a garden-city on the sandy shores of the Mediterranean in 1909. Although widely known as "The White City" for boasting the world's largest collection of International Style Buildings, Tel Aviv is not merely a monochromatic Bauhaus colony: it presents a rich mosaic of locally interpreted styles, from Eclectic to Brutalist to contemporary, which are the result of foreign and locally-born architects who adapted to the local cultural and climatic conditions.
Join us for our architectural city guide through the "Non-Stop City" after the break…
As reported by BDOnline, Richard Rogers of Rogers Stirk Harbour & Partners has announced his support in the long-standing battle to save England's Preston Bus Station from demolition. In a letter to the English Heritage, Rogers described the 1969 brutalist landmark as "truly a major modern building and an outstanding piece of 20th century architecture" that is in dire need of refurbishment.
"Preston Bus Station is not only admired internationally, but it also continues to be fully functioning. It is a critical transport hub," he stated. "I would encourage you to consider listing the bus station and support a much-needed refurbishment."
Among the extensive discussion of Feilden Clegg Bradley's scheme to redesign the Southbank Centre in London, one issue which has sometimes been ignored by the architectural media has been the proposal to relocate the skate park in the under-croft of the Queen Elizabeth Hall to a space beneath the nearby Hungerford bridge.
Unsurprisingly, this decision has sparked a petition, which has collected nearly 40,000 signatures to save one of the UK's most famous skating hotspots. We've talked about how skaters can teach architects about understanding space before; however, in this instance I would like to examine how skaters as a (sub)cultural entity interact with the city, and how the city can cater to their needs. Though many architects are already in favor of accepting skaters, I hope to explore why the wider community tends to see skating as a problem to be solved, and what this can reveal about the proposal at the Southbank Centre.
Read on to find out more about the peculiar way skaters experience cities…
Most parking is free – but that doesn't mean it doesn't have a high cost. A recent podcast from Freakonomics Radio (which you can listen to at the end of this article) examined parking in US cities, investigating the "cost of parking not paid for by drivers" – a cost paid not just by the government, but by the environment – due to congestion and pollution caused by people searching for kerbside parking. For example, in a 15 block area of Los Angeles the distance traveled by drivers looking for parking is equivalent to one trip across the USA per day.
One potential solution which they discuss is a San Francisco project called SF Park, which makes use of sensor technology to measure the demand for parking in certain areas of the city and adjust price according to demand. In theory, this would create a small number of empty spaces on each block and dramatically reduce the time that many drivers spend cruising for parking spaces.
Though the idea is certainly an intelligent approach to the problem of kerbside parking, unsurprisingly all this talk of supply, demand and pricing sounds very much like an economist's answer to a problem. But what can designers do to help the situation?
Perhaps, from the designer's point of view, the real problem with kerbside parking and surface lots is that they are always seen as a provision "coupled with" a building or area of the city. There have been a number of attempts by architects – some successful and some tragically flawed – to make parking spaces less of a rupture in a city's fabric and more of a destination in themselves. Could these point to another way?
Read about 3 examples of parking's past, and one of its potential future, after the break…
"Originally seen to reflect the democratic attributes of a powerful civic expression – authenticity, honesty, directness, strength – the forceful nature of Brutalist aesthetics eventually came to signify precisely the opposite: hostility, coldness, inhumanity. [...] Separated from its original context and reduced in meaning, Brutalism became an all-too-easy pejorative, a term that suggests these buildings were designed with bad intentions." - "BRUTAL"/"HEROIC" by Michael Kubo, Chris Grimley and Mark Pasnik
Brutalism, an architectural movement that peaked in the 1960′s, inspired the development of countless governmental buildings in Washington DC as well as across the world. Though Brutalism's original intentions may have been good, many believe that the actual manifestation of these buildings was not and consider them to be little more than an eyesore on the District's landscape. One such concrete structure, the FBI's J. Hoover Building, is currently facing possible redevelopment as the government has decided to relocate FBI headquarters and given the private sector the rare opportunity to transform this so-called "monolith" into a new kind of monument.
More on the Hoover Building after the break…
Brutalism. It's the architecture movement that the public loves to hate, and architects dare to love. It's also the latest topic tackled by CLOG, the quirky publication that takes a long slow look at what's important in architecture now.
While Brutalism, a movement that reached its height in the 60s, may not seem a timely topic, nothing could be further from the truth. With Brutalism's monolithic beasts reaching their not-so-golden golden years, the question to re-model (often prohibitively expensive, considering these projects' complexity) or just demolish (as the public often begs for) is an urgent one – as the recent preservation debates over Paul Rudolph's Orange County Building (successful) and Bertrand Goldberg's Prentice Women's Hospital (not) reveal.
However, while this edition of CLOG of course mentions these debates, Brutalism shines in exploring the bigger questions these debates provoke: Why is Brutalism so loathed? What is it, really? And – can Brutalism be saved? Should it be?
Divisive concrete behemoth Preston Bus Station may yet be saved from its planned demolition. On the heels of a well co-ordinated campaign to save the brutalist monument, local businessman Simon Rigby has stepped in and offered to relieve the council of the building planning refurbish and operate the bus station himself.
Read more about the controversy and Rigby's plan after the break…
German-born, New York-based architect Ulrich Franzen (1921-2012) was one of the most creative American architects in the second half of the twentieth century. As reported by the New York Times, Franzen died in his Sante Fe, New Mexico, home on October 6 at the age of 91.
A graduate of Williams College and the Harvard GSD (MArch'48), Franzen entered the world of architecture first as an understudy for I.M. Pei. In 1955, he established his own practice – Ulrich Franzen and Associates – in New York City and has since created distinguished contributions to to architecture, urban design and the theoretical and critical literature of design.