Krumbach, a small Austrian village of 1000 inhabitants, is not the place you'd expect to find structures from a variety of architecture's biggest names. But thanks to Verein Kultur Krumbach, a new association dedicated to encouraging culture in the village, that's exactly what's happening, with seven international architecture firms agreeing to design bus stops for Krumbach.
Read after the break to find out more about the seven designs.
From Iwan Baan's website we are bringing you two more projects by 2012 Pritzker laureate, Wang Shu: The Ceramic House (Coffee House) in the Jinhua Architecture Park, where Ai Wei Wei, working as the curator, brought together 16 architects from around the world to create a pavilion-city along the banks of the river Yiwu; and the Zhongshan Road renovation in Hangzhou.
Some more photographs after the break, and the complete photoset on Iwan's website.
China must be going crazy.
In recent years, the growth of China has been incredible.  We have often likened the massive surge of projects in the country to the explosive levels of architectural experimentation in Dubai. OMA, Hadid, Holl, Foster, Morphosis – strong powerhouses of architecture – all seeking to help China meet the demands of its emerging world power position by springing from the basis of a historically isolated culture and leaping to craft a more globalized image for the country.  Such an image creates the desire for an architecture which can continually out shine itself as it challenges traditional materiality, scale and contextual relationships in China's modern cities such as Shanghai and Beijing,  Hangzhou and West Kowloon.
Perhaps, that is precisely why many have not heard of Wang Shu and Amateur Architecture Studio. And, perhaps, that is precisely why this Pritzker award carries such weight.
Wang Shu, Chinese architect and founder of Amateur Architecture Studio, has been just announced as the recipient of the 2012 Pritzker Prize.
The Pritzker Prize's purpose is "to honor a living architect whose built work demonstrates a combination of those qualities of talent, vision, and commitment, which has produced consistent and significant contributions to humanity and the built environment through the art of architecture".
In my opinion Wang Shu's architecture presents a contemporary and progressive approach that acknowledges the rich tradition of Chinese architecture. As the future generations of Chinese architects are influenced by his architecture, a generation that will be an active part of China's growth, he will indirectly improve how millions will live in the next few years.
He calls his office Amateur Architecture Studio, but the work is that of a virtuoso in full command of the instruments of architecture — form, scale, material, space and light - Karen Stein, Pritzker Prize jury.
You can check our interview with Pritzker Jury Alejandro Aravena about Wang Shu's work.
Works by Wang Shu:
You can see more projects by Wang Shu, Amateur Architecture Studio, and our infographic about the history of the Pritzker Prize.
More about the announcement:
Today, Wang Shu from Amateur Architecture Studio has been announced as the  2012 Pritzker Architecture Prize laureate.
Here you will find a selection of his recent projects, such as the New Academy of Art in Hangzhou, the Ceramic House and the Ningbo History Museum.
Founder of Amateur Architecture Studio and Head of Architecture at the China Academy of Art, Wang Shu was the first Chinese architect to hold Harvards Graduate School of Design (GSD) Kenzo Tange professorship. The Harvard lecture honors architect Kenzo Tange by bringing distinguished architects from around the globe to the GSD.
Wang Shu's practice caught the world's attention with their pavilion for the 10th Venice Architecture Biennale in 2006. As a critique of the architectural profession, excessive building and the on-going demolitions caused by the rapid urbanization of China, their installation 'Tiled Garden' was constructed of 66,000 recycled tiles salvaged from demolition sites. Their work is embedded in the history and traditions of Chinese culture, referencing everyday building tactics and the Chinese vernacular tradition of building, hence their practice name "amateur architecture".
Reference: The Harvard GSD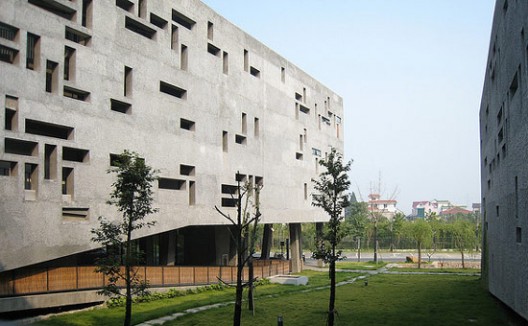 The Schelling Architecture Foundation
has recently named the winners of their Prize for Architecture and their Architectural Theory Prize. The award was bestowed upon Chinese architects
Wang Shu
& Lu Wenyu of Amateur Architecture Studio (for architecture) and the French architect Jean‐Louis Cohen (for architectural theory. We'll bring you more details on their projects throughout the upcoming week, but first take a quick look at some of their buildings after the break.
Here's another amazing project designed by Wang Shu, Amateur Architecture Studio photographed by Iwan Baan. This building, located in Hangzhou – China, mixes traditional chinese architecture with a contemporary way of rethinking these ancient ideas.
All the photographs by Iwan Baan after the break.