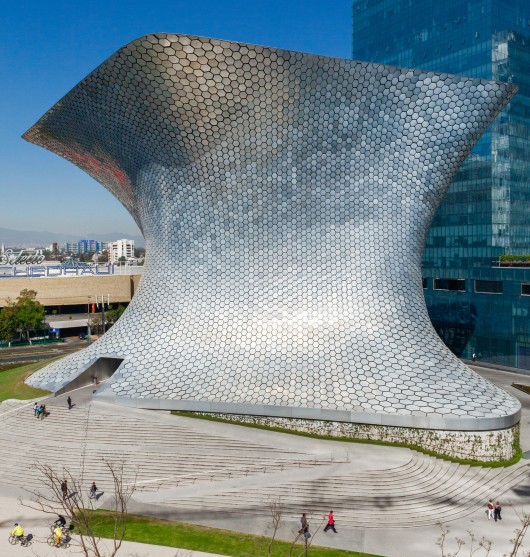 On a recent trip abroad, architect and urban planner José Castillo was struck by a conversation with Mexico's tourism attaché in Asia. Mexican tourism, the attaché remarked, has changed; it was the ancient pyramids and sandy beaches of the country that once drew visitors to it. Today however, architecture and design—and food—prevail.
The issue of food may be of little wonder. Mexican cuisine has indeed become more popular than ever in both the high and low ends of the culinary spectrum, and food in general is not only what one eats for dinner but also a hobby and an obsessive conversation topic. Yet for local design to come to the same level of acclaim and reputation is, at any rate, quite astonishing. It may be, though, that food and architecture are not so far apart. These are both highly creative and productive professions, as well as ones with a rich history, a theory, and many layers of tradition.
Architects: PRODUCTORA
Location: Zócalo, Centro, Cuauhtémoc, Mexico City, D.F, Mexico
Architect In Charge: Carlos Bedoya, Víctor Jaime, Wonne Ickx, Abel Perles
Area: 150 sqm
Year: 2014
Photographs: Luis Gallardo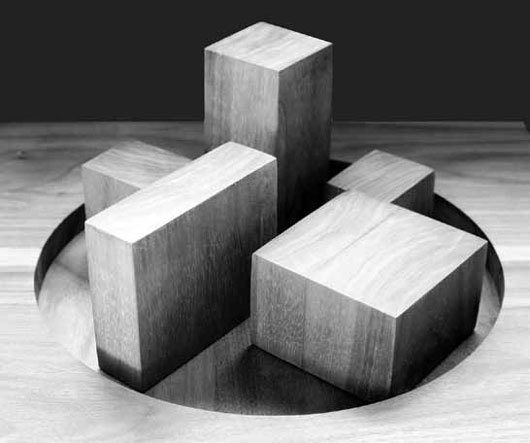 The architectural firm PRODUCTORA, based in Mexico City, is presenting 9 unbuilt projects that have a clear relation to geometry and mathematical composition. Large-scale models, made in collaboration with students at Woodbury University are presented together with black and white CAD drawing that clarify the main conceptual aspect of the building. 
The simple positioning of the framed drawings, renderings and wooden models on the exhibition floor, avoids all museographic rhetoric and presents the work as autonomous objects in space. The title 'In Between Projects' relates to the ongoing development of a common formal vocabulary that underlies the circumstantial aspects of each individual project. This exploration is presented through an image loop of preliminary study models of the projects presented. Ultimately, the exhibition underscores the studio's belief that strong geometric compositions and clearly legible buildings allow architecture to maintain its value through unpredictable shifts in context and program over time.
Title: Exhibition: In Between Projects / PRODUCTORA
Website: http://architecture.woodbury.edu/in-between-projects-opening/
Organizers: Woodbury School of Architecture
From: Tue, 08 Apr 2014 
Until: Fri, 25 Apr 2014
Venue: WEDGE Gallery
Address: 7500 North Glenoaks Boulevard, Woodbury University, Burbank, CA 91504, USA
Dogchitecture is an exhibit inspired by "Architecture for Dogs", a project by Japan's Kenya Hara that sought to reinvent the doghouse and integrate it into the world of design.
10 Mexican offices took part in the initiative, including: BNKR Arquitectura, Rojkind Arquitectos, Broissin, PRODUCTORA, a-001, Taller 13, PMS Arch Buro, ROW Studio, Laboratorio Arquitectura Básica y ESOS.
Dogchitecture will be on display at Polyforum Siqueiros, in Mexico City, until August 18th, 2013. It will then travel on to other important museums in Mexico. A book about the exhibit, with photographs and descriptions of the projects, will also be made available.
More "Dogchitecture" Proposals, after the break…
Selected for this year's Emerging Voices of the Architectural League of New York, PRODUCTORA of Mexico City will be delivering a lecture this Thursday, March 28th, at 7:00pm at the Scholastic Auditorium. PRODUCTORA was selected for their distinct design voice and their potential to influence architecture on a global scale. Being named an Emerging Voice is one of the most coveted awards in North American architecture, and the program has an excellent thirty year track record of identifying and nurturing firms that go on to have influential practices.
Other winning firms included in this year's selection are Cao-Perrot Studio of Los Angeles and Paris, DIGSAU of Philadelphia, dlandstudio of Brooklyn, Gracia Studio of Tijuana and San Diego, MASS Design Group of Boston and Kigali, Rwanda, Ogrydziak Prillinger Architects of San Francisco, and SO-IL of New York City. For more information on the event, please visit here.
Emerging Voices is an award developed by the Architecture League of New York that annually selects eight practitioners in a juried portfolio selection.  Award recipients are selected from the disciplines of architecture, landscape design and urbanism and display the sensibility of the profession in light of the larger issues related to the built environment.  This year's selection includes: SO-IL, PRODUCTORA, Ogrydziak Prillinger Architects, MASS Design Group, graciastudio , dland studio, DIGSAU, and cao | perrot Studio.
Details after the break. 
Architects: PRODUCTORA
Location: Mexico City, Mexico
Collaborator: Jorge Cárdenas
Area: 2,700 sqm
Year: 2008
Photographs: Paul Czitrom
Architects: PRODUCTORA
Location: Morelos, México
Collaborators: Amauri Sidh, Sonia Starck, Iván Villegas
Area: 90 sqm
Year: 2011
Photography: Courtesy of PRODUCTORA
Architects: PRODUCTORA
Location: Mexico City, Mexico
Architects: Carlos Bedoya, Victor Jaime, Wonne Ickx, Abel Perles
Collaborators: David Ortega, Félix Guillén, Jorge Fernández, Laura Rodríguez, Diego Escamilla, Iván Villegas
Area: 160 sqm
Year: 2011
Photographs: Rafael Gamo
Architects Office: PRODUCTORA
Location: Mexico City, México
Design Team: Carlos Bedoya, Victor Jaime, Wonne Ickx, Abel Perles
Collaborators: Guillermina Ceci, Lucrecia Sodo, Uriel Piña, Iván Villegas, Charlotte Martinot
Client: Alumnos 47
Area: 20.0 sqm
Year: 2012
Photography: Luis Gallardo
Architects: PRODUCTORA - Carlos Bedoya, Victor Jaime, Wonne Ickx, Abel Perles
Location: Valle de Bravo, State of Mexico, Mexico
Collaborators: Felix Guillen, Diego Escamilla, Oscar Trejo, Iván Villegas
Built Area: 450 sqm
Completion: 2011
Client: Díaz Family
Construction: Diseño e Ingenierías EMET (Leonardo León)
Photographs: Rafael Gamo, Paul Czitrom
Paisajes Emergentes, along with Productora, shared with us their proposal for the Centre for Promotion of Science Competition in Belgrade, Serbia. More images and architect's description after the break.
Project: Private house
Location: Chihuahua, Mexico
Architect: PRODUCTORA – Carlos Bedoya, Wonne Ickx, Victor Jaime, Abel Perles
Collaborators: Fernando Sánchez, Ross Adams, Jorge Cárdenas, Iván Villegas, Thorsten Englert
Area: 375m2
Year: 2008
Construction: Baraka
Structural engineering: José Ramón Castillo
Window Framing: Window Concept
Air conditioning: Corbik
Heating: Enrique Wide
Carpentry: Eduardo Morales
Kitchen Installation: Medel Rust
Garden Design: Rocio Amarante
Photography: Iwan Baan, for Abitare
Architects: FRENTE / Juan Pablo Maza + PRODUCTORA
Location: Mixcoac, Mexico City, Mexico
Project Team: Juan Pablo Maza, Carlos Bedoya, Wonne Ickx, Victor Jaime, Abel Perles, David Ortega, Gabriela Morales, Veronica Espinosa, Jair Calderon
Constructed Area: 92 sqm
Structural Engieering: Oscar Trejo
Design year: 2004
Construction year: 2006
Photographs: Paul Czitrom y Juan Pablo Maza
This villa is located in plot #02 of the ORDOS project.
Architects: PRODUCTORA / Carlos Bedoya, Victor Jaime, Wonne Ickx, Abel Perles
Location: Ordos, Inner Mongolia, China
Collaborators: Karel Vancura, Diana León, Iván Villegas, Diego Escamilla
Design year: 2008
Construction year: 2009
Curator: Ai Weiwei, Beijing, China
Client: Jiang Yuan Water Engineering Ltd, Inner Mongolia, China
Constructed Area: 1,000 sqm aprox