San Francisco-based Aidlin Darling Design has received the 2013 Professional Award for residential design from the American Society of Landscape Architects (ASLA) for their work on the Sonoma Spa Retreat in Northern California's wine country. The project started with reclaiming an overgrown hillside, revitalizing it with a series of paths that preserved its natural features, and then integrating an outdoor kitchen, solar heated pool and recreational areas. For more information on the project and the award, which evaluates context, design value and sustainability, click here.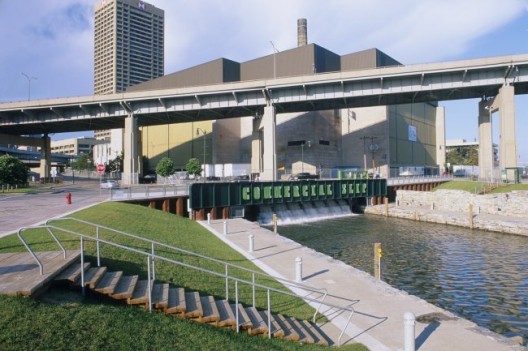 In this article, which originally appeared in Metropolis Magazine's Point of View Blog as "Q&A: Kim Mathews and Signe Nielsen," Susan Szenasy interviews the principals of Mathews Nielsen Landscape Architects about how climate change has re-focused landscape architecture today on three important issues: Research, Redevelopment, & Resiliency.
In this season of Architecture's Lean In Moment, I'm asking principals of three successful female-owned firms in architecture, graphic communication, and here landscape architecture, to talk about the work they do, how they connect with their clients (usually in the messy public realm), how they hone their skills and add to their knowledge base—all to provide the essential design services that they set out to do as idealistic young practitioners.
Here the principals of the New York firm, Mathews Nielsen Landscape Architects, Kim Mathews, RLA, ASLA and Signe Nielsen, RLA, FASLA, talk about the evolution of their profession, their commitment to teaching, writing, lecturing, their research-informed work, as well as the new appreciation of design in the public realm. The firm's new Green Team reports here regularly on topics like the importance of soil composition, working within the urban infrastructure, and waterfront remediation and redevelopment in a time of climate change.
In 2005, OLIN - a landscape architecture, urban design and planning studio – was selected to join HNTB Architects in the design of a master plan for University of California Berkley's southeastern campus that aimed to unify its distinct elements and strengthen the social spaces of the campus. HNTB led the renovation of the California Memorial Stadium and worked with STUDIOS Architecture and OLIN to design the Simpson Center for Student-Athlete High Performance.  These projects are unified by the design of the grounds which are just part of the transformation planned for the campus, which also includes the renovations and landscape design for the Haas School of Business, UC Berkley School of Law and the Piedmont Avenue.