To celebrate International Women's Day, we asked the Brazilian non-profit group Arquitetas Invisíveis to share with us a part of their work, which identifies women in architecture and urbanism. They kindly shared with us a list of 48 important women architects, divided into seven categories: pioneers, "in the shadows," architecture, urbanism, landscape architecture, social architecture,  and sustainable architecture. We will be sharing this list over the course of the week.
Yesterday we brought you The Urbanists, and today we present women leaders in landscape architecture.
Chicago's Jackson Park is expected to see some big changes in the coming years. Nonprofit organization Project 120 is working to revitalize the park, restoring many of the design aspects implemented by its landscape architect, the famous Frederick Law Olmsted. Alongside this restoration, the park will also receive a new Phoenix Pavilion, homage to Japan's gift to the US for the 1893 Columbian Exposition. An outdoor performance space will be added to the park, as will an installation funded by musician and activist Yoko Ono. See the details, after the break.
By all accounts 2014 has been a great year for landscape architecture, and not just because of the completion of the final phase of the High Line by Diller Scofidio + Renfro and James Corner Field Operations. Previously published by the Huffington Post as "2014′s Notable Developments in Landscape Architecture," this roundup of the year by the President of The Cultural Landscape Foundation Charles A Birnbaum finds plenty of promising developments, marred only slightly by some more backward-looking descisions.
This year there was a cultural shift that saw landscape architecture and its practitioners achieve an unprecedented level of visibility and influence.
This year the single most notable development came courtesy of the New York Times architecture critic Michael Kimmelman who wrote: "Great public places and works of landscape architecture deserve to be treated like great buildings."
Landscape architecture and architecture on equal footing. Let that sink in.
Damian Rogers Architecture is hoping to "bring surf to the city" by proposing a $8 million AUD artificial beach and wave pool for the Victoria Harbor in Melbourne. Capable of simulating "surfable" 1.5-meter-high waves, the heated salt-water pool is envisioned as an extension of Central Pier in the Docklands. If built, the pool would be complimented by a beach, encompassing boardwalk, and grass-covered recreation and retail facility. 
"For the most part, the way urbanists view black neighborhoods (and other low-income neighborhoods and communities of color) are as problems that need to be fixed. At the heart of what I want to say is what can we as urbanists learn from these neighborhoods?" So asks Sara Zewde, a landscape architecture student at Harvard's Graduate School of Design and this year's Landscape Architecture Foundation's Olmsted Scholar, in a fascinating profile on Metropolis Magazine. Read more about Zewde and her work here.

Liz Diller, one of the three partners of Diller Scofidio + Renfro, discusses the history of the High Line and the active design decisions which led to its success.
The elevated railroad, which was designed to penetrate city blocks rather than parallel an avenue, saw its last delivery (of frozen turkeys) in 1980. By 1999, a "very strange landscape had formed, with a whole eco system around it," says Diller. Advocacy for the site's preservation began with two local residents, and culminated in its reclamation with the multidisciplinary collaboration of city officials and impassioned designers (namely James Corner Field Operations, Diller Scofidio + Renfro, and planting designer Piet Oudolf). "The High Line project couldn't have happened without the right people, the right time and the right administration."
Today, thirty-feet above the hardscape in the canopy of the New York City jungle, the High Line pauses for a meditative mile. "The high line, if it's about anything, it's about nothing, about doing nothing. You can walk and sit, but you can't be productive," comments Diller.
San Francisco-based Aidlin Darling Design has received the 2013 Professional Award for residential design from the American Society of Landscape Architects (ASLA) for their work on the Sonoma Spa Retreat in Northern California's wine country. The project started with reclaiming an overgrown hillside, revitalizing it with a series of paths that preserved its natural features, and then integrating an outdoor kitchen, solar heated pool and recreational areas. For more information on the project and the award, which evaluates context, design value and sustainability, click here.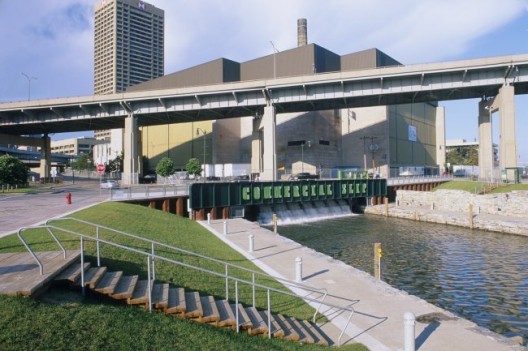 In this article, which originally appeared in Metropolis Magazine's Point of View Blog as "Q&A: Kim Mathews and Signe Nielsen," Susan Szenasy interviews the principals of Mathews Nielsen Landscape Architects about how climate change has re-focused landscape architecture today on three important issues: Research, Redevelopment, & Resiliency.
In this season of Architecture's Lean In Moment, I'm asking principals of three successful female-owned firms in architecture, graphic communication, and here landscape architecture, to talk about the work they do, how they connect with their clients (usually in the messy public realm), how they hone their skills and add to their knowledge base—all to provide the essential design services that they set out to do as idealistic young practitioners.
Here the principals of the New York firm, Mathews Nielsen Landscape Architects, Kim Mathews, RLA, ASLA and Signe Nielsen, RLA, FASLA, talk about the evolution of their profession, their commitment to teaching, writing, lecturing, their research-informed work, as well as the new appreciation of design in the public realm. The firm's new Green Team reports here regularly on topics like the importance of soil composition, working within the urban infrastructure, and waterfront remediation and redevelopment in a time of climate change.
In 2005, OLIN - a landscape architecture, urban design and planning studio – was selected to join HNTB Architects in the design of a master plan for University of California Berkley's southeastern campus that aimed to unify its distinct elements and strengthen the social spaces of the campus. HNTB led the renovation of the California Memorial Stadium and worked with STUDIOS Architecture and OLIN to design the Simpson Center for Student-Athlete High Performance.  These projects are unified by the design of the grounds which are just part of the transformation planned for the campus, which also includes the renovations and landscape design for the Haas School of Business, UC Berkley School of Law and the Piedmont Avenue.