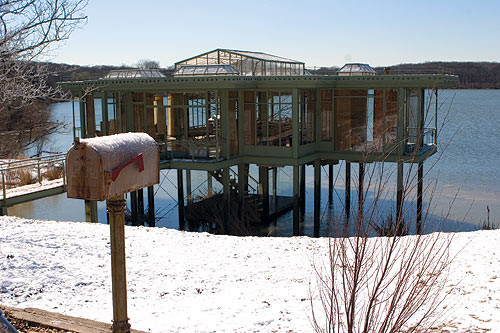 The Lake House is a film that shows many of the daily issues of architects' lives. A successful architect whose two children decided to follow the same path but in really different ways. The movie presents architecture as a transmitted skill through generations, a kind of familiar heritage. Which is actually a repetitive situation in our practice.
Have you seen it already? Let us know if you feel touched by any of these subjects. What generation of architect you are?
Architects: archimania
Location: Savannah, TN, USA
Owner/Client: Warren Wurzburg
Construction Cost: $1.6 million
Building Area: 4,829 sf
Date of Completion: April 2009
Cost per Square Foot: $330.00
General Contractor: McNairy County Construction, LLC
Photos: Brian Laskaris
Architects: Markus Wespi Jérôme de Meuron architects
Location: Caviano, Switzerland
Project year: 2008
Photographs: Wespi de Meuron
Architects: ARX PORTUGAL - José Mateus y Nuno Mateus
Location: Caparica, Portugal
Project team: Paulo Rocha, Stefano Riva, Andreia Tomé, Marco Roque Antunes, Pedro Sousa, Tânia Pedro
Project year: 2000- 2003
Construction year: 2004- 2007
Constructed area: 640 sqm
Structure: SAFRE, Projectos e Estudos de Engenharia Lda.
Photographs: Telmo Miller
Architects: km Architektur
Location: Walensee, Switzerland
Project Year: 2007
Site Area: 690 sqm
Constructed Area: 140 sqm
Architects: Alejandro Beals, Christian Beals
Location: Lago Rupanco, Region de los Lagos, Chile
Design Year: 2004-2005
Construction Year: 2005-2006
Collaborator: Loreto Lyon
Structure: Patricio Stagno
Contractor: Nicolás Aranguiz, Mauricio Carrasco
Site Area: 5,000 sqm
Constructed Area: 280 sqm
Alejandro Aravena was selected as one of the 20 essential young architects by Icon.
Architects: Alejandro Aravena, Jorge Christie, Victor Oddó
Location: Pirihueico lake, Chile
Built Area: 350sqm
Construction start: 2003
Completion: 2004
Materials: Stone, Wood, Glass
Budget: 1.000 US$ / m2
Photos: Cristobal Palma