Despite what you may think, Thom Mayne isn't the "bad boy" of architecture – at least, not according to Thom Mayne. He sees himself more as a skilled negotiator than a starchitect (a phrase he hates) – after all, he reasons, how else would he have completed so many buildings? In this interview, originally published on Metropolis Magazine's Point of View blog as "Q&A: Thom Mayne," Andrew Caruso and Mayne discuss Morphosis, SCI-ARC, the early days of his career, and his architectural ethos.  
Andrew Caruso: Your professional career began in the discipline of planning. What led to the shift toward architecture and your eventual partnership with Jim Stafford?
Thom Mayne: I started working at the Pasadena redevelopment agency doing low cost housing, and that's where I met Jim [Stafford]. Coming out of USC, I had no background about Mies, Khan or Corbusier, for example. USC was very strong in being anti-historical, looking forward instead of backward. I was essentially naive.
Jim was a year ahead of me at USC and had part of the older regime at the school. When I met him at the planning agency, he started introducing me to history. I got fascinated by [Paul] Rudolph; and then it just took off. Jim guided me through this thought process, reestablishing me in the tradition of architecture.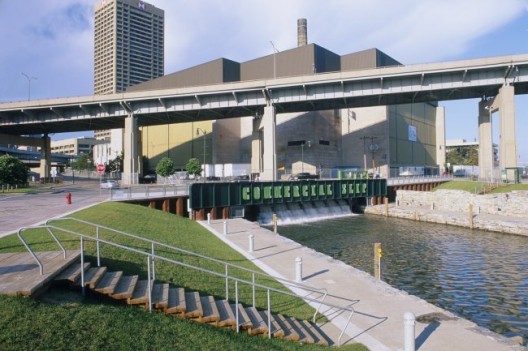 In this article, which originally appeared in Metropolis Magazine's Point of View Blog as "Q&A: Kim Mathews and Signe Nielsen," Susan Szenasy interviews the principals of Mathews Nielsen Landscape Architects about how climate change has re-focused landscape architecture today on three important issues: Research, Redevelopment, & Resiliency.
In this season of Architecture's Lean In Moment, I'm asking principals of three successful female-owned firms in architecture, graphic communication, and here landscape architecture, to talk about the work they do, how they connect with their clients (usually in the messy public realm), how they hone their skills and add to their knowledge base—all to provide the essential design services that they set out to do as idealistic young practitioners.
Here the principals of the New York firm, Mathews Nielsen Landscape Architects, Kim Mathews, RLA, ASLA and Signe Nielsen, RLA, FASLA, talk about the evolution of their profession, their commitment to teaching, writing, lecturing, their research-informed work, as well as the new appreciation of design in the public realm. The firm's new Green Team reports here regularly on topics like the importance of soil composition, working within the urban infrastructure, and waterfront remediation and redevelopment in a time of climate change.
When we see another Eiffel Tower, idyllic English village, or, most recently, a Zaha Hadid shopping mall, copied in China, our first reaction is to scoff. Heartily. To suggest that it is – once again – evidence of China's knock-off culture, its disregard for uniqueness, its staggering lack of innovation. Even I, reporting on the Chinese copy of the Austrian town of Halstatt, fell into the rhetorical trap: "The Chinese are well-known for their penchant for knock-offs, be it brand-name handbags or high-tech gadgets, but this time, they've taken it to a whole other level."
Moreover, as Guy Horton has noted, we are keen to describe designers in the West as "emulating," "imitating," and "borrowing"; those in the East are almost always "pirating." However, when we allow ourselves, even unconsciously, to settle into the role of superior scoffer, we do not just do the Chinese, but ourselves, a disservice: first, we fail to recognize the fascinating complexity that lies behind China's built experimentation with Western ideals; and, what's more, we fail to look in the mirror at ourselves, and trouble our own unquestioned values and supposed superiority. In the next few paragraphs, I'd like to do both.
Architecture begins with ideas—and, for Will Alsop, sometimes with a painting. This interview is the first in a series of conversations with internationally prominent architects conducted by Sanam Samanian and Alex Bozikovic. The British iconoclast gives an overview of his creative process: why he's bored by the details of building; why we shouldn't think of architecture as a "profession"; and why we should think of architecture as a way to make life more joyous.
Read the captivating interview with Will Alsop, after the break…
If you only know Frank Lloyd Wright for his classic works - Fallingwater and the Guggenheim among them – and not for his bristly personality, then you're in for a treat.
WNYC has just released a candid interview they recorded with Wright in 1957, two years before his death, in his Plaza Hotel apartment (where he'd moved to oversee construction of the Guggenheim, which he'd been working on for 14 years). The conversation covers a wide range of topics – from Wright's quirky personal views on American culture to the significance of architecture for mankind. Some gems from the interview include: 
On the Guggenheim and its critics:  "You're going to be awakened to the beauty of that thing [a picture, a painting] from a new point of view. And it's going to be so enlivening and refreshing, that it will make some of these painters quite ashamed of the protest that they issued against it."
More quotes from Frank Lloyd Wright, after the break…
In conjunction with our recent coverage of the Xi'an International Horticultural Expo, we would like to share Aidan Flaherty's interview with Holger Kehne, co-principle of Plasma Studio and GroundLab. Plasma Studio, GroundLab and LAUR Studio worked together to win this international competition with a 37-hectare master plan for the International Horticultural Expo, a 5,000SM Exhibition Hall, a 4,000SM Greenhouse, and a 3,500SM Gate Building. The project initiated the re-development of a large area between the airport and the center of the ancient city of Xi'an – known as the home of the Terracotta Army of the Qin Dynasty.
The Expo opened in the spring of 2011 and welcomed more than 16 million visitors before it closed in the fall of 2011. The Expo park will remain as a new contemporary addition to the Xi'an region. The particularities of this legacy plan are currently underway. Holger Kehne discusses his firms' unique design methodologies and multidisciplinary approach while working on this large-scale project. Read the interview after the break.
Richard Meier recently discussed his perspective on creating public spaces. He expands on his experiences of designing numerous buildings across the globe and their importance in relation to public spaces. He discourses how the Getty Center in LA fosters a special environment for all activities, whether it be viewing the entire city or participating in cultural activities – the surroundings of the building are just as important as the structure itself. He also comments on the significance of the square that is encompassed on one side by his Barcelona Museum of Contemporary Art, and its destination as a mecca for teenage skateboarders and the seniors that come to watch the youths. Interestingly enough, his talk emphasizes the places that surround the architecture, the idea that the intent is not about making a building or monument, it is about creating a place and making a statement. This in turn makes for a much more exciting architectural experience – because it is the spaces that objects make that we inhabit.
Be sure to check out our recent interview with Richard Meier here.
Reference: Web of Stories, DI