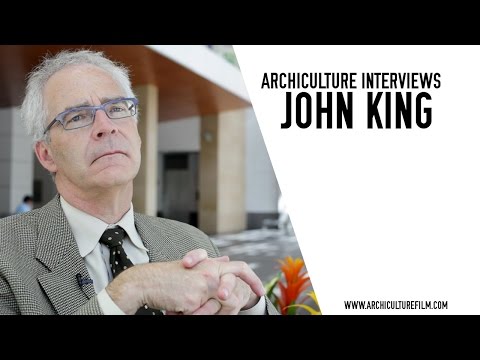 "What I love about architecture is it really is the art form that we all encounter, it's larger than life, it's what you can't avoid." In this installment of Arbuckle Industries' Archiculture interviews, author and urban design critic John King dissects the role of the public in architectural practice and the mindset of those who get involved. He goes on to discuss the defining characteristics of successful, seasoned architects, and compares their mentality to that of emerging architects. Additionally, King touches on the subject of architectural criticism and how the profession came about.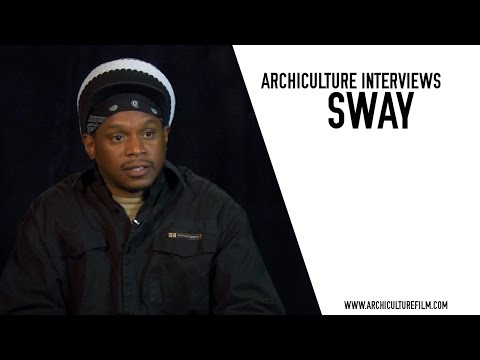 "I think what you see visually in terms of how you live can definitely make a difference on how you view life."
Radio host and TV personality Sway Calloway sits down with Arbuckle Industries in this Archiculture extras interview, speaking about the changing environment of his childhood when he moved to the projects and the accompanying psychological impacts of its architecture, both immediate and long-term. He discusses the importance of well-designed public housing projects and the mental effects of living in a cramped space. He also speculates on why architecture doesn't receive as much public attention as music or sports.
With a recently released animation entitled "We Start the Future of Construction," Coop Himmelb(l)au announced their intention to take digital fabrication to a radical new scale, demonstrating how technology is impacting almost every aspect of the architectural profession. The advent of building information modeling and other modeling software has transformed how architects and engineers navigate the construction process, allowing us to achieve increasingly complex forms that can be modeled with the aid of CNC machining and 3D Printing, but still there remains a wide gap between the technologies available to architects and those employed by builders. When it comes to a building's actual construction we have been limited by the great costs associated with non-standard components and labor – but now, the automated practices that transformed manufacturing industries could revolutionize how we make buildings.
Last week, ArchDaily sat down with co-founder, Design Principal and CEO of Coop Himmelb(l)au, Wolf D. Prix for his thoughts on the future of construction and the role of the architect in an increasingly technological practice. Read on after the break to find out how robots could impact architectural design, construction, and the future of the profession.
Berlin Art Link recently sat down with Russian-born, German architect Sergei Tchoban. In the interview above, he discusses his career, including working on the design for the Vostok Tower, Europe's tallest skyscraper, and the recent opening of the Tchoban Foundation Museum for Architectural Drawing. This building houses his extensive personal works, as well as exhibitions by other artists.  "What is very important for me is the quality of all details, so you create a building from outline, from the silhouette, to the door lever. This building brings out a lot of our and my personal ideas about architecture and about details in architecture," Tchoban said regarding his design for the Museum for Architectural Drawing. The exterior of the building expresses Tchoban's devotion to draftsmanship– the facade of the building is etched with a graphic pattern based on sketches from artists Angelo Toseli and Pietro di Gottardo Gonzaga. "I'm very active in drawings, as a draftsman myself.  Drawing is a result of our thinking process and our thinking process is not only a thinking process with the head, with the mind, but also the process where you think with the whole body."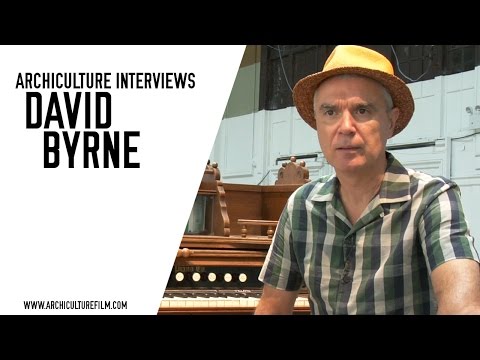 "Architecture affects how we see ourselves fitting into a city, and how we relate to one another." In this latest video from Arbuckle Industries following its release of Archiculture, David Byrne, known for his music, writing, and art, provides his perspective on some of the issues facing architecture today. In the interview, he addresses the need to rethink design practice as an all-encompassing approach, and advocates the tailoring of designs for their specific purposes. Byrne also discusses the problem of the "starchitect" phenomenon, the relationship of people with the built environment, and the resulting atmospheric effects that spatial and acoustic qualities can impart.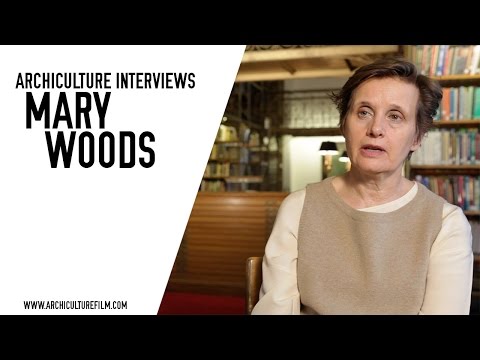 Cornell University professor and historian Mary Woods is one of over 30 influential practitioners that was interviewed during the filming of Arbuckle Industries' Archiculture documentary. Beyond her explanation of "Roarkism," a term inspired by Ayn Rand's protagonist Howard Roark in The Fountainhead that is used to describe the architect as an "uncompromising individualist," Woods explains the market-driven nature of the profession and how the US government has historically been reluctant to embrace the arts and architecture.
The Avery Review (AR), a new online journal dedicated to thinking about books, buildings and other architectural media, seeks to utilise the potential in the critical essay and repackage it for the digital realm. A project of the Office of Publications at Columbia University's Graduate School of Architecture, Planning and Preservation, the AR's responsive website (designed by Nothing in Common) perfectly matches the exceptional quality of the content. Featuring essays from Owen Hatherley and Amale Andraos, among others, the overarching aim of the review is to "explore the broader implications of a given object of discourse" whether that be "text, film, exhibition, building, project, or urban environment."
Find out more from editors Caitlin Blanchfield and James Graham after the break.
The scaffolding has come down, revealing the first glimpse of FAT's extraordinary A House For Essex. Designed in collaboration with British ceramic artist Grayson Perry and commissioned by Alain de Botton's alternative holiday rental project Living Architecture, the house will be the final built work that FAT complete. The bejewelled two bedroom dwelling, topped with a shimmering golden copper alloy roof and clad in glinting green and white tiles, sits in the rolling landscape of Essex – Charles Holland (FAT) and Perry's home county. Adorned with sculptures integrated into a wider narrative that spatially recounts the life of a fictional character called Julie, the barn-like shape, bold colours and decoration has not simply garnered widespread attention but has also captured people's curiosity.
Find out more about the project in an interview with the architect after the break.
Steven Holl Architects, in collaboration with Spirit of Space, have created two short films of the recently completed Seona Reid Building at Glasgow School of Art. The film series explores the complementary contrast of the new Reid Building and Charles Rennie Mackintosh's 1909 building (which recently suffered a devastating fire), where "each work of architecture heightens the integral qualities of the other."
The first film takes the viewers on a "poetic climb" up and through the building's social circuit, which "purposefully encourages inter-disciplinary activity, with the hope to inspire positive energy for the future of art." The second film unpacks the design of the Reid Building in a conversation with design architects Steven Holl and Chris McVoy.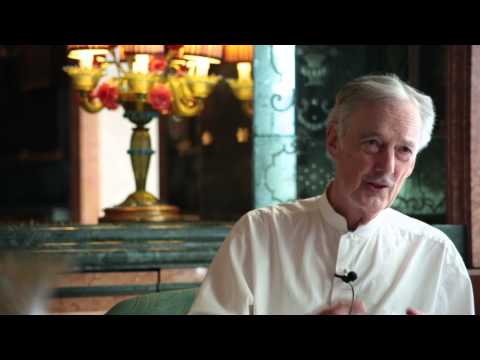 In this extended interview by the Architectural Review, Charles Jencks provides an in-depth description of the 2014 Venice Biennale and critiques his former student Rem Koolhaas' overall curation and theme: Fundamentals.
Arguing that the previous thirteen Biennales have, "more or less, tried to predict what is going to happen over the next five years," "Rem Koolhaas has changed the paradigm:" Rem's Biennale is about "the past of the present". Jencks, who describes Koolhaas as "the Corbusier of our time", suggests that his Biennale is about analysis rather than total synthesis. He has, however, "shown that research can be creative."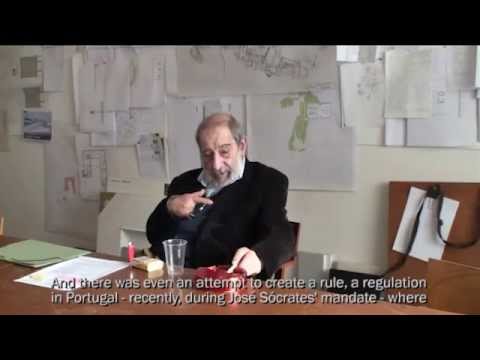 In this video, produced by Hugo Oliveira, Portuguese architect Álvaro Siza denounces the "hyper-specialization" of architecture, outlining its academic roots as well as its practical implications for practice. Siza mentions how, in Portugal, a law was considered to limit architects to their specific specialities – exterior architects could not design interiors, for example. According to Siza, this tendency towards "hyper" or over specialization is unfortunate, as it gives rise to the segmentation of the discipline into subcategories - interior architecture, exterior architecture, landscape architecture, etc. - that undermine collaboration and team work.
Also make sure to check out the first part of this interview, where Siza discusses the obsolescence of buildings.
While most of the profession looks forward, author Witold Rybczynski is focused on the past. Named 2014′s "Design Mind" by the Cooper-Hewitt National Design Museum earlier this month, Rybczynski writes about historical buildings to give a better understanding of modern architecture. In a recent interview with the New York Times, Rybczynski talks about his latest book "How Architecture Works: A Humanist's Toolkit," the dangers of "celebrity" architecture, and his favorite non-designer chair. Check out the full interview here.
Aires Mateus - founded by brothers and partners, Manuel and Francisco Aires Mateus – is an acclaimed contemporary practice that upholds the strong tradition of Portuguese architecture. We recently had the chance to interview one of the partners: Francisco Aires Mateus.
Francisco Aires Mateus has been a professor in Portugal and Norway. Currently, he teaches at the University of Lugano and has given lectures and seminars in Spain, the United Kingdom, Argentina, Mexico, Canada, Chile, Japan, and many other countries.
Aires Mateus has been awarded with the FAD Award on several occasions, and has also been a finalist for the Mies van der Rohe Award.
Projects by Aires Mateus on ArchDaily:
Thanks to the FAD Universidad Finis Terrae for making this interview possible.
Despite what you may think, Thom Mayne isn't the "bad boy" of architecture – at least, not according to Thom Mayne. He sees himself more as a skilled negotiator than a starchitect (a phrase he hates) – after all, he reasons, how else would he have completed so many buildings? In this interview, originally published on Metropolis Magazine's Point of View blog as "Q&A: Thom Mayne," Andrew Caruso and Mayne discuss Morphosis, SCI-ARC, the early days of his career, and his architectural ethos.  
Andrew Caruso: Your professional career began in the discipline of planning. What led to the shift toward architecture and your eventual partnership with Jim Stafford?
Thom Mayne: I started working at the Pasadena redevelopment agency doing low cost housing, and that's where I met Jim [Stafford]. Coming out of USC, I had no background about Mies, Khan or Corbusier, for example. USC was very strong in being anti-historical, looking forward instead of backward. I was essentially naive.
Jim was a year ahead of me at USC and had part of the older regime at the school. When I met him at the planning agency, he started introducing me to history. I got fascinated by [Paul] Rudolph; and then it just took off. Jim guided me through this thought process, reestablishing me in the tradition of architecture.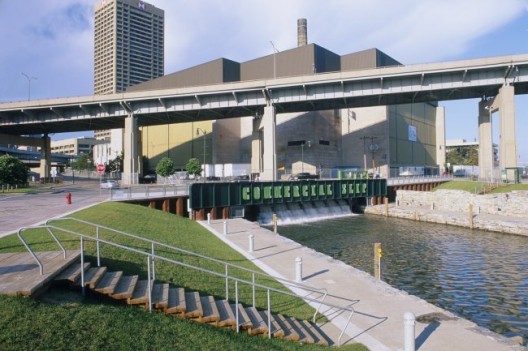 In this article, which originally appeared in Metropolis Magazine's Point of View Blog as "Q&A: Kim Mathews and Signe Nielsen," Susan Szenasy interviews the principals of Mathews Nielsen Landscape Architects about how climate change has re-focused landscape architecture today on three important issues: Research, Redevelopment, & Resiliency.
In this season of Architecture's Lean In Moment, I'm asking principals of three successful female-owned firms in architecture, graphic communication, and here landscape architecture, to talk about the work they do, how they connect with their clients (usually in the messy public realm), how they hone their skills and add to their knowledge base—all to provide the essential design services that they set out to do as idealistic young practitioners.
Here the principals of the New York firm, Mathews Nielsen Landscape Architects, Kim Mathews, RLA, ASLA and Signe Nielsen, RLA, FASLA, talk about the evolution of their profession, their commitment to teaching, writing, lecturing, their research-informed work, as well as the new appreciation of design in the public realm. The firm's new Green Team reports here regularly on topics like the importance of soil composition, working within the urban infrastructure, and waterfront remediation and redevelopment in a time of climate change.