OMA's comprehensive strategy to rebuild the New Jersey city of Hoboken, after the devastation of Hurricane Sandy, has been selected as one of ten initiatives moving forward in the Department of Housing and Urban Development's (HUD) Rebuild by Design competition. The proposal, Resist, Delay, Store, Discharge, focuses on establishing resiliency through the integration of key infrastructural elements that not only protects coastal neighborhoods, but also the entire city of Hoboken.
After three months of in-depth analysis and public outreach, the U.S. Department of Housing & Urban Development (HUD) has shortlisted 10 design "opportunities" for the third and final round of Rebuild by Design. The design competition, focused on making New York's Sandy-effected regions more resilient, sustainable, and livable, will now have the final project teams collaborate with local and regional stakeholders in developing their projects over the next five months. The goal is to arrive at projects that are implementable and fundable, leveraging the variety of federal recovery investments being made in the region.
OMA, BIG and WXY are just a few practices involved in the final round. Read on to review a glimpse of each shortlisted proposal.
In this article on Fast Company, seven leading architects in the field of designing for disaster – including Peter Gluck, Michael Manfredi, and principals of James Corner Field Operations and Snøhetta – give their take on what lessons Hurricane Sandy, one year on, has taught us. Their responses raise a number of issues, but above all share one common theme: urgency.
Since Hurricane Sandy struck New York, much has been made of "green infrastructure" and its potential to defend cities against waves and floods. Now though, two articles, from the New York Times and Grist, claim that green infrastructure would actually protects us very little. But, since engineered "gray" solutions, such as storm-walls, also have their limitations (namely just moving the surge elsewhere), it seems the solution is a combination of both "gray" and "green" (moving the surge to where it can safely release its energy). Read the original articles here and here.
The finalists of the 2013 ONE Prize, a competition exploring the social, economic, and ecological possibilities of urban transformation, have just been announced. The 2013 competition focused on severe climate dynamism, calling for innovative and thoughtful design proposals and urban interventions that intend to alleviate storm impact and answer the question: "How can cities adapt to the future challenges of extreme weather?"
Operation Resilient Long Island (ORLI) has just announced the winners of its 3C: Comprehensive Coastal Communities ideas competition. Entrants were asked to design solutions that were not just resilient but also contextually sensitive and pragmatic to the devastating aftermath of Super-storm Sandy as well as all future natural disasters. Over 60 submissions were received from 20 different countries and 32 finalists were engaged in a public education strategy through a public voting campaign. A jury panel of eight leading professionals in the fields of architecture, urban planning and disaster mitigation met in mid-September to review the top finalists and selected 3 winners.
The 2013 winners of the 3C Competition are:
U.S. Housing and Urban Development (HUD) has announced ten shortlisted teams to compete in the multi-stage regional design competition "Rebuild by Design." Each team will aim to "promote innovation by developing regionally-scalable but locally-contextual solutions that increase resilience in the region, and to implement selected proposals with both public and private funding."
The 10 multidisciplinary, shortlisted teams are:
The FAR ROC Competition, released shortly after Hurricane Sandy hit the eastern seaboard, called for a thoughtfully considered proposal for an 80-acre, 11-mile long peninsula that juts out into the Atlantic Ocean in the Rockaways (Queens, NY). The RFP expressed the need to explore a comprehensive solution to developing Averne East, a FEMA designated Hazard Area Zone that experienced extensive storm surge damage and continues to be a vulnerable site for future natural disasters.  While the competition focused on this particular site, the full intention is to develop strategies that could be appropriated to low-lying and vulnerable regions all over the world.
The first phase of the competition was completed earlier this month: four finalists and six honorable mentions were announced.  The four finalists – Ennead Architects of NYC, USA; Lateral Office of Toronto, Canada; Seeding Office of London, UK; and White Arkitekter of Stockholm, Sweden – will continue on to Phase Two with a $30,000 stipend, due in early October.
Join us after the break for more details on the finalists and honorable mentions.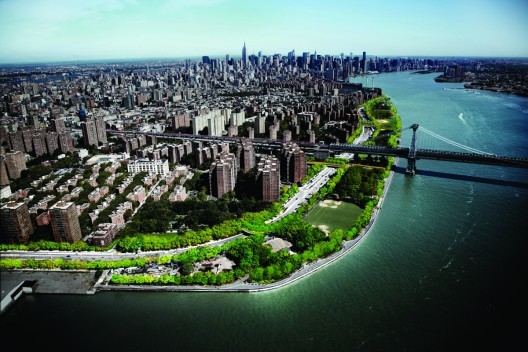 Immediately after Hurricane Sandy hit the North American Eastern seaboard last October, New York City embarked on a debate to find ways in which the city could protect itself from future storms that climate scientists predict will escalate in frequency.  Engineers, architects, scientists from myriad disciplines came up with internationally inspired proposals, including sea walls, floating barrier islands, reefs and wetlands, to apply to this particular application. Diverse in scope, the ideas have gone through the ringer of feasibility and have left many wondering if we should we build to defend or build to adapt.
On Tuesday, NYC Mayor Bloomberg announced a plan that includes $20 billion worth of both:  a proposal of removable flood walls, levees, gates and other defenses that would be implemented with adaptive measures, such as marshes, along with the extensive flood-proofing of homes and hospitals.  
What does this plan entail and what can we imagine for the future of NYC? Find out after the break.
Every natural disaster has an "aftershock" in which we realize the fragility of our planet and the vulnerability of what we have built and created.  We realize the threat to our lifestyles and the flaws in our design choices.  The response to Hurricane Sandy in October 2012 was no different than the response to every other hurricane, earthquake, tornado , tsunami or monsoon that has wrought devastation in different parts of the world.  We recognize our impact on the climate and promise to address how our development has caused severe disruptions in the planet's self-regulating processes.   We acknowledge how outdated our systems of design have become in light of these damaging weather patterns and promise to change the way we design cities, coastlines and parks.  We gradually learn from our mistakes and attempt to redress them with smarter choices for more sustainable and resilient design.  Most importantly, we realize that we must learn from how natural processes self-regulate and apply these conditions to the way in which we design and build our urban spaces.
Since Hurricane Sandy, early considerations of environmentalists, planners and designers have entered the colloquial vocabulary of politicians in addressing the issues of the United States' North Atlantic Coast.  There are many issues that need to be tackled in regards to environmental development and urban design.  One of the most prominent forces of Hurricane Sandy was the storm surge that pushed an enormous amount of ocean salt water far inland, flooding whole neighborhoods in New Jersey, submerging most of Manhattan's southern half, destroying coastal homes along Long Island and the Rockaways, and sweeping away parts of Staten Island.  Yet, despite the tremendous damage, there was a lot that we learned from the areas that resisted the hurricane's forces and within those areas are the applications that we must address for the rehabilitation and future development of these vulnerable conditions. Ironically, one of the answers lies within Fresh Kills – Staten Island's out-of-commission landfill, which was the largest landfill in the United States until it was shutdown in 2001.  Find out how after the break.
The City of New York has long awaited renovations to the East River Greenway. Squeezed between the FDR Drive to the west and the river to East, there are a few scattered public parks connected by a path that has been weathered and torn apart over the years. The proposed "Blueway" is a coordinated collaboration – between Manhattan Borough President Scott Stringer, Community Boards 3 and 6, State Assembly Member Brian Kavanaugh, and New York's WXY architecture and urban design - that takes suggestions from the general public to develop a scheme that works within the framework of the existing Greenway and provides specific sites waterfront access, development of wetlands and greater connectivity to the city and its waterways.
The stretch along the Greenway, which is the focus of WXY's scheme, runs from Midtown East at 38th street to the Brooklyn Bridge. Running along the FDR, this area expands towards the river and finds its way under the highway's overpass. Unlike the Hudson River Parkway along the West Side Highway, the East River Greenway has meager waterfront access and few piers to facilitate its development.  A study, executed by several city departments in 2011, determined ways to improve amenities along the Greenway and proposed incorporating elements such as ambient lighting and street furniture.  Now the focus has shifted to the river itself to determine ways in which to increase its usability and accessibility   After Hurricane Sandy revealed the vulnerability of the hard edge of the East River, these same design considerations are now being used to create a resistant and effective buffer against future storm surges.
See what's happening at the East River Blueway Plan after the break.
After months of debate, the United States Congress has passed a bill that will allocate $51 billion to Hurricane Sandy relief helping the thousands who lost their homes and businesses to the devastating storm last October.  New York Governor Andrew Cuomo announced that $400 million of the aid will be used to fund New York's buyout program, an initiative to help address the damaged homes and coastline.  The program is two-fold; in part it will help reimburse the property damage caused by the storm, but the initiative has a larger goal, which is to address the nature of coastal flooding and create a barrier that would mitigate the damage created to the coast by storm surges in the future.  Since the storm, there have been many suggestions as to how to prepare for the type of damage brought on by Hurricane Sandy of 2012 and Hurricane Irene of 2011.  These suggestions range from flood gates to barrier reefs. Cuomo's buyout program, as reported by the Architect's Newspaper Blog, hopes to encourage residents along vulnerable flood zones to sell their land to the city for the development of a natural coast that would absorb the impact of strong winds and storm surges.
More after the break…
This past Monday, President Obama made climate change and sustainable energy the focal points of his Inaugural Address when he declared that choosing to ignore these key environmental issues "would betray our children and future generations." This is the first time in the last few months that the President has taken a firm stand for the future of our Earth, a direct result of Super Storm Sandy and a smart choice to reveal controversial policies only after re-election. Although Monday morning was not the time to outline a specific political strategy, President Obama made it very clear that this time around, denial of scientific judgment and Congressional opposition would not be reasons for failure to act.
Since this is a sentiment easier said than done, there is doubtlessly a long and difficult road ahead for the President and his administration. The White House has revealed that it plans to focus on what it can do to capitalize on natural gas production as an alternative to coal, on "reducing emissions from power plants, [increasing] the efficiency of home appliances and [on having] the federal government itself produce less carbon pollution" (NYTimes). According to the New York Times, they aim to adopt new energy efficiency standards for not only home appliances but for buildings as well, something that should spark the interests of architects and urban planners already committed to designing with climate change and sustainable energy in mind.
More after the break…
The power and destruction of Hurricane Sandy made New Yorkers acknowledge just how vulnerable the city is to natural disaster.  The storm pummeled Queens' and Brooklyn's shores, destroyed and flooded homes while Manhattan's lower half was submerged and plunged into darkness for a week.  But arguably, Staten Island, New York City's Forgotten Borough, received the brunt of the storm and the slowest level of recovery.  In the midst of the controversial clean-up, the New York City Economic Development Corporation decided to plow through the tragedy with pursuant talks of the planned developments on the St. George waterfront in Staten Island.  While some residents may be offended that the subject of the talks was not of the EDC's recovery programs, the real controversy is the way in which the EDC is planning to go forward with its proposal.  It is planning to build the world's largest ferris wheel along a vulnerable coast line that just saw damage from one of the worst storms to hit NYC in recent history.
Read more on this development after the break.
In an effort to promote resilience for the Sandy-affected region, U.S. Housing and Urban Development (HUD) Secretary Shaun Donovan has launched a multi-stage regional design competition that is intended to attract world-class talent, promote innovation and develop projects that will actually be built. Dubbed Rebuild by Design, the competition will accumulate a variety of design solutions, ranging in scope and scale, for review. Once the best ideas are identified, HUD will incentivize their implementation using funds made available through the Community Development Block Grant Disaster Recovery (CDBG-DR) program as well as other public and private funds to actually build the project.