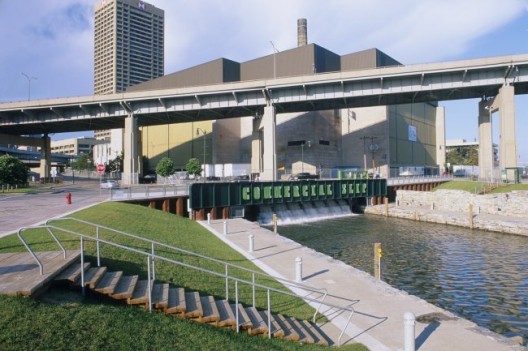 In this article, which originally appeared in Metropolis Magazine's Point of View Blog as "Q&A: Kim Mathews and Signe Nielsen," Susan Szenasy interviews the principals of Mathews Nielsen Landscape Architects about how climate change has re-focused landscape architecture today on three important issues: Research, Redevelopment, & Resiliency.
In this season of Architecture's Lean In Moment, I'm asking principals of three successful female-owned firms in architecture, graphic communication, and here landscape architecture, to talk about the work they do, how they connect with their clients (usually in the messy public realm), how they hone their skills and add to their knowledge base—all to provide the essential design services that they set out to do as idealistic young practitioners.
Here the principals of the New York firm, Mathews Nielsen Landscape Architects, Kim Mathews, RLA, ASLA and Signe Nielsen, RLA, FASLA, talk about the evolution of their profession, their commitment to teaching, writing, lecturing, their research-informed work, as well as the new appreciation of design in the public realm. The firm's new Green Team reports here regularly on topics like the importance of soil composition, working within the urban infrastructure, and waterfront remediation and redevelopment in a time of climate change.
Mathews Nielsen Landscape Architects shared with us their design for the streetscape masterplan for Hudson Square in Manhattan, New York. Designed to transform the district's public realm into a socially, economically, and environmentally sustainable neighborhood, the project will serve area workers and, eventually, residents. The masterplan creates a pedestrian-focused district accessible from all directions and adjacent neighborhoods—including SoHo, TriBeCa, and Greenwich Village—that coordinates the needs of the Holland Tunnel, a regional transportation facility, with those of the re-imagined neighborhood. More images and architects' description after the break.
In the past decade New York City's government, along with numerous organizations and design teams, have taken the initiative to revive the city's public spaces and reclaim underutilized areas that have long been associated with the city's manufacturing past.  We're all familiar with the High Line, a project that takes over the elevated rail lines of Chelsea and Meat Packing District that until several years ago stood as a desolate and eroding piece of infrastructure,  which was beautiful in its own way but largely underutilized.  Then there is the Brooklyn Navy Yard, which has become a mecca for designers, fabricators and research companies and has recently acquired a museum to celebrate its history.   And of course, there are the city's waterways, which, since New York City's early history, have served its manufacturing and trade economy, have become parks along the waterfront as part of the Hudson River Greenway and the FDR Drive.  Manufacturing has long been replaced by Wall Street, but there are parts of the city that still retain the industrial past along the historic waterfront and continue to operate some of the most important facilities that allow the city to function.  Now it is time to reintroduce a public use among these industrial zones.
More after the break!