OMA's comprehensive strategy to rebuild the New Jersey city of Hoboken, after the devastation of Hurricane Sandy, has been selected as one of ten initiatives moving forward in the Department of Housing and Urban Development's (HUD) Rebuild by Design competition. The proposal, Resist, Delay, Store, Discharge, focuses on establishing resiliency through the integration of key infrastructural elements that not only protects coastal neighborhoods, but also the entire city of Hoboken.
After three months of in-depth analysis and public outreach, the U.S. Department of Housing & Urban Development (HUD) has shortlisted 10 design "opportunities" for the third and final round of Rebuild by Design. The design competition, focused on making New York's Sandy-effected regions more resilient, sustainable, and livable, will now have the final project teams collaborate with local and regional stakeholders in developing their projects over the next five months. The goal is to arrive at projects that are implementable and fundable, leveraging the variety of federal recovery investments being made in the region.
OMA, BIG and WXY are just a few practices involved in the final round. Read on to review a glimpse of each shortlisted proposal.
Stockholm-based White Arkitekter, along with partners ARUP and Gensler, has been announced as the winner of the two-phase "For a Resilient Rockaway" (FAR ROC) design competition in New York. Selected from a shortlist of four and an international pool of 117, White Arkitekter's "untraditional" proposal aims to transform an 80-acre shoreline site in the Rockaways into a resilient and affordable community through a series of small interventions that can be tested, adjusted, or redesigned overtime during the development process.
Zadie Smith recently suggested that libraries are "the only thing left on the high street that doesn't want either your soul or your wallet." Michael Kimmelman has put forward the argument in the New York Times that local libraries could be far more important than we think in the aftermath of large storms, suggesting that "places that serve us well every day serve us best when disaster strikes" by fostering congregational activity and offering well-needed warmth, power and friendly faces. You can read the full article here.
A new study, published in Nature Climate Change, has compiled a list of cities most vulnerable to coastal flooding. Taking in consideration elevation, population distribution and available flood protection from 136 coastal cities worldwide, in addition to forecasts of sea level rise and ground sinking due to groundwater depletion, the study determines that if no mitigating steps are taken, coastal flooding will cause damage totaling $1 trillion annually by the year 2050.
Topping the list as the most vulnerable city is Guangzhou, China, followed by Mumbai and Kolkata in India, Guayaquil, Ecuador and Shenzen, China. Almost all cities at the highest risk of flooding damage were in North America or Asia.
The top 20 most vulnerable cities are:
In Bangladesh, where rising sea levels are having profound effects on the landscape, one nonprofit organization called Shidhulai Swanirvar Sangstha run by architect Mohammed Rezwan is fighting back by adapting, a true quality of resilience.  Rising water levels and the tumultuous climate is displacing people by the thousands; a projected 20% of Bangladesh is expected to be covered in water within twenty years.  For a country that is one of the densest populated state on the planet, this figure has disastrous consequences for a population that has limited access to fresh water, food, and medicine.  In response to these conditions, Shidhulai has focused on providing education, training and care against the odds of climate change by adapting to the altered landscape:  moving schools and community centers onto the water – on boats.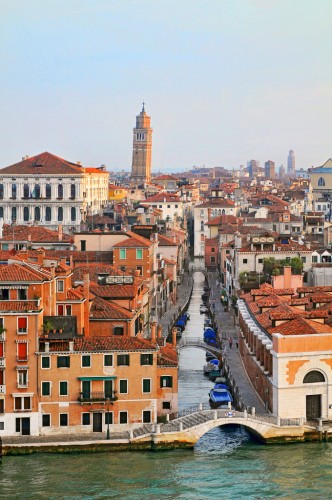 Venice is commonly regarded as one of the wonders of the world, attracting over 17 million tourists each year. However, the city of Venice faces ongoing problems that threaten its ability to stay above water. The city's flooding issues are notorious around the world. Every year water surges through its legendary labyrinth of streets wreaking havoc on architectural gems such as the Palazzo San Marco. With its architecture under threat, and dwindling population as many young people flock to the mainland, it is appropriate to think of Venice as a dying relic.