Architects can do far more than design buildings. In fact, some of history's most acclaimed innovators were not only architects, but also inventors. Leonardo da Vinci himself, the epitome of the Renaissance man, sketched buildings alongside ideas for flying machines. Buckminster Fuller was the ultimate futurist and invented the geodesic dome in addition to his Dymaxion Car, an automobile that was far ahead of its time. Now, an architect has developed "the world's first hoverboard," and the technology has far-reaching implications for not only transportation, but also buildings themselves. Read on after to break to learn more about what this technology could mean for the future.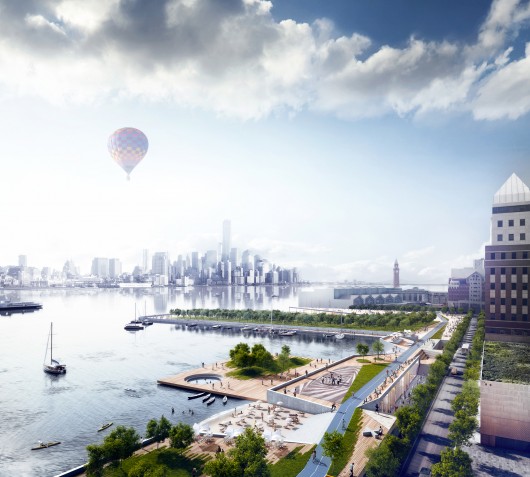 Yesterday, US Housing and Urban Development (HUD) Secretary Shaun Donovan announced OMA, BIG and four other teams as the winner of "Rebuild by Design", a competition aimed at rebuilding areas affected by Hurricane Sandy focusing on resilience, sustainability and and livability.
In total, HUD have allocated $920 million to the six projects in New York, New Jersey and Long Island to enable the completion of this vision.
Read more about the winning schemes after the break

This article by Jonathan Ward, originally published on Arup Thoughts as "A Top-Down Approach to Flood Prevention" discusses a cheap, simple, but effective method of easing the load on drainage after a storm: temporary storage of water on flat roofs, which can not only help to prevent floods, but also provide unexpected benefits as well.
Gravity offers a simple and cheap way to attenuate stormwater flows – by storing water temporarily on a flat roof. All sorts of causes are being blamed for the current flooding in the UK; lack of dredging, poor management of catchment areas, construction on flood plains and paving over front gardens are all being mentioned in the press.
One thing is for sure – we will be paying a lot more attention to the topic given the current experience, and the fact that wetter winters are predicted in our changing climate, with a certainty of more extreme events.
Read on for an explanation of why this counter-intuitive measure actually makes perfect sense
Between Hurricane Sandy in the USA and ongoing storms and floods damaging large areas of Britain, the issues of flood prevention and coastal defense are now a top priority for planners on both sides of the Atlantic. This article in the Guardian asks whether it might be time to give in to the sea and rethink our affinity for coastal living; and this one on Architecture Boston asks to what extent society should be expected to foot the bill for those in high-risk areas, and wonders how, legally, the state could encourage people to live elsewhere.
This article originally appeared in the latest issue of ArchitectureBoston as "Troubled Waters." 
The challenges of sea-level rise cross boundaries of all sorts: geographic, political, social, economic. Proposed mitigation strategies will also necessarily shift and overlap. Here, we present five case studies from across the globe that offer intriguing ways—some operational, some philosophical—to address the threats associated with climate change. Drawing on a research initiative focused on vulnerabilities in Boston, a team at Sasaki Associates developed these additional design-strategy icons to illustrate the layered approaches. They are adaptable, the better to meet the unique demands of each coastal community.
OMA's comprehensive strategy to rebuild the New Jersey city of Hoboken, after the devastation of Hurricane Sandy, has been selected as one of ten initiatives moving forward in the Department of Housing and Urban Development's (HUD) Rebuild by Design competition. The proposal, Resist, Delay, Store, Discharge, focuses on establishing resiliency through the integration of key infrastructural elements that not only protects coastal neighborhoods, but also the entire city of Hoboken.
After three months of in-depth analysis and public outreach, the U.S. Department of Housing & Urban Development (HUD) has shortlisted 10 design "opportunities" for the third and final round of Rebuild by Design. The design competition, focused on making New York's Sandy-effected regions more resilient, sustainable, and livable, will now have the final project teams collaborate with local and regional stakeholders in developing their projects over the next five months. The goal is to arrive at projects that are implementable and fundable, leveraging the variety of federal recovery investments being made in the region.
OMA, BIG and WXY are just a few practices involved in the final round. Read on to review a glimpse of each shortlisted proposal.
Stockholm-based White Arkitekter, along with partners ARUP and Gensler, has been announced as the winner of the two-phase "For a Resilient Rockaway" (FAR ROC) design competition in New York. Selected from a shortlist of four and an international pool of 117, White Arkitekter's "untraditional" proposal aims to transform an 80-acre shoreline site in the Rockaways into a resilient and affordable community through a series of small interventions that can be tested, adjusted, or redesigned overtime during the development process.
Zadie Smith recently suggested that libraries are "the only thing left on the high street that doesn't want either your soul or your wallet." Michael Kimmelman has put forward the argument in the New York Times that local libraries could be far more important than we think in the aftermath of large storms, suggesting that "places that serve us well every day serve us best when disaster strikes" by fostering congregational activity and offering well-needed warmth, power and friendly faces. You can read the full article here.
A new study, published in Nature Climate Change, has compiled a list of cities most vulnerable to coastal flooding. Taking in consideration elevation, population distribution and available flood protection from 136 coastal cities worldwide, in addition to forecasts of sea level rise and ground sinking due to groundwater depletion, the study determines that if no mitigating steps are taken, coastal flooding will cause damage totaling $1 trillion annually by the year 2050.
Topping the list as the most vulnerable city is Guangzhou, China, followed by Mumbai and Kolkata in India, Guayaquil, Ecuador and Shenzen, China. Almost all cities at the highest risk of flooding damage were in North America or Asia.
The top 20 most vulnerable cities are:
In Bangladesh, where rising sea levels are having profound effects on the landscape, one nonprofit organization called Shidhulai Swanirvar Sangstha run by architect Mohammed Rezwan is fighting back by adapting, a true quality of resilience.  Rising water levels and the tumultuous climate is displacing people by the thousands; a projected 20% of Bangladesh is expected to be covered in water within twenty years.  For a country that is one of the densest populated state on the planet, this figure has disastrous consequences for a population that has limited access to fresh water, food, and medicine.  In response to these conditions, Shidhulai has focused on providing education, training and care against the odds of climate change by adapting to the altered landscape:  moving schools and community centers onto the water – on boats.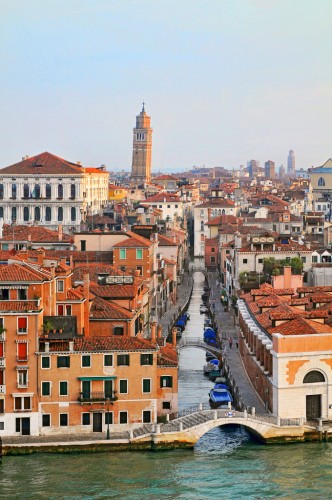 Venice is commonly regarded as one of the wonders of the world, attracting over 17 million tourists each year. However, the city of Venice faces ongoing problems that threaten its ability to stay above water. The city's flooding issues are notorious around the world. Every year water surges through its legendary labyrinth of streets wreaking havoc on architectural gems such as the Palazzo San Marco. With its architecture under threat, and dwindling population as many young people flock to the mainland, it is appropriate to think of Venice as a dying relic.