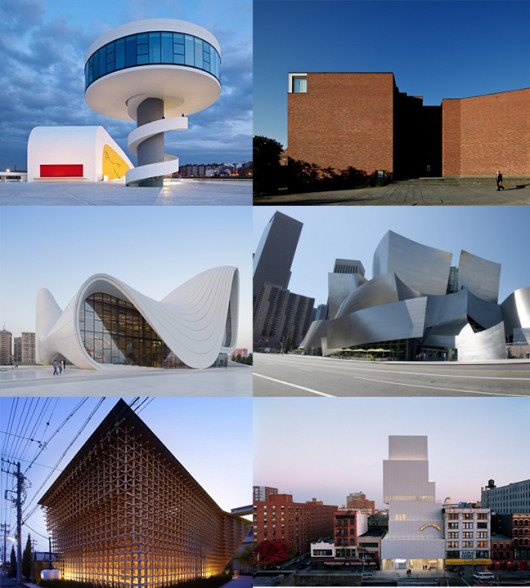 In case you missed it, we're re-publishing this popular post for your material pleasure. Enjoy!

To celebrate the recent launch of our US product catalog, ArchDaily Materials, we've coupled six iconic architects with what we deem to be their favourite or most frequently used material. From Oscar Neimeyer's sinuous use of concrete to Kengo Kuma's innovative use of wood, which materials define some of the world's best known architects?
A unique biotechnology start-up company have developed a method of growing bricks from nothing more than bacteria and naturally abundant materials. Having recently won first place in the Cradle to Cradle Product Innovation Challenge, bioMason has developed a method of growing materials by employing microorganisms. Arguing that the four traditional building materials – concrete, glass, steel and wood – both contain a significant level of embodied energy and heavily rely on limited natural resources, their answer is in high strength natural biological cements (such as coral) that can be used "without negative impacts to the surrounding environment."
"Bricktopia", by the architects of the international collective Map13, is the winning project in the "Build-it" Eme3 International Architecture Festival,held on June 27-30 in Barcelona. The pavilion can be visited throughout the summer at the square of the former spinning mill Fabra i Coats in the Sant Andreu district.
This intervention sets a new square which can house different activities, both under the pavilion and around it. Public spaces for bathrooms, sun, bar and stage for enjoying the summer 2013. It is a brick domed structure that employs the traditional construction system of a partitioned vault (or "Catalan vault") computed with new digital tools for the structural optimization of the geometry.
More information and images below.
In this jaunty little clip, Louis Kahn stresses the importance of honoring your materials to a group of students at the University of  Pennsylvania. 
Estonia-born in 1901, Louis Kahn had a steadfast belief that all materials had their own destiny and wouldn't tolerate any attempt to deviate from that. During the age of clean modernism and the use of cutting edge materials, his architecture was often dismissed for being overly symbolic and heavily venerating buildings of the past. Influenced by the arid nature of many of his sites, Kahn's buildings often took the form of cavernous brick shells with large geometrical cut outs, which he would like to describe them – in his bizarre Kahn-way - as ruins in reverse.
Here are a few of Kahn's intriguing brick creations:
For more information about Kahn and his brick channeling abilities you can read this rather excellent article by the Guardian's Olly Wainwright, entitled "Louis Kahn: the brick whisperer". 
Architecture Firm: Dok Architekten
Architect: Liesbeth van der Pol
Location:  centrum-Delft-Vesteplein 100-2611 WG Delft, The Netherlands
Design Team: P. Cannon, M. Hardonk, R. Bos, A. Koch, A. Derksen
Client: Gemeente Delft 
Photographer: Arjen Schmitz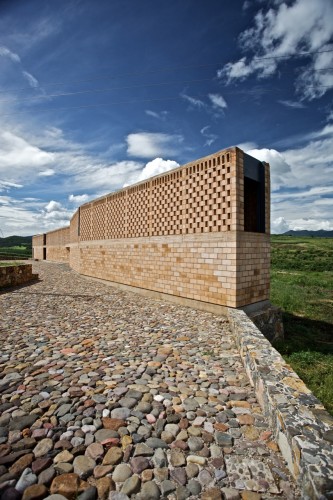 Architects: Luis Aldrete
Location: Jalisco, Mexico
Project Team: Magui Peredo, Cynthia Mojica
Project Year: 2010
Photographs: Francisco Perez
Architect: RATIO Architects
Location: Indianapolis, Indiana, United States
Project Area: 700,000 sq ft
Project Year: 2011
Photographs: Bill Zbaren Photography
In 2006, the Indiana Stadium and Convention Building Authority selected RATIO Architects to create a major expansion to the Indiana Convention Center as a response to ongoing increased convention and trade show demand. The more than 700,000 sq. ft. expansion includes exhibition space, meeting rooms, and pre-function and support space – all within a tight urban site in the heart of Indianapolis, directly connected to 4,700 hotel rooms and within easy walking distance of restaurants, retail shops and at the head of a new pedestrian/event street. More about the Indiana Stadium and Convention Building after the break.
Architect: OPN Architects
Location: Coralville, Iowa
Project Year: 2010
Photographs: Wayne Johnson, Main Street Studio 
Designed for the University of Iowa, the Hygienic Laboratory was designed by OPN Architects and was completed in 2010 as a collaborative and interdisciplinary laboratory facility.  In addition to both closed and open laboratory space, the complex features traditional academic functions such as office space, workspaces, and group meeting space.  More images and architect description after the break.
Architects: LEVS Architecten
Location: Enschede, The Netherlands
Client: ING Real Estate Development
Project Year: 2010
Project Area: 16,000 sqm
Photographs: Marcel van der Burg – primabeeld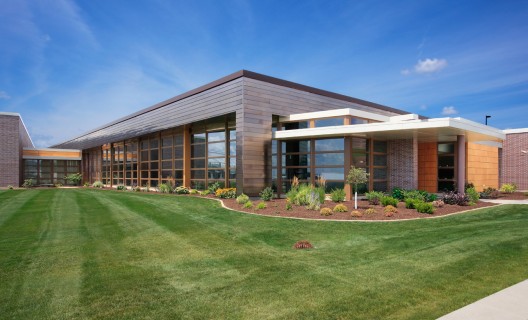 Architect: OPN Architects
Location: Cedar Rapids, Iowa
Project Year: 2009
Photographs: Wayne Johnson, Main Street Studio 
Designed by OPN Architects, the Kirkwood Horticulture Building at Kirkwood Community College is a 40,000sf facility that houses the burgeoning floral and horticultural program for its host school.  In addition to typical academic programs such as lecture halls, office space, student commons, and laboratory facilities, the complex also includes an 8,500sf greenhouse for production.  More images and architect description after the break.
Architect: The Kubala Washatko Architects
Location: Milwaukee, Wisconsin
Project Year: 2008
Photographs: The Kubala Washatko Architects 
Designed by the Kubala Washatko Architects of Cedarburg, Wisconsin, the Iron Horse Hotel is an upscale boutique hotel that caters to motorcycle enthusiasts and travelers.  The 100,000sf project was completed in 2008 as a refurbishment to an existing factory — more images and architect description after the break.
Architects: Lemay associés
Location: Montréal, Canada
Client: Groupe Mach
Project Team: Louis T. Lemay (Partner in Charge), André Cardinal (Architect, Senior Partner, Project Manager), Pierre E. Leclerc (Senior Architect, LEED AP), Sandra Neill (Associate Designer), Chantal Ladrie (Designer), Marie-Élaine Globensky (Graphic Design And Signage)
General Contractor: Construction TEQ inc.
Engineers: Bouthillette Parizeau & Associés (electro-mechanical engineering) and les Consultants Gemec inc. (civil/structural engineering)
Sustainable Development: Lyse M. Tremblay, architect, LEED AP
Project Year: 2007
Project Area: 12,000 sqm
Photographs: Claude-Simon Langlois
Architect: Legat Architects, Inc.
Location: Matteson, Illinois
Construction Manager: Louis Jones Enterprises, Inc.
Technology/Audio-visual/Security/Geothermal Feasibility Consultant: KJWW Engineering Consultants
MEP/Structural/Civil Engineer: Globetrotters
Photographs: James Steinkamp
Designed by Legat Architects, Inc. of Chicago, Illinois, the 122,000sf Colin Powell Middle School is an academic facility that serves grades 6-8 for Illinois School District 159.  According to the architect, "The design of Colin Powell Middle School responds to the client's desire to provide a progressive symbol of education to its students and community.  Energy efficiency, environmental conscientiousness, and openness were all driving factors in the design."  More images and description after the break.
Architects: Mitchell Taylor Workshop
Location: Somerset, England
Mechanical and Electrical Engineer: Buro Happold
Contractor: RG Spiller
Project Area: 800 sqm
Photographs: Courtesy of Mitchell Taylor Workshop