In "How (Not) to Host the Olympics," I suggest that, when it comes to Olympic Planning, there is one Golden Rule: "The best thing to do if you're bidding for the Olympics, Is to Not Get the Olympics."
However, a recent article from The Atlantic Cities' Emily Badger takes that claim to question.
Badger follows up in Chicago, a city that bid – hard – for the 2016 Olympics (which will take place in Rio de Janeiro). As she puts it: "We often ask what Olympic cities really get in return for all the money, energy, and construction chaos invested in hosting the world's largest sporting event. But the story of cities that vie for but never win the Games raises a different question.
'What does putting together a bid that is unsuccessful leave you?'"
Although the 2012 London Olympics concluded last August, RIBA president Angela Brady and New London Architecture chairman Peter Murray continued to lead a fierce campaign against the strict International Olympic Committee (IOC) rules that forbid architectural practices who contributed to the design and construction of the venues from promoting their work. Months later, a compromise has finally been met and the architects will now allowed to discuss their contributions freely. 
Brady said: "The majority of architects and designers we were standing up for in the campaign were young small businesses who just wanted to be able to promote their work. It's great that they are now able to speak freely about their contribution."
Architect: LCLAOFFICE, Una Arquitetos, Grupo SP e Republica Arquitetura
Location: Rio de Janeiro
Size:  1000 000 square meters
Status: Competition Entry
In keeping with the Olympic spirit, today we share a competition master plan entry for Rio by Colombia-based architect Luis Callejas, Una Arquitetos, Grupo SP e República Arquitetos.  Although Callejas has been practicing professional for four short years, he has already made quite an impression on the architecture world.  In that time, Callejas has designed and realized two of the most relevant recent projects in Latin America for public sports infrastructure: The aquatic center for the South American Games of 2010, and the complete renovation of the main soccer stadium in Bogota, Colombia.  For his scheme for Rio's Olympic Park master plan,    the park functions sectionally as the sporting functions – both the main areas and the support spaces – are organized in a stacked manner rather than pulled apart in plan.  This allows for a fluid and open space for audiences, and creates "No icons but one big vital scenario halfway between a small city and a big park."
More about the competition entry after the break. 
The London 2012 Olympics start today, and once again architecture is on the spotlight. With a big focus on reusable and adaptable structures, the lineup includes renowned architecture firms such as Wilkinson Eyre Architects, Hopkins Architects, Populous and Zaha Hadid Architects.
On this infographic we introduce you the iconic buildings of the Olympics since 776 B.C. until today! Follow our London 2012 Olympics coverage in its dedicated page.
As we've discussed at length here at ArchDaily, an Olympic Bid is no thing to take on lightly. Our 3-part series on the subject, "How NOT To Host the Olympics," made very clear that this mega-event is a major urban project with long-term economic, social, and environmental consequences.
So, it's no surprise that Olympic bidders research and strategize well in advance – consider London 2012's "Sustainable Olympics" bid or OMA's perhaps premature interest in Turkey- to ensure, first, that they get the bid and, second, that the Games leave renewal (rather than destruction) in their wake.
Architecture, Research, and Urbanism practice, XML, are already taking on the task of preparing its home country, the Netherlands, for its 2028 bid. Their just-released report compares Olympic City bids across the globe – from the 2020 contenders of Madrid, Istanbul, Dohan, and Tokyo to a 2024 contender, South Africa. Interestingly, they've noted a cyclical nature of the Games' socio-economic significance and have thus come up with a 3-prong strategy that will position the Netherlands to spearhead a new Olympic paradigm.
You can check out XML's full Report, well worth a look, after the break...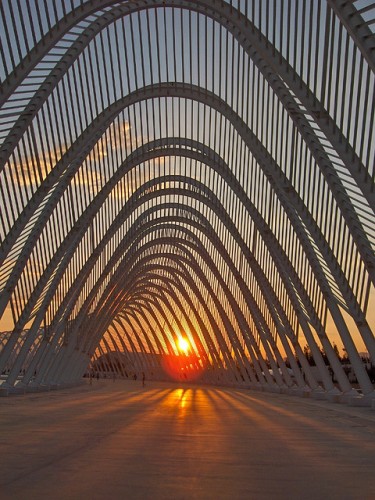 Welcome back and congratulations for having made it to the final installation of the Olympic City Guide.
So far, in parts I and II, we've learned how to design for your post-Games legacy (No White Elephants please) and to revitalize -not demolish- your city's most deprived "eye-sores" (Don't Hate, Rejuvenate).
So what's left? Well, in this post-Recession era of austerity, a huge part of your Olympic Strategy will be justifying the spending – the colossal spending – to your more than skeptical constituents. As I said in the last post, a good starting point is targeting urban renewal and being as transparent as possible, but another big element is how you market the Games – not just to the International Olympics Committee (IOC), but to your own city-dwellers.
So how can you get them both on your side? Simple - Go Green.
If you remember nothing else from  Part I of our Olympic City Guide, Your Very Own Guide to Successfully Hosting the Olympic Games, make it the GOLDEN RULE: "The best thing to do if you're bidding for the Olympics, Is to Not Get the Olympics."
As we explained in Part I, this take-it-or-leave-it mentality is key to Olympic success. See the Olympics as the Games, and, come autumn, you'll find your city littered with resource-guzzling, empty stadiums. See the Olympics as an excuse to get your plans for Urban Renewal into hyper-drive, and you'll get the gold: a publicity-hogging, urban makeover that will continue to make you profit years after the Olympic circus has packed up and gone home.
But Olympic legacy doesn't just come down to dollars and cents. It often means making a very real socio-cultural impact. Which leads us to our second set of Dos and Donts, starting with DON'T: Be Shady. And yes, we're looking at you Beijing…
Keep reading for the Dos and Donts of Olympic Hostdom, after the break…
So – you want to be an Olympic City do you? Well let's hope you're going for gold.
First of all, the Olympic bid is no child's play. You can spend millions just to prove (often unsuccessfully) your worthiness. And, if you do get the bid, who's to say that your Olympic Dreams won't be dashed by elephantine debts, colossal inefficiencies, and your own citizenry's open animosity?
Everyone may think the Olympics is all guts and glory, but frankly, the truth is far more complex. Which is why we've come up with a User's Guide – the Do's and Dont's to Hosting Your Very Own Olympics.
We'll begin with the GOLDEN RULE: "The best thing to do if you're bidding for the Olympics, Is to Not Get the Olympics."
Want to know the Cardinal Sins of Olympic Hostdom? Keep reading after the break…
UPDATE: In an e-mail to ArchDaily, a Sr. PR Manager at OMA told us that while Victor van der Chijs expressed his hopes that Turkey will host the Olympics in an interview with an Anatolia news agency earlier this month, OMA is not planning on opening an office in Turkey any time soon. 
OMA, the Rotterdam-based, Dutch architecture and urban development firm, has its eyes set on the location of its next office: Turkey.
Why? They think it's a safe bet hope that Turkey will edge out both Madrid and Tokyo for the 2020 Summer Olympics.
As Victor van der Chijs, a partner at OMA, told Anatolia: "We believe that Turkey will win the Olympics. In our opinion it is almost certain [...] Comprehensive investments in sports facilities, infrastructure services and transportation will be needed. That is why we want to take part in urban master planning and projects to prepare for the Olympics."
Could OMA, who have offices in New York, Beijing, and Hong Kong (and considered having one in Brazil), be starting a new trend? With "legacy" being the new Olympic buzzword (see: our 3-part Olympic City Guide) and smart urban-planning and architecture a necessary part of the Olympic bid, could Architects begin cashing-in on (and perhaps ensuring) Olympic Glory, even before the Games are bestowed?
If so, it seems the torch starts here.
Story via Hürriyet Daily News. 
ArchDaily announced in October 2009 that Brazil will be hosting the 2016 Olympic Games, in addition to the 2014 World Cup.  Just last August, AECOM was awarded the bid for the design of the 2016 Olympic Park in Rio de Janeiro (watch the video here).  As preparations for the administrative business of the games seems to be going smoothly, events on the ground say otherwise.  The planned Olympic Park will be located on the current site of a favela with a reported population of 4,000  (New York Times: Simon Romero) , known as Vila Autodromo and Riocinha, and those citizens are not satisfied with the prospects of being relocated under the edict of Imminent Domain to satisfy the Olympic Organizing Committee.
More on this story after the break.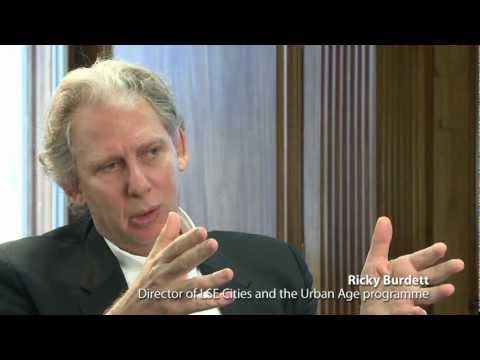 Global events such as the Olympic Games have the potential to enrich the city in which they are held, both economically and socially. The Olympics in particular promote cultural and social development. However, the effort and economics that the city invests is only advantageous when the event leaves a lasting trace. It is a delicate balance, warns Richard Sennett. The balance rests in the sustainability of the economic and social development of the city at the conclusion of the global event. The investment and design and planning strategies should be thought of in regards to long-term development and flexibility for twenty years down the road when the grounds can be acquired for other uses by the city. In 2012, London will be hosting the Olympic Games and it seems promising that the development of the grounds will bring continued social and economic profit to the area at the end of the games.
More on this discussion after the break.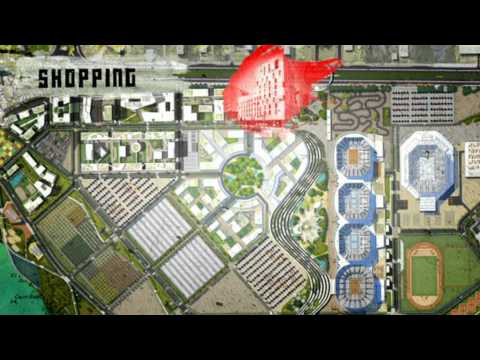 We reported earlier this week that AECOM will be designing the Olympic Park Masterplan for the 2016 Olympics that will be held in Rio de Janeiro, Brazil. The international competition winning entry's concept of operation, separate access for athletes and the audience, logistics for the transport system, the viability of implementation and unique access for parking, made it stand out amongst the other submissions.