Miami Beach city commissioners have unanimously agreed to abandon the $1 billion redevelopment of its 52-acre convention center district, which aimed to radically reinvent the area. This decision comes just six months after the city awarded developer South Beach ACE and OMA the bid after an international, highly-publicized competition that pitted OMA against BIG.
"For the purposes of getting this project done fast, on time, on budget, it's unfortunate that we'll have to make a very tough, challenging decision," said Miami Beach Mayer Philip Levine, "To some people, it's a little disheartening. To other people, it's a very fresh start."
As reported by the Miami Herald, the city plans to reinstate a bid for the renovation of the city-owned convention center as well as another for the development of a nearby hotel. Under the new bid, the city will no longer be required to attain 60 percent of voter approval to build. By doing this, Levine believes the renovation will be expedited.
Architects: rGlobe
Location: Miami Beach, FL, USA
Client: L.F. Fendi
Area: 8030.0 ft2
Year: 2013
Photographs: Emilio Collavino
South Beach ACE, the collaborative team made up of Tishman, a national real estate development firm led by Dan Tishman; international architecture firm OMA, led by Pritzker Prize winning architect Rem Koolhaas; and Miami Beach developer Robert Wennett, were just announced by the Miami Beach City Commission as the winning team in a competition to redevelop the Miami Beach Convention Center and the surrounding 52-acre site. Looking forward to bring the project to fruition, the team firmly believes a renovated convention center, adjacent hotel, and re-imagined convention center campus are critical to Miami Beach's ability to maintain and grow its desirability as a tourism and convention destination. More images and the team's description after the break.
OMA, BIG and their partnering developers have until later today to decide whether they want to alter their plans for the Miami Beach Convention Center or walk away from the competition entirely.
The city was supposed to choose between OMA's or BIG's proposals, which have been in the pipeline for months, in the next few weeks. However, according to the World Property Channel, the city has now – in a disappointing turn of events – decided that the $1.1 billion project should be radically downsized by removing the residential units and cutting down retail space.
It's a reversal that will, in the words of Kevin Brass in his must-read opinion piece, remove "the opportunity for creativity and vision. Taking out the ambition won't make it a better project, only a smaller project. Miami Beach is providing a textbook example of how not to create a great urban space."
Story via World Property Channel
Foster + Partners have released new images of the luxurious, 18-story Faena House currently being constructed in Miami. Argentinean developer Alan Faena, who is best known for transforming Buenos Aires' abandoned Puerto Madero neighborhood into the city's most vital culture center, commissioned the project, which will mark the first phase of the anticipated Faena District in Miami Beach. Once complete, the district will include a five-star hotel, a large and versatile Arts Center, an OMA-designed parking complex, a luxury retail complex, and a marina.
Terra Group + Rene Gonzalez Architect recently unveiled their design for GLASS, a new residential tower composed of 10 full-floor units located at 120 Ocean Drive in Miami Beach. The 18-story, all-glass building is located in the South of Fifth neighborhood, which has become, over the past decade, one of the most expensive destinations for luxury high-rise living in Miami Beach. Delicate and sensorial, the design of GLASS is a considered a response to its setting in Miami Beach, specifically intended to allow one to experience the surrounding natural landscape. More images and architects' description after the break.
The Miami Beach Convention Center, a giant box of a building constructed in 1957, is in desperate need of a makeover and two design teams have bravely accepted the challenge. Team 1 is dubbed South Beach ACE (Arts, Culture, Entertainment District) and is a collaboration between Rem Koolhaas's OMA firm, Tishman, UIA, MVVA, Raymond Jungles and TVS. Team 2 goes by the name of Miami Beach Square and includes BIG, West 8, Fentress, JPA and Portman CMC. Both proposals completely re-imagine 52 acres of prime beach real estate and cost over a billion dollars in public and private funds. So, who does it better? 
Vote for your favorite after the break…
Architects: Rene Gonzalez Architect
Location: Miami Beach, Florida
Architect In Charge: Rene Gonzalez
Area: 2500.0 sq ft
Photographs: Michael Stavaridis
Architects: TEN Arquitectos
Location: 321 Ocean Drive, Miami Beach, FL, USA
Owner: AGM Aria
Are: 78,000 sq ft
Proyect Year: 2012
Photographs: Courtesy of TEN Arquitectos / Hartness Visions
Chad Oppenheim, the founding principal of Oppenheim Architecture + Design, will deliver a lecture at the annual HD Boutique Exposition and Conference on September 12th from 11:15am-12:15pm. Taking place at the Miami Beach Convention Center, the boutique-style trade show is know for the best in hospitality design, architecture, operation, and development. Oppenheim's design strategy is to extract the contextual essence from the building program – creating an experience that is dramatic and powerful. His landmark designs demonstrate a climatic response while strengthening the relationship between people and nature. During the event, he will be showcasing his designs that simultaneously solve complex challenges while engaging all the senses.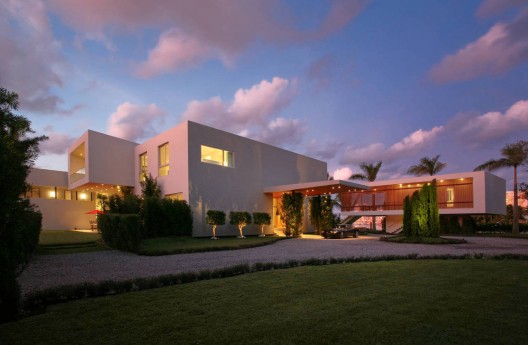 Architects: Touzet Studio – Carlos Prio-Touzet, Jacqueline Gonzalez
Location: La Gorce Island, Miami Beach, Florida, USA
Building Area: 17,871 sqm
Date of Completion: October 2008
Photographs: Mark Surloff
Architects: Touzet Studio – Carlos Prio-Touzet, Jacqueline Gonzalez
Location: Miami Beach, Florida.
Date of Completion: December 2008
Building Area: 12,309 sqm
Photographers: Connie Taudt-Ehrling & Alexia Fodere of Omega Eye 
We have previously featured 1111 Lincoln Road by Herzog & de Meuron. We focused mostly on the building and interior design, but the landscape is equally note worthy and should not be missed. Raymond Jungles, the project's landscape architect, generously shared with us the project from his perspective.
Landscape Architect: Raymond Jungles Inc
Location: 1111 Lincoln Rd, Miami Beach, Florida, USA
Landscape Architect of Record: Raymond Jungles, FASLA
Design Architect: Herzog & de Meuron
Client/Owner: Robert Wennett and the City of Miami Beach
General Contractor: G.T. McDonald Enterprises, Inc.
Landscape Contractor: Superior Landscaping, Inc.
Specimen Tree Broker: Sean Jacobus Company, Inc.
Landscape Contractor: Plant Creations, Inc.
Lighting Consultant: Leni Schwendinger, Light Projects LTD.
Civil Engineer: Kimley-Horn and Associates, Inc.
Aquatic Consultant: Biscayne Aquaculture
Urban Soil and Tree Consultant: James Urban
Bromeliad Donations: Bulis Bromeliads
Silva Cell Installation/Design: Deep Root Partners
Project Area: 43,560 sqf
Photographs: Steven Brooke
The revitalization of this underutilized public park transforms it into a neighborhood and regional destination through the integration of diversified urban park programs, regional gardens and restored native habitats, and the connection with urban circulation systems. By unifying its three edges – urban, cruise ship passage and beach – it becomes a center that, through the resolution of overlapping cultural, programmatic and environmental requirements, will contribute to the open space life in Miami for decades to come.
Landscape Architect: Hargreaves Associates, Inc.
Location: Miami Beach, Florida, USA
Local Landscape Architect: Savino Miller Design Studio
Architect: William Lane Architects
Photographs: Courtesy of Hargreaves Associates
Perched sixty feet in the air like a floating cloud and open to the Miami Beach sky, the Alchemist boutique is a hovering glass box inserted into the fifth floor of a parking structure designed by Herzog and de Meuron. Inside, its reflective materials capture the colors and energy of the surrounding environment and make it is visible from many vantage points throughout Miami Beach.
Architect: Rene Gonzalez Architect
Location: 1111 Lincoln Rd, Miami Beach, Florida, USA
Project Area: 1,726 sqf
Photographs: Michael Stavaridis