If You Build It is a documentary following the story of high school students in Windsor, a small and downtrodden rural town in Bertie County, North Carolina. In this setting, architects Emily Pilloton and Matt Miller started Project H, an educational initiative designed to not only improve the education of these disadvantaged young people, but also to reach out to the wider community and make real change.
Read on for more about Project H and the If You Build It documentary
Inter National Design (IND), based in Rotterdam and Istanbul, have won first prize in a restricted competition to design a large school complex in Viranşehir, Turkey. Five rectangular courtyards, together with five dynamic public strips, combine to envelop the collection of buildings with a variety of both neutral and dynamic voidal spaces. A degree of permeability with the city is designed into the scheme with the "two types of open spaces following a gradient using the buildings as filters from the hermetic façade of the courtyards to the permeable skins of the outer façade". Hills, pyramid stairs and areas of wild nature tie the atmosphere of the scheme into a unit within a "homogenous industrial roof profile and a modular structure".
Following a year of high-profile debates surrounding women in architecture, the results from the Architects' Journal (AJ) third annual survey entitled Women in Architecture has been revealed. According to the AJ, "two thirds of women in architecture have suffered sexual discrimination at work, an eight point increase since the survey began in 2011″, and "88% of women respondents believe that having children puts women at a disadvantage in architecture." Even though women in architecture believe that they are paid equally to men, they can in fact "earn as much as £10,000 ($16,500) less than their male counterparts." More, after the break.
Following the announcement last month that the London School of Economics and Political Science (LSE) had shortlisted five designs for their new Global Centre for Social Sciences (GCSS) in London's Aldwych, they have now revealed that "there's not one really outstanding scheme" and "there's some further work to do by the practices and the LSE." Therefore contestants Rogers Stirk Harbour + Partners, OMA, Hopkins Architects, Grafton Architects, and Henegham Peng Architects must reconsider their proposed designs. 
Following Angela Brady's two year tenure as head of the Royal Institute of British Architects (RIBA), Stephen Hodder MBE was officially inaugurated as the 75th President of the UK's largest architectural body yesterday. Hodder, perhaps best known as the recipient of the first RIBA Stirling Prize in 1996 for the Centenary Building (University of Salford, UK), is chairman of the award-winning practice Hodder + Partners in Manchester (UK).
The Architects' Journal recently published an article pitting five competing views of teaching sustainability against one another. The opinions come from a range of backgrounds, including engineers, tutors and landscape architects, and discuss how architecture students should be taught to design in a sustainable way – or if they should be taught this at all.
The competing opinions are telling in the issues that they highlight, demonstrating how complex the issue of sustainability has become, and how it fits into the wider context of architectural education.
Read the different reactions to the issue of sustainability in education after the break
Architecture for Humanity-Denver is seeking to raise money for the transformation of a museum parking lot into an outdoor classroom for children in need. The goal of Denver's Museo de las Americas is to educate the community about the diversity of Latino Americano art and culture from ancient to contemporary through innovative exhibitions and programs, but the museum is lacking the necessary space for its increasingly popular youth summer camp.
Read more about the project and how you can help after the break.
Context in architecture has become a subject bloated with discussion and debate over the years. And, as a matter of fact, it has come to matter very little in its formal and typological sense. Take, for instance, the fluid forms that compose Zaha Hadid's hundreds of projects around the world, or Frank Gehry's exploding compositions seen from South America to the unmistakable Guggenheim in Bilbao. The form architecture takes in these cases, and countless others, is in itself a deliberate disregard towards context in its literal sense.
But is this disregard for context a mistake? Observers would often say so, though I would like to disagree. It has become frequent that projects like these, largely formal and not politely accommodating their historic surrounding, actually take greater interest in social urban issues that have a direct impact on the city dwellers. Quite simply, successful architecture today is one that serves society culturally and practically, addressing tangible problems of 21st century cities and dealing with context in a solution-oriented manner, going beyond aesthetics (whose value is only temporary) and into future-invested urbanism. Case-in-point? My hometown: Beirut, Lebanon.
Cases from Lebanon on this new approach to context after the break…
American Institute of Architects (AIA) and Massachusetts Institute of Technology's (MIT) Center for Advanced Urbanism (CAU) have announced a research collaboration to support AIA efforts through the Clinton Global Initiative (CGI), Decade of Design, a measure focused on improving the health of urban communities.  As the global population continues to shift toward urban environments, urban conditions of the past century have become too outdated to address the increase in population and pollution.  In order to advance the state of city livability, professionals in the design and planning fields must reconsider how urban environments need to be designed to work optimally in regards to social, economic and health challenges.  MIT's collaboration with the profession-based organization of the AIA allows the school's research to reach the professional world for application and development.  
Think the best way to promote the economic and creative development of a city is to build stadiums and shopping malls? Think again. In a recent New York Times article, Steve Lohr reveals the findings from a Brookings Institution study that looks into where and why specific cities emerge as hubs of creativity and innovation.  By studying the patent filings of the United States' 370 metropolitan areas, the study revealed that cities with the most innovation were centers of education and research.  San Jose-Sunnyvale-Santa Clara, California; Burlington-South Burlington, Vermont.; Rochester, Minnesota; Corvallis, Oregon; and Boulder, Colorado topped the list as the "output of innovation".  Lohr suggests that this data can help promote policies that encourage urban development for economic feedback.
More after the break.
The American Institute of Architects' (AIA) Committee on Architecture for Education (CAE) has selected 15 educational and cultural facilities for this year's CAE Educational Facility Design Awards. The 15 winners represent the best of emerging trends and ideas, "honor excellence in planning and design, and disseminate knowledge about best practices in educational and community facilities," according to the AIA's press release.
See the complete list of winners, after the break…
So far, I've cited the merits of the playground – the loudest, craziest, most running-aroundiest environment for kids you can imagine – as a point of inspiration for school design.
I've espoused the potential of community-oriented schools to motivate learning and, somewhat grandiosely I'll admit, change the world.
I think I've uncovered a bias. In me, and in architecture at large.
For years, Western culture has valued and rewarded natural born extroverts in its effort to breed out-going, sociable, go-get-'em type citizens. (For two intelligent, chuckle-inducing narratives on the plight of the introvert, check out Jonathan Rauch's touchstone piece in The Atlantic and Susan Cain's fabulous TED Talk).
In my zeal to present solutions to the obstacles facing education, I too got caught in the trap. To rectify this situation, I will – once again – examine schools; but this time, I take a more balanced approach. Today I take into account that bullied, forgotten group: introverts.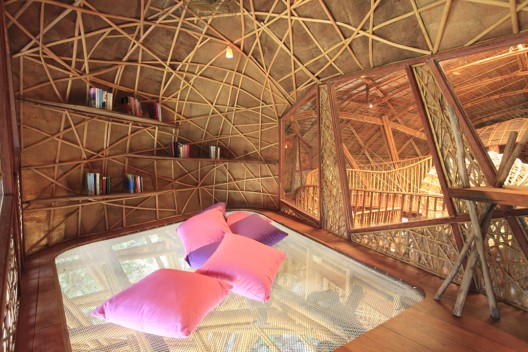 Let's begin with the obvious: kids like to climb, and run, and get their hands on anything that could (and probably will) break. They like to explore and imagine, create and destroy and create again.
Thankfully, a movement in the world of Education has begun to account for this reality (see:Ken Robinson's seminal 2007 TedTalk), to leave behind the antiquated schema that children are little adults, and to engage students' creativity, energy, and need for expression – a task often complicated by the physical constraints of a traditional classroom.
When designing a classroom, architects are keenly aware of the importance of the physical conditions of a learning environment (temperature, crowding, even permeability to the community) on a child's psyche. [1] However, as much as we depend upon studies to help us design the "correct" environment, what we ultimately need is a practical, playful perspective that understands what excites and engages children.
We need a source of inspiration. To look at spaces that welcome interaction with the environment and encourage the free reign of energy and imagination. We need the playground.
You've considered every detail: re-thought the spatial configurations of the classrooms to account for over 40 students, ensured that the noise from outside doesn't drown out the teacher, perhaps even adjusted the storage to kid-friendly heights.
As an architect, you live in the skin of the people who will daily occupy your buildings. And of course, the impact of physical conditions should never be underestimated, especially in the design of a school. Study after study has cited that the correct environment can greatly improve student engagement, enrollment, and even general well-being. [1]
However, there is another vital way in which design can impact learning. An approach that recognizes the power of society and culture, that aims to create a school not only permeable to the community around it, but charged with positive symbolic value.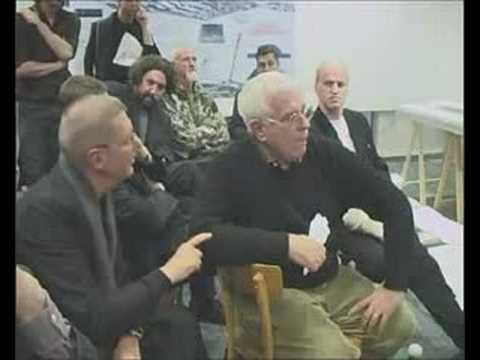 Interesting conversation between Peter Eisenman and Wolf d.Prix on architectural education during a studio presentation. What do you think?
On a side note, the 92nd Street Y Association is hosting an interesting conversation with Peter Eisenman and Greg Lynn (moderated by Kurt Forster) this Thursday. Entrance is $27 ($10 for students). About the architects:
One of the most influential architects of our time, PETER EISENMAN is known for his pure and sensual designs and his belief that architecture is an autonomous art. Founder of the Institute for Architecture and Urban Studies, and author and co-author of numerous books and articles, he works from his New York-based Eisenman Architects. GREG LYNN uses computer-aided design to create sculptural, biomorphic structures. His interest in digital fabrication, calculus and what he terms "blob architecture" have put the architect-theorist at the forefront of architectural discourse. Influential theorist KURT FORSTER is the founder of the Getty Research Center and the Canadian Center for Architecture in Montreal. He has published widely and has curated groundbreaking shows, such as those on Herzog & de Meuron in Montreal and on Schinkel in Chicago.
Thursday, Oct 23, 8:15 pm
92nd Street Y, 1395 Lexington Ave at 92nd Street
More info at: www.92Y.org or 212.415.5500