In a recent article for the Financial Times, Edwin Heathcote explores the 'Skyscraper Index', an informal term that suggests a correlation between the construction of a big company's ambitious headquarters and subsequent financial crisis: "Think of the Empire State Building opening into the Wall Street crash of 1929, the Twin Towers being completed as New York City was flirting with bankruptcy or the Petronas Towers in Kuala Lumpur taking the mantle of the world's tallest building and presaging the Asian financial crisis." Heathcote goes on to describe the latest generation of headquarters being constructed for our current, tech-oriented goliaths – like Apple's monolithic "donut", by Foster + Partners, and Facebook's Gehry-designed Menlo Park campus - and wonders: "if skyscrapers can tell us something about the temperature of an overheating economy, what do these groundscraping new HQs say?" Read the full article here.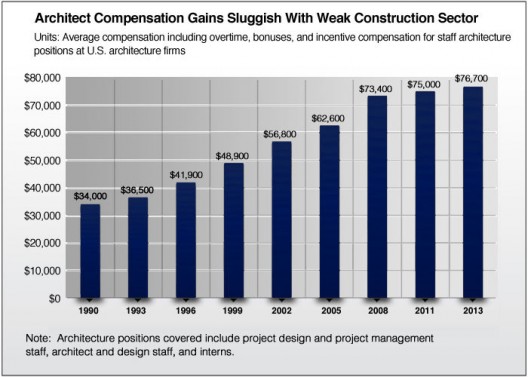 Though most architecture firms have benefited from a steady upturn in the economy over the past few years, architect salaries remain low. According to U.S. Census Bureau, architecture firms have experienced a 11 percent increase in revenue from 2011 to 2012. Despite this, as reported by the American Institute of Architects (AIA), the average total compensation for architecture positions—including base salary, overtime, bonuses, and incentive compensation—has increased only slightly over 1 percent per year between 2011 and 2013. This 1 percent is barely more than the average increase in compensation between 2008 and 2011, when the construction sector was still in steep decline.
Think the best way to promote the economic and creative development of a city is to build stadiums and shopping malls? Think again. In a recent New York Times article, Steve Lohr reveals the findings from a Brookings Institution study that looks into where and why specific cities emerge as hubs of creativity and innovation.  By studying the patent filings of the United States' 370 metropolitan areas, the study revealed that cities with the most innovation were centers of education and research.  San Jose-Sunnyvale-Santa Clara, California; Burlington-South Burlington, Vermont.; Rochester, Minnesota; Corvallis, Oregon; and Boulder, Colorado topped the list as the "output of innovation".  Lohr suggests that this data can help promote policies that encourage urban development for economic feedback.
More after the break.
The numbers are in and the American Institute of Architects' November Architecture Billings Index (ABI) has revealed positive business conditions for all building sectors for the fourth consecutive month.
As a leading economic indicator of construction activity, the ABI reflects the approximate nine to twelve month lag time between architecture billings and construction spending. Understanding this, the AIA is pleased to report that November has reached a five-year high with a score of 53.2, slightly up from 52.8 in October. Since August, the national billings index has continued to increased above 50.0 – the break-even point between contraction and growth – reflecting a steady rise in demand for design services. The West seems to be the only region in contraction, coming in at a score of 49.6.
Additionally, November also sees the Project Inquiry Index at 59.6, marking the 47th straight month in which inquiries into architectural services has been increasing.
"These are the strongest business conditions we have seen since the end of 2007 before the construction market collapse," said AIA Chief Economist, Kermit Baker, PhD, Hon. AIA. "The real question now is if the federal budget situation gets cleared up which will likely lead to the green lighting of numerous projects currently on hold. If we do end up going off the 'fiscal cliff' then we can expect a significant setback for the entire design and construction industry."
View the ABI highlights in greater detail, after the break…
Despite being awarded the 2011 Pritzker Prize, Portuguese architect Eduardo Souto de Moura has admitted difficulty in finding work. In a recent interview with El Mundo, the 59 year-old, Porto-based architect stated that he would prefer to work in his homeland, or even nearby in Spain, but the current economic crisis has him extending his search to other parts of Europe, mainly Italy and France.
Currently immersed in the worst crisis in recent history, Portugal became the third country within the 17-country eurozone in need of financial rescue to avoid bankruptcy, following Greece and Ireland. In February, the country's unemployment rate reached new heights at 15 percent. Meanwhile, as Souto de Moura pointed out, Spain seems to be struggling even more with the possibility of becoming the fourth member of the eurozone in need of a bailout. Spain's astonishing 23.6 percent unemployment rate has Bloomberg Businessweek referring to it as the greatest European country in danger. Continue reading for more.
Many of you may have probably noticed Scott Timberg's article "The Architecture Meltdown" (Salon, February 4, 2012) circling the internet. The gloomy article discusses the unknowing future and possible demise of the architectural profession – the "glamour profession of the creative class". Timberg describes struggling professionals that are either unemployed or working full-time at intern wages within a profession that is largely focused on the 1 percent.
There is no doubt that many architects and recent graduates are struggling. Architecture succeeded with the economy and crashed with it as well. With statistics revealing the highest unemployment rates among those with bachelor's degrees in architecture and articles flooding the internet with titles "Want a Job? Go to College, and Don't Major in Architecture" (New York Times, January 5th, 2012), there is not doubt that people are scared and unsure of where the profession is heading. Meanwhile, the (AIA) is cheering for a "2.1 percent rise in spending this year for non-residential construction projects", a bit of optimism many are grasping onto for hope. However, we are headed somewhere. As Timberg states, "People will always need houses, cities and nations will always need schools and libraries and civic buildings, and trendy restaurants will need redesigns. Architecture will never die completely."
Please continue reading to see Thomas Fisher's response to Scott Timberg.
BDOnline's recent report Foster & Partners sees profits soars reveals that the firm has "posted a major rise in profits for the year ended April 30, 2011, with pre-tax profits of £10.9 million, up from £1.6 million." Most of the firms work is said to come from Asia and China, as turnover at the practice is up to £159 million from £134 million.
"In its annual accounts posted at Companies House, Foster's said 26% of its order book was for work in the Far East, compared to 16% in the Middle East. North America accounts for 24% of the work, while only 8% is in the UK with a turnover of £11.5 million." The chief's executive statement also reported that the firm is "exploring opportunities in South Africa, Japan and further projects in Australia."
Salaries of Foster & Partners totaled £4.7 million, with the highest paid director, believed to be Foster, receiving £1.8 million. The average staff salary was reported to be close to £50,000.
Reference: BDOnline
In this video, Brookings expert Robert Puentes discusses the importance of construction projects and infrastructure investments that provide real and lasting value to the American economy. Puentes warns against thinly spreading around smaller infrastructure projects that only provide a short-term, seasonal boost in "shovel ready projects" that temporarily help job creation. Infrastructure investments can and must play a key role in the next American economy. Puentes urges that these smaller infrastructure projects must be connected to a larger infrastructure strategy that focuses on exports and globalization, technological innovation and clean energy. This will not only immediately create jobs and boost the economy, but also provide a framework that will sustain the American economy for the long term.
Also, if you are in the Washington DC area, Brookings will be hosting an event tomorrow, at the John L. Thornton China Center at Brookings, to discuss low-carbon development and clean energy in the United States and China. Follow this link for more information.
In 2011, a volatile Architecture Billings Index (ABI) reflected the unstable conditions U.S. practices were struggling to deal with. However, the year ended optimistically as the ABI remained at 52.0 for the month of December. So far, January has prolonged the hopeful outlook for the American design and construction industry, as many reports highlight a "modest recovery" in the nonresidential sector for 2012 and an even stronger upturn in 2013.
"Spending on hotels, industrial plants and commercial properties are going to set the pace for the construction industry over the next two years," said AIA Chief Economist, Kermit Baker, PhD, Hon. AIA. "The institutional market won't experience the same growth, but healthcare facilities and places of worship are poised for a positive economic outlook in that sector."
Continue reading for more.
Architecture press is buzzing with recent Bureau of Labor Statistics reports on unemployment and self-employment figures for those in the architecture field. The media have taken this data and made a plentitude of fearful predictions about the dark future of the architecture profession: there are more too many graduates, seemingly few positions, higher educational requirements and less prestige for the profession as a whole. They paint a somewhat dismal picture, both for those entering the field and those in mid-career, who are looking to start a firm.
The BLA Statistics and a recent study from Georgetown University's Center on Education offer the following as signs of difficulty and doom:
Licensing requirements (for architects) include not only a professional degree in architecture (4-6 years of schooling), but also at least 3 years of practical work, training, and passing all divisions of the Architect Registration Examination
Architecture graduates face stiff competition, especially for jobs in the most prestigious firms
Undergraduate architecture students are facing 13.9 percent unemployment rates
About 21 percent of architects are self-employed—almost 3 times the proportion for all occupations
While these statistics could take one down a road of despair, there is more to the story. The reality is that the architecture field has naturally changed with a changing world. All professions are undergoing a profound evolution on several fronts: demographic, education and economic. These changes are not all bad, and actually may provide the basis for optimism.
Demographics
"Architecture was historically a gentleman's profession," said Michael Porter, AIA during an interview we conducted for Success by Design. He went on to say, "Even as recently as 50 years ago, architects were almost always male, came from wealthy families and pursued the career as a symbol of philanthropy more than for financial gain."