As the tide of urban migration sweeps across the developing world, cities experience an overpowering pressure to provide basic services such as electricity and sewage treatment to an enormous amount of people building illegal shacks on city outskirts. When they fail, the slum is born – but is it possible for a city to expand without slums? In Hanoi, Vietnam, officials hope to answer this question, with a number of tactics that have led to a "culture of semi-legal construction." Read this article in The Guardian to learn how Hanoi manages to curb slums and provide a basic standard of living to its poorest inhabitants.
"The Indian poor live in perpetual darkness, while the Indian rich live in perpetual light." This fact is obviously embedded in Mumbai, where luxury condominiums rise in the middle of slums. Many of these extravagant buildings were designed by India's most commercially successful architect, Hafeez Contractor, who believes his arrestive work is the beginning of slum redevelopment. Learn about his crusade and how he's been criticized in this New York Times article by Daniel Brook.
In a recent article for the Atlantic Cities, Richard Florida examines some new research from MIT that criticizes the idea that slums are a natural stage in the modernization of cities, showing that many slums continue to persist and even grow in cities/countries experiencing increased prosperity. Rather than economic growth, argues Florida, accountable governments and institutions make much more of an impact on slum development. You can read the full article here.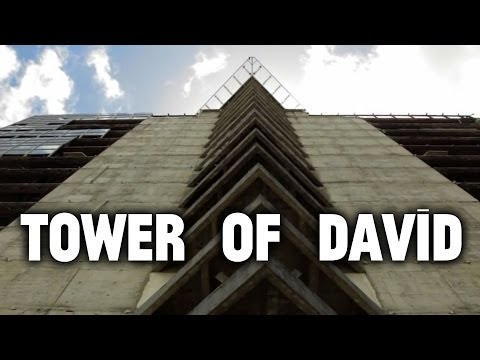 What was once a symbol of Caracas' bright financial future is now the world's tallest slum: Venezuela's Tower of David. Squatters took over this unfinished 45-story skyscraper in the early 1990s, after its construction was stopped due to a banking crisis and the sudden death of the tower's namesake, David Brillembourg.
Now, as the government is grappling with a citywide housing shortage, many residents have spent most of their life within the walls of David. And despite the tower's reputation as being a hotbed of crime, residents have managed to build a self-sustaining community complete with a communal electrical grid and aqueduct water system.
Few cameras have been allowed into the depths of the tower, so watch as Vocativ captures a rare in-depth access to residents' daily lives.
Dharavi – Asia's largest slum of one million with an average density of 18,000 residents per acre – is amidst a heated debate between its people, the government and private investors as it sits on some of India's hottest real estate in Mumbai. While the government is grappling for solutions on how to successfully dismantle the low-rise slum and relocate its residents to a high-rise podium style typology, the investor's profit-driven approach has placed residents on the defense, "rendering Dharavi a perfect storm of contested urbanism," as architect, urban designer and author William Hunter describes. 
In light of this, we would like to direct you to an interview by Andrew Wade of Polis in which discusses Dharavi's dire situation and the motivation behind Hunter's new book, Contested Urbanism in Dharavi: Writings and Projects for the Resilient City. Read the interview in its entirety here and read a recap on Dharavi's situation here.
Meagan Durlak and James Frankis, both students studying Transdisciplinary Design at Parsons New School for Design, have developed a mobile mapping tool to unveil the true dynamics of informal slum communities, as revealed by Metropolis Magazine.
The system, called Mark, is being tested in the Heliopolis favela of Sao Paulo, Brazil, after which the duo hope it will be "scalable and adaptable" enough to be applied to other informal settlements all over the world. The SMS-based tool is designed not only to provide information about the settlements to external organizations, but also to be a sharing platform for the residents who become cartographers of their own neighborhood.
Read about the motivation behind the Mark project after the break
It has been twenty years since the demolition of the Kowloon Walled City. To mark this, the South China Morning Post has created an info-graphic that details the facts and figures of what life was like inside this architectural oddity. 
Read more about the madness that was KWC after the break…
Slums, shanty-towns, favelas - they are all products of an exploding migration from rural to urban areas.  Over the last half century, people living in or near metropolises has risen in proportion to the global population.  Migrations from rural areas to urban areas have grown exponentially as cities have developed into hubs of economic activity and job growth promising new opportunities for social mobility and education.  Yet, with all these perceptions holding fast, many people who choose to migrate find themselves in the difficult circumstances of integrating into an environment without the proper resources to accommodate the growing population.  Cities, for example, like Mumbai, India's largest city and 11th on the list as of 2012 with a population of an estimated 20.5 million.  According to a New York Times article from 2011, about 60% of that number live in the makeshift dwellings that now occupy lucrative land for Mumbai's developers.
More to come after the break.