CPG Consultants recently won the Hanoi Noi Bai International Airport VIP terminal design competition, which was organized by the Airports Corporation of Vietnam. Expected to be completed in late 2014, the lotus flower-inspired design with its iconic petal-shaped pavilion roof will extend a ceremonious welcome to Heads of State and dignitaries as they arrive or depart from Hanoi. The new VIP Terminal will feature an octagonal geometry in plan, with the reception hall, state lounge and president lounges forming the centerpiece while the VIP lounges and function rooms form the angled part of the perimeter. More images and architects' description after the break.
Architects: AHL architects associates
Location: Hanoi, Vietnam
Architects In Charge: Hung Dao , Tuan Anh Mai, Son Chu, Hieu Hoang, Nghia Mai, Tung Nguyen, Truc Anh Nguyen
Area: 90.0 sqm
Year: 2012
Photographs: Anh Duc Le
Architects: gmp Architekten
Location: Phạm Hùng street, Cầu giấy District, Hà Nội City, Vietnam
Design Team: Meinhard von Gerkan, Nikolaus Goetze, Klaus Lenz
Project Year: 2010
Project Area: 30,000 sqm
Photographs: Marcus Bredt
Architect: Vo Trong Nghia
Location: Hanoi, Vietnam
Architects in charge: Vo Trong Nghia, Masaaki Iwamoto, Takashi Niwa, Kosuke Nishijima
Completion: April 2012
Photographs: Nguyen Quang Phuc, Vo Trong Nghia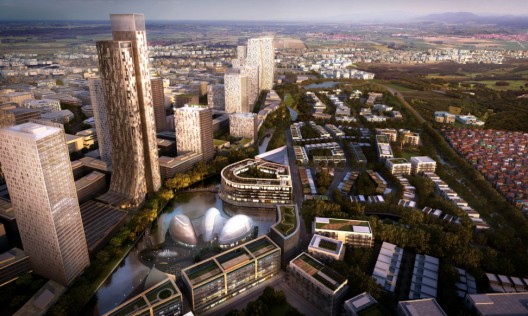 The commission for a Green Tech City in Hanoi, Vietnam was recently awarded to Skidmore Owings & Merrill.  SOM's preliminary master plan focuses on reducing demand for non-renewable resources while integrating local traditions and utilizing the existing green urban character of Hanoi.  At the heart of this new green district is a riverfront park.  A series of landscaped green spaces, formed from existing agricultural water channels, would connect into this linear riverfront park creating a well connected network of public parks.
More information on this news after the break.
At an official ceremony on March 23, 2010 the contract for the construction of the new Vietnam Cement Industry Corporation Headquarters was signed in Hanoi. The Cement Industry Corporation's head office is the first project for Jürgen Engel's architectural studio in Vietnam to be actually built. The new premises for the Vietnam Cement Industry Corporation, which comprise a five-storey pedestal building and an approx. 135-meter high tower emerged as the victor in a competition as early as April 2008.
More images after the break.
ICE – Ideas for Contemporary Environments, became our first AD Futures ever. They have just shared with us DK2, a luxury service apartments project in Hanoi, Vietnam for which they won 3rd prize in an invited competition.
The project is located next to the West Lake in Hanoi. The competition was requesting to create a residential iconic tower of 65 floors. As the project would be naturally dominant in a city of rather low scale, it focussed less on the design of the form of the building, but rather on the quality of the units within to create a user based experience.
More images and architect's description after the break.