In this article for Fast Company, Boyd Cohen counts down the top 8 smart cities in Latin America. Using publicly available data and his own comprehensive framework to evaluate how smart a city is, he has generated a list which even he admits features a couple of surprises in the top spots. To see the list and discover what each city has achieved to deserve its ranking, you can read the full article here.
Architects: MEMA arquitectos
Location: Bogotá, Bogota, Colombia
Collaboration: Colette Studio
Area: 420.0 sqm
Year: 2013
Photographs: Mauricio Mendoza

OMA (NY), along with local collaborators Gomez + Castro Arquitectos, has been selected to masterplan the Bogotá Centro Administrativo Nacional (CAN) in Colombia, a mixed-use civic center roughly the size of Washington DC's National Mall. Located at the midpoint of Calle 26 Avenue, the city's main axis that has symbolically charted its growth from the historic downtown to the airport and the international gateway of Colombia, CAN will serve as a new city center and government headquarters with additional programs of residential, educational, retail and cultural developments.
Shohei Shigematsu, director-in-charge of OMA New York, commented, "Our proposal enables CAN to be a lively node, providing a continuous public domain that curves through the site to connect the park, the university and Calle 26. With a single gesture, the arc achieves a clear urban identity while accommodating programmatic diversity."
Architect Office: Daniel Bonilla Arquitectos
Location: Bogotá, Colombia
Design Team: Daniel Bonilla, Andrés Gutiérrez, Adriana Hernández, David Kita, Rodrigo Montoya, Juliana Lozano, Mauricio Patiño, Cristian Echeverría
Area: 1576.0 sqm
Year: 2009
Photography: Rodrigo Dávila, Sergio Gómez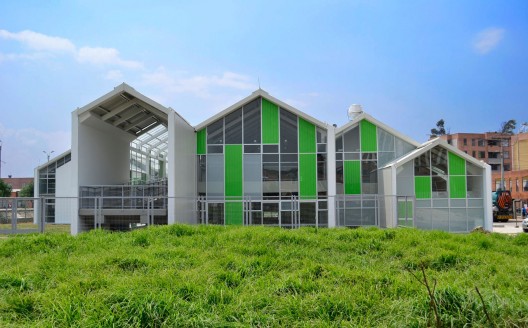 Architects: Demos Arquitectos
Location: Patio Bonito, Bogotá, Bogota, Colombia
Project Year: 2011
Photographs: Courtesy of Demos Arquitectos
Architects: Daniel Bonilla Arquitectos
Location: Bogotá, Colombia
Chair Design: Lorenzo Castro
Photographs: Ricardo Amado Fotografía
Architects: AEI Arquitectura e Interiores
Location: Bogotá, Colombia
Area: 2,300 sqm
Date: October 2011
Main Director: Marta Gallo
Design Director: Juan Pablo Campos, Natalia Heredia
Designers: Laura Rosso, Ignacio Arciniegas
Photographs: Andrés Valbuena
Herreros Arquitectos in collaboration with Daniel Bermudez, were recently awarded the design of the Centro Internacional de Convencions de Bogota. Beating some of the world's most prestigious architects, Zaha Hadid, David Chipperfield, Rem Koolhaas, Diller & Scofidio, Snøhetta, and Dominique Perrault, the winning design is defined as an urban experience, in which its inhabitants and strangers will come together to share their common interest in knowledge, innovation and the strength of civil society. Aspiring to obtain the Gold-status LEED certificate the new 70,000 sqm Centro Internacional de Convencions de Bogota will be the maximum exponent of Colombia's ability to apply state-of-the-art technology as well as of the country's commitment to the environment
An exhibition devoted to Herreros Architectos' recent work is currently on display at the ROM for Kunst og Arkitektur Gallery in Oslo.
More renderings of the winning design following the break.
Architects: MGP arquitectura y Urbanismo / Felipe González-Pacheco
Location: Bogotá, Colombia
Designers: Felipe González-Pacheco, Alvaro Bohorquez, Alberto Aranda
Team: Juliana Sorzano, Paola Moreno, José Cohecha, Camilo Correa
Construction: Exacta proyecto total, Luis Guillermo Vallejo
Project Year: 2011
Project Area: 6,200 sqm
Photographs: Andrés Valbuena
Architects: Juan Melo, Camilo Delgadillo
Location: Bogota, Colombia
Client: Instituto Distrital de Turismo Bogotá + ETB
Construction: Consorcio Inmetsa
Project year: 2010
Photographs: Gustav Arvidsson
The importance of the National University of Colombia campus began with its enlightened master plan by the architect Leopold Rother in the 1930s. With its green center, classical axiality, and layered concentricity, the campus contains some wonderful examples of architecture.
Architects: Steven Holl Architects
Design Architects: Steven Holl, Chris McVoy, Garrick Ambrose
Senior Partner in Charge: Chris McVoy
Project Architect: Garrick Ambrose
Project Team: Johanna Muszbek, Scott Fredricks, Dimitra Tsachrelia
Location: Bogota, Colombia
Project Area: 70,000 sqf
Architects: Arquitectura e Interiores, AeI
Location: Bogotá, Colombia
Design Department Director: Juan Pablo Campos
Design Quality Coordinator: Natalia Heredia
Architect Designer: Ignacio Arciniegas
Construction Department Director: Daniel Salcedo
Project Coordinator: Alfonso Llanos
Architect Building Supervisor: Maria Fernanda Correa
Project Director: Marta Gallo
General Manager / Partner: Juliana Fernandez
Project area: 910 sqm
Photographs: Andres Valbuena
Architects Rene Daniels Ayala + Miguel Angel Lozano Vargas + Adriana Hernández Quicazan have designed a proposal from the housing of the Colombian Soccer Team, along with vegetal trails and sports fields, on the site of the main open and public space of Bogotá, the Parque Simón Bolívar in Bogotá, Colombia. The design proposes an articulation of the Metropolitan Park in its relationship to the rest of the city.
More information and images after the break.