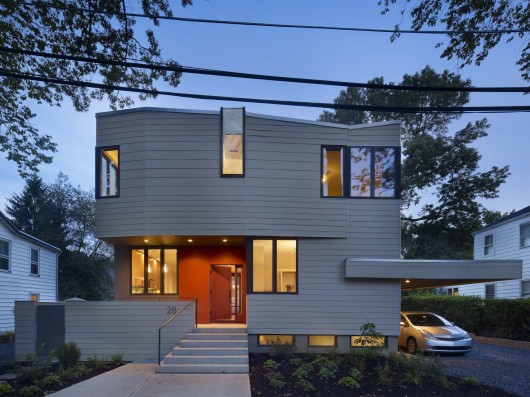 Architects: Marina Rubina
Location: Princeton, NJ 08542, USA
Year: 2012
Photographs: Todd Mason / Halkin Mason Photography
Taking place at Princeton University on October 13th from 10:00am-5:30pm, the 'Performing Architecture' symposium will bring together significant theorists and practitioners in the fields of architecture and performance and inviting a broader engagement with the artistic and academic community. In parallel with the art world's return to performance and a renewed search for architecture's social and political relevance, this symposium seeks to move beyond disciplinary hegemony in the dissemination of architecture today. Including Liz Diller(DS+R), Pedro Gadanho (MoMA), Vito Acconci, Roselee Goldberg, and many others, they hope to offer lasting provocations to how we think of the body, space, structure, and design in the disciplines of performance and architecture – and somewhere between the two. For more information, please visit here.
Our friends at Dwell have shared with us their short film featuring the legendary Michael Graves inside his beautiful Princeton home in which he created out of a disused warehouse. In the film, Graves shares the discoveries he made when renovating his house and thoughts about his career, his practice and universal design.
The film was directed and edited by Gary Nadeau. Continue after the break for the complete list of credits.
An interdisciplinary team of Princeton University students have been awarded top honors, along with 14 other collegiate teams, for their 'Power in a Box' invention that converted a standard shipping container into a sustainable source of energy for remote or disaster-torn regions. The 18-month national competition, known as the "P3: People, Prosperity and the Plant Student Design Competition for Sustainability", began in the fall of 2010 with 165 competitor and culminated April 21 and 22 on the Washington, D.C. Mall. The U.S. Environment Protection Agency has awarded the students with a $90,000 grant to further develop and implement their project.
Continue reading for more information on 'Power in a Box'.
Barcelona-based architect and scholar Alejandro Zaera-Polo has been selected as the next dean of Princeton University's School of Architecture, where he has served as a visiting lecture since 2008. He is internationally known for his award-winning practice, Alejandro Zaera-Polo Architecture, his extensive academic experience and contributions to international publications, such as El Croquis, Quaderns, A+U, Arch+, Volume and Log.
He will succeed Brooklyn-based architect Stan Allen, who has served as the school's dean since 2002. After the new appointment becomes effective on July 1, 2012, Allen plans to return to full-time teaching and architectural design after a yearlong sabbatical. As reported by Architectural Record, Allen stated, "We were looking for somebody who worked at a very high level as a designer-practitioner, but also approached architecture as an intellectual activity. There aren't a lot of people like that out there."
Ann Beha Architects' award-winning design transforms and expands an exclusive men's club— an 1890's Italianate structure— into a University-wide Center for Equality and Cultural Understanding. The project restores the historic building, repurposes and expands it, and sets it in a new campus landscape. The original Center, dedicated in the 1970's, first established a common ground for dialogue on Afro-American issues in a modest former athletic building. This new location creates spaces for research, administration, teaching and community; musical, academic, and social programs. The Center is a hub of activity for groups of all ages and backgrounds and welcomes both on-campus and community groups.
Architect: Ann Beha Architects
Location: Princeton, New Jersey, USA
Project Area: 5,100 sqf New Construction, 13,700 sqf Renovation
Project Year: 2009
Photographs: David Lamb Photography