Earlier this year the University of Cambridge announced an ambitious new urban extension in the north west of the city in order to create a framework for a new district centered on a mixed academic and urban community. The development, planned by Aecom, has aspirations of achieving urban space that is well balanced, permanent and sustainable. Containing 1,500 homes for its key workers, accommodation for 2,000 postgraduate students, 1,500 homes for sale, 100,000 square metres of research facilities and a local centre with a primary school, community centre, health centre, supermarket, hotel and shops, proposals from Mecanoo and MUMA are now entering the planning phase. Future lots are expected to be filled by the likes of Stanton Williams, Alison Brooks Architects and by Cottrell and Vermeulen working with Sarah Wigglesworth and AOC.
Architects: Alison Brooks Architects
Location: Newhall, England
Year: 2012
Photographs: Paul Riddle
Architects: Alison Brooks Architects
Location: Islington, London, UK
Design Team: Alison Brooks, Alex Warnock-Smith, Rob Liedgens, JamesTaylor
Year: 2012
Photographs: Paul Riddle
For the redevelopment strategy for South Kilburn, Alison Brooks Architects have collaborated with Lifschutz Davidson Sandilands to design better homes, in a more sustainable environment, for the existing and future residents. About a year ago, we shared the firms' vision for Ely Court, a collection of three varied typologies that line a 'spine'  of shared surfaces – play areas, gardens and public and private spaces – along Cambridge Avenue.  Now, the duo has been granted approval for a new residential quarter of Mansion blocks which frame private communal gardens in the spirit of neighboring Maida Vale.  "We are really pleased that we are continuing to help Brent transform  South Kilburn from an isolated Estate into a familiar and desirable residential neighbourhood. Our team's scheme is as much about re-creating great streets as providing great family homes," explained Brooks.
More about the project after the break. 
Architects: Alison Brooks Architects
Location: Rainham, London, England
Project area: 4,000 sqm
Project year: 2010
Photographs: Tim Crocker, Alison Brooks Architects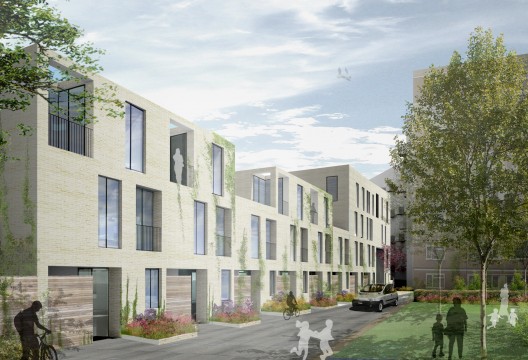 A second stage of development for the South Kilburn Masterplan is underway as plans submitted by Lifschutz Davidson Sandilands and Alison Brooks Architects (ABA) were approved last week. The developments span a 2.09 hectare site in the London suburb of South Kilburn, replacing three existing isolated estates with 144 new dwellings.
More on the masterplan after the break.
Alison Brooks Architects, one of the leading talents in the UK, was awarded first prize for their master plan for the University of Northampton.  The two stage master plan will play a vital role in enabling the university to meet both the need for short term accommodations and longer term plans for future growth.  "The School of the Arts embraces new technologies in a dynamic cross-discipline mix that will drive our vision for a creative technologies campus. I believe the chosen proposal will provide a powerful statement which captures and projects our collective values and ambitions," explained Paul Middleton.
More about the master plan after the break.