During the Soviet Union's relatively brief and tumultuous history, the quest for national identity was one that consumed Russian culture. The decadence of Czarist society was shunned, and with it, the neoclassical architecture the Czars so loved. Communism brought with it an open frontier for artistic experimentation, particularly where public buildings were involved. It was on this frontier that Russian Constructivism was born, and some of Russia's greatest buildings were built.  This article on EnglishRussia.com compiles a list of some of the "best of the best" in Soviet architecture—and we liked it so much that we've compiled our own top ten list! See all of our favorite Soviet projects, after the break!
There are few countries as architecturally diverse as Vietnam.  To celebrate this diversity, we've collected five of our favorite projects from this stylistically diverse country.  These include the grove-like Kontum Indochine Café, the towering, leafy Stacking green, and the sinuous Binh Duong School, all by Vo Trong Nghia + Shunri Nishizawa + Daisuke Sanuki.  We've also included the striking geometry that is the Folding Wall House by NHA DAN ARCHITECT, and the inverted pyramid of the Hanoi Museum by gmp Architekten.  Enjoy!
In honor of International Museum Day we've collected twenty fascinating museums well worth visiting again. In this round up you'll find classics – such as Bernard Tschumi Architects' New Acropolis Museum and Zaha Hadid Architects' MAXXI Museum - as well as lesser-known gems – such as Waterford City Council Architects' Medieval Museum, the Natural History Museum of Utah by Ennead, and the Muritzeum by Wingårdhs. See all of our editors' favorites after the break!
Today is Europe day in the EU, and to celebrate we're rounding up some of the best Europe-inspired architecture. First, two buildings designed for European institutions, the Court of Justice of the European Communities by Dominique Perrault and the Council of Europe by Art & Build Architect. Next, we've got a building which celebrates the achievements of Europeans, the Cultural Centre of European Space Technologies. Finally, two buildings which promote the very notion of Europe: the EU Pavilion by Senat Haliti, a message of hope for the 72% of Kosovans who wish to join the EU; and Le Monolithe by MVRDV, which has the first article of the European Constitution imprinted on the facade – expounding a belief in "a society in which pluralism, non-discrimination, tolerance, justice, solidarity, and equality between women and men prevail."
After reading this great profile in the Wall Street Journal, we thought now would be a great time to round-up the iconic shots of "the Indiana Jones of Architecture Photography", Iwan Baan. From his first commission, documenting the construction of OMA's CCTV Headquarters, to projects such as Herzog & de Meuron's VitraHaus, he has brought us some of the most enduring images in contemporary architecture. But he is also known for certain trademarks: taking time for lesser-known humanitarian projects, such as MASS Design Group's Butaro Doctors' Housing; focusing on human interaction with buildings, as seen in his photographs of the Torre David in Caracas for the Venice Biennale in 2012; and his penchant for helicopter shots – which resulted in the stunning photo of Manhattan in the aftermath of Hurricane Sandy (read the story behind the shot here).
If a Ted Talk by Koen Olthius, this article in the Guardian, and Brazil's pioneering plan (currently in the pipeline) are anything to go by, now may be the time for futuristic, floating cities to become a reality. With that in mind, we've taken the opportunity to gather the best examples of floating architecture already constructed, including: a low-cost floating school in Lagos; an entire floating neighborhood in Ijburg, Amsterdam; a trio of cultural buildings in Seoul's Han River; a set of hotels in a remote area of Cisnes, Chile; and finally a beautiful home on Lake Union in Seattle. Enjoy!
Today, we'd like to commemorate the captivating architectural photography of Fernando Guerra. The Portuguese architect-turned-photographer's work has graced our webpages many times since he began his career in 2001. In a recent interview with Paperhouses, he recalls the evolution of his aspiration to capture decisive architectural moments. Here are five of our favorites: Cube House, Alcácer do Sal Residences, House in Fontinha, the Pocinho Center for High Performance Rowing, and the Ílhavo Maritime Museum Extension.
Happy Pi Day everyone! To celebrate the circle and its influence on architecture, we've decided to round up some rounded structures. First up, Roll It, a cool experimental house/cylinder. Second, Villa Vals, the hobbit-like neighbor of Zumthor's Therme Vals (designed underground to maintain the bath houses' extensive views). Then, the stacked, rounded form of the Kauffman Center for the Performing Arts, designed by Moshe Safdie for optimal sound reflection. Next up, Galaxy Soho, designed by the queen of curvature, Zaha Hadid. And – last but not least – the "mothership" itself, Foster + Partners' design for Apple's new campus, scheduled for completion in 2016.
There are few topics that stir up more controversy on ArchDaily than that of women in architecture. From those of you who vociferously advocate for women in the field to those who steadfastly purport that gender has no place in architecture at all, you, our readers, represent a wide spectrum of viewpoints and opinions on the subject.
And so, in honor of International Women's Day, we've decided to take a look back at some of our past comment-stirring articles (even more after the break):
In honor of International Women's Day, we've once again rounded up some stunning architecture designed by female architects (In case you missed Part 1, featuring work by Zaha Hadid, Jeanne Gang, and more, click here).
This time around, we're featuring Paramount Alma, an unusual renovation featuring a stunning timber skin, by Plasma Studio- an avant-garde studio in which two of the four partners (Eva Castro and Ulla Hell) are female; Lullaby Factory, a playful intervention for a Children's Hospital designed by Studio Weave, co-directed by Maria Smith; from Ábaton Arquitectura, co-directed by Camino Alonso, Portable House, a 27 square meter home for two that can be assembled in only one day; from C+S Architects (co-founded by Maria Alessandra Segantini), the award-winning Law Court Offices in Venice, a building with a simple & yet powerful archetypical shape; and by Piuarch, the Italian studio co-founded by Monica Tricario, Bentini Headquarters, whose distinctive street-side façade features rectangular components of varying dimensions. Enjoy!
From Zaha Hadid to Sou Foujimouto, from houses to pavilions, from South America to Europe; here are–as you were probably expecting–the 20 most popular projects of 2013.
Although it went largely unnoticed until Wang Shu was awarded the Pritzker Prize, China's going through a major cultural boom. A recent article in the Wall Street Journal notes that, since 2012, hundreds of (often privately established) cultural institutions have popped up across the country, honouring everything from the famous Terracotta Soldiers to the local city planning department. We've rounded up a couple of these projects for your pleasure: Jean Nouvel's winning design for the National Art Museum, Steven Holl's mind-warping Sifang Museum, the seemingly extra-terrestrial Ordos City + Art Museum by MAD Architects, Trace Architecture Office's small museum of handcraft paper in the countryside, and a regional museum by Rocco Design Architects that takes inspiration from traditional Chinese lacquered boxes. Enjoy!
In honour of the royal baby's birth, we rounded up a selection of schools in the UK. If architecture was your only criteria – where would you send the third in line to the throne?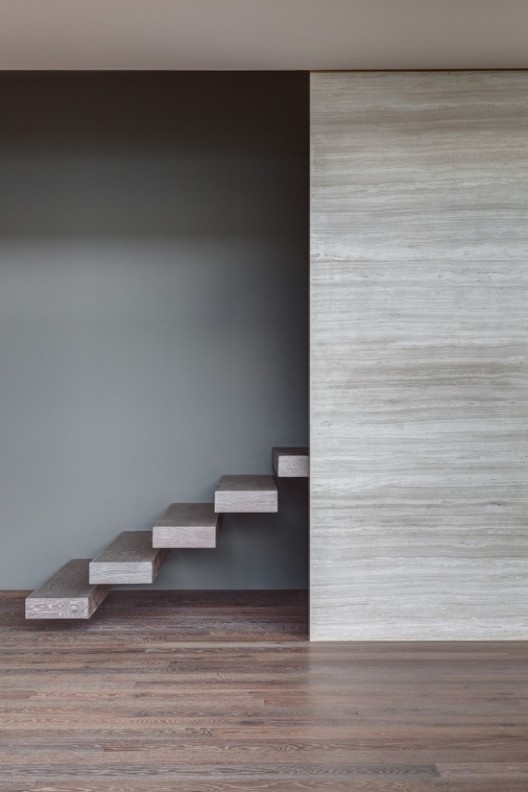 On this day of love, we bring you a compilation of eye candy capable of meeting or exceeding the specifications of any architect. These seductive staircases demand a double take. From curvaceous to straightforward or no-strings-attached (literally), we've got something for everyone.
They're yours to gaze at after the break.