Google's proposed California headquarters will be built with robots, according to the most recent planning documents received by the City of Mountain View Council. As the Architects' Journal reported first, the documents detail BIG and Heatherwick Studio's plan to construct the canopy-like structure's interiors with a team of robotic-crane hybrids known as "crabots."
These crabots would, in theory, establish a "'hackable' system for the building of the interior structures," says the documents, that would allow for limitless, easy, and affordable reconfiguration of space throughout the building's life.
Global construction company Skanska is teaming up with Foster + Partners and the engineers at Loughborough University (LU) to create the world's first commercial 3D concrete printing robot. The company has signed an agreement with LU, who has been working on the project since 2007, to partake in an 18-month initiative with a consortium of partners focused on developing a robot capable of printing complex structural components with concrete.
A video about LU's research on 3D concrete printing and Foster + Partner's involvement, after the break.
MIT has developed a way to 3D print sheets of material that self-assemble when baked. With inspiration from Japanese origami, researchers have developed — among other objects — robots. Head researcher Daniela Rus is already looking for potential applications saying, "I want a robot that will play with my cat." Check out the full article at HNGN to learn more and watch a video of the assembly in action.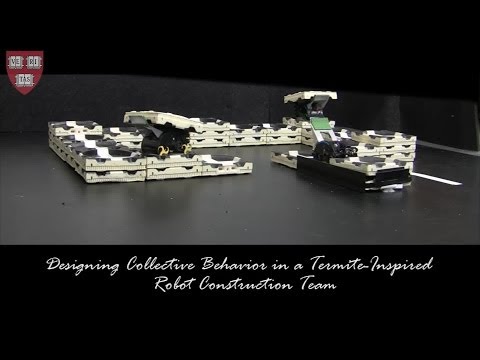 Termite mounds offer a fascinating architectural quandary: how is it possible that these towering structures (which include complex systems of openings, passages, large volumetric spaces, and even active ventilation systems and humidity regulation) are constructed with no centralised control or planning? The spatial complexity that these thousands of insects can collectively achieve has inspired a Harvard team to create TERMES, a project focused on programming an artificial robotic swarm to build modular structures.
Since the dawn of the modern era, there has been a strong relationship between architecture and the car, especially in the works of Le Corbusier.
Le Corbusier was fascinated by his car (the Voisin C7 Lumineuse); the aesthetics of this functional, mass produced machine deeply influenced his designs. Its focus on function translated into his concept that houses should be "machines for living" and inspired a series of experiments of mass produced, pre-fab houses (such as the Maison Citrohan). Most of these concepts were later materialized in the iconic Villa Savoye, whose floorplan was even designed to accommodate the car's turning radius.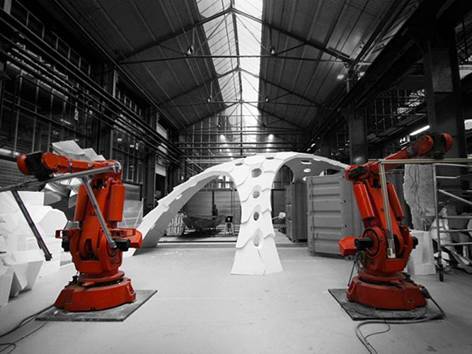 Architecture is quickly adopting the popular technology of robots. Although it is slightly hard to define what "robot" really means, for architecture, it tends to refer to anything from robot arms to CNC mills to 3D printers. Basically, they are programmable, mechanical, and automated instruments that assist in processes of digital fabrication.
So, what might robots mean for architecture? A more precise architecture which could contribute to a more sustainable building life cycle? More innovative design derived from algorithmic processes? A more efficient prefabrication process that could reduce the time and cost of construction?
Probably a mix of all three. But more importantly, what might robots mean for humans? Robotic replacement for the construction worker? Loss of local craftsmanship and construction knowledge? Maybe. But I might reformulate the question. Asking what robots mean for humans implies passivity.
What I ask, then, is what can robots do for humans?
Robots fascinate us. Their ability to move and act autonomously is visually and intellectually seductive. We write about them, put them in movies, and watch them elevate menial tasks like turning a doorknob into an act of technological genius. For years, they have been employed by industrial manufacturers, but until recently, never quite considered seriously by architects. Sure, some architects might have let their imaginations wander, like Archigram did for their "Walking City", but not many thought to actually make architecture with robots. Now, in our age of digitalization, virtualization, and automation, the relationship between architects and robots seems to be blooming…check it out.
Keep reading to see five new robots making architecture.
SCI-Arc's introduction of the Robot House (spring 2011) – a multifunctional robotics lab that enables the exploration of advanced fabrication techniques, manipulation of high tech materials, and numerous  methods for simulation – has brought about a new and intriguing component to the school. Designed by faculty members Peter Testa and Devyn Weiser, its primary goal is the advancement of next generation platforms for the experimentation and future speculation of architecture.
The state-of-the-art Staübli robotic systems are housed within a 1,000 sqf double height research room between studio spaces and the shop.  Given the nature of work that is being produced at SCI-Arc, it will be interesting to see the new projects that take full advantage of the Robot House and the adjacent Robotics & Simulation Lab.