Architects: Reiulf Ramstad Arkitekter
Location: Havøysund, Norway
Project Year: 2012
Project Area: 10.0 sqm
Photographs: Reiulf Ramstad Arkitekter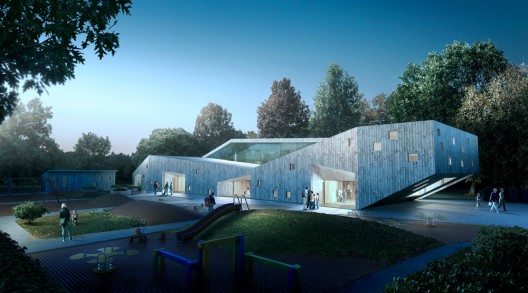 Situated in a residential neighborhood with buildings dating back to 1900, Reiulf Ramstad Arkitekter's new kindergarten was required to have a "contemporary expression."  The school's placement within the middle of a small park provides a protected outdoor area for the children to enjoy. The design offers two units for children between 1-3 years of age, and two units for older children between 3-6 years of age.  These four units can operate both independently and together, as needed. All units share a common area and a kitchen in the heart of the building, while administration on the upper floor separated from the children areas.
More images after the break.
Reiulf Ramstad Arkitekter, whose National Tourist Route was a finalist for the 2009 Building of the Year Awards, has recently been awarded first prize for an invited competition to design a mountaineering center.  Situated in Norway, the center possesses an expressive geometry that is an artificial interpretation of the site's mountainous backdrop.   Covered in a uniform surface, the angularity of the form breaks the large mass into a more contextual and scalable entity.   The design intends to give the "existing house a special character that conveys the content with a unique and existing expression" giving the center of Åndalsnes a "one of a kind building."
More images after the break.