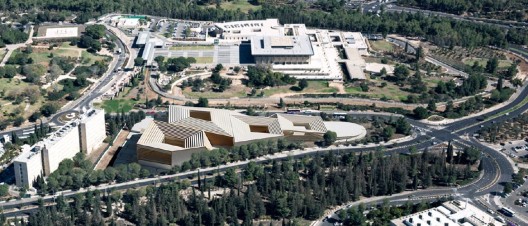 UPDATE: Israeli architect Rafi Segal appears to have abandoned his case to be reinstated as designer of the National Library of Israel. This decision comes after the client announced that it had signed a contract with Pritzker Prize-winning practice Herzog & de Meuron, who was initially chosen in April and triggered Segal's demand to be reinstated. Now that the Swiss duo has officially signed onto the project, Segal has requested a withdrawal without prejudice. Before the hearing scheduled for September 12, 2013, Segal asked the court to withdraw the case. The court overruled his objections and granted HyperBina a compensation of fees and costs.
Official statement from the National Library Construction Company:
'Rafi Segal, whose competition entry was disqualified for failure to meet the terms of the competition and who was therefore removed from being the "preferred architect", is now trying to compel his selection through the courts. Notwithstanding his failure to meet the conditions of the competition by way of establishing his full and exclusive rights in and to the plan he submitted, and having conducted himself in ways that have resulted in his loss of credibility in the eyes of the client.
'In December 2012, The Jerusalem District Court denied his request for an ex parte temporary injunction barring the selection of another architect for the project. The evening before the date of the hearing on the request for an injunction, Segal withdrew his petition – following submission of the Company's reply. Segal also filed a lawsuit asking the Court to declare him the "Winning Architect". The court denied Segal's requests to expedite the process and set a preliminary hearing for May 2013.
'In April, following a three months process, an international selection panel chaired by Prof. Luis Fernandez-Galiano, selected the 2011 Pritzker Prize winners Herzog & de Meuron to design the new Library building.
'In the preliminary hearing on 8 May, Segal asked to add Herzog & de Meuron as a respondent in what seems to be an attempt not to lose legal grounds for his claim. Herzog & de Meuron have no involvement in the saga and have no obligation to defend their award.'
Just when it seemed that Herzog & de Meuron was the final choice for the design of the new National Library of Israel in Jerusalem, the initial competition winner, Israeli architect Rafi Segal, has launched a legal challenge against the project backers' decision in hopes of being reinstated.