Drawing inspiration from Steven Holl and William Stout's brainchild Pamphlet Architecture, a new collaborative project, Treatise: Why Write Alone?, unifies fourteen design firms to examine the architectural treatise as a method of exploring theoretical questions and sparking discussion. The project was developed by designer Jimenez Lai of Bureau Spectacular in response to receiving a grant from the Graham Foundation. His unconventional ideas on the architectural process made him wonder, "Why write? And, why write alone?" The resultant collection of publications delves into these questions, both collectively and individually, with a collaborative piece as well as submissions from each firm.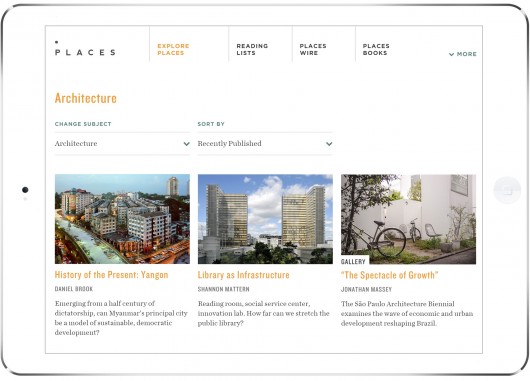 After a five-year stint as part of the Design Observer Group, Places Journal has now struck out on their own with a fresh, modern website and a renewed commitment to their editorial goal of publishing "rigorous and lively public scholarship on architecture, landscape, and urbanism." As explained by Places Journal's editor and executive director Nancy Levinson, "what drives our editorial enterprise is the publication of excellent work that combines the narrative power of serious journalism with the precision and depth of scholarship — work that advances the cause of equitable cities and sustainable landscapes." Read more about the new Places Journal after the break.
The Graham Foundation for Advanced Studies in the Fine Arts will be hosting an exhibition on Russian Modernist Architecture starting October 11 through February 16, 2013. Featuring a wealth of rarely published material on architecture that spanned the empire of the Soviet Union, the 80+ large-scale photographs – documented by British photographer Richard Pare – provide unique insight into the movements of the Soviet revolutionary period.  More photos and information after the break.
The Graham Foundation in Chicago, Illinois is hosting an exhibition of the works of architect Stanley Tigerman from January 26, 2012 – May 19, 2012. Tigerman, a Chicago native and principal of Tigerman McCurry, undertook more than 400 projects, resulting in 175 built works. As an active member of the local Chicago architectural community, he was a founding member of The Chicago Seven, director of the School of Architecture at the University of Illinois at Chicago (1985-1993), and co-founded the school ARCHEWORKS with Eva Maddox in 1994 – a progressive socially oriented design. More details after the break.